Encased in an 11 by 8-foot glass case, three 3D printed tigers in front of a 79-inch tree will be displayed on Main Street sometime in 2020.
The middle tiger will stand 41inches tall, while the two side tigers will be 37 inches tall. The tree behind will have pictures of North's community on its branches.
Last year's design Major II and III classes, after many months of planning, proposed three 3D tigers, that would be comprised of art acquired from across the world chosen to represent North's community.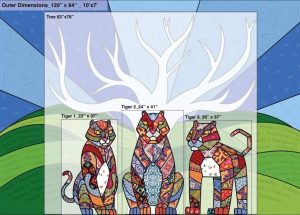 "The project really represents the school community," senior Tammie Zhu said, who worked on the project last year. "We have cultural patterns and the Tigers and the tree to represent growth. It's a great visual representation."
The tigers will be built with 3D printed parts covered with public art from across the world, that students thought would represent North's diversity. The tree will have pictures of North's community on its branches.
Last years Major II and Major III classes laid the foundation for the Main Street project by examining thousands of art pieces through the internet and putting them together into a design.
The design team has been working on this project since 2017, when principal Henry Turner asked design teacher Sue Brooks to create a piece of art for Main Street that embodied the school social and civic values.
"We had some challenging events in school during my first year, and it created a division, we had students drive around with a Confederate flag, it was also during the election, and I thought that this was a way to remind students about our values," Turner said.
The goal of the project is to create a work of art that would last for decades and be admired for generations to come, according to Brooks.
"Mr. Turner came to me and asked if my student would consider creating visuals that depicted our core values especially in civic and social expectations and using mission statements as the guide," Brooks said.