Theatre Ink hosts annual Trivia Night fundraiser
Do you know what the little piece of plastic or metal at the end of your shoelace is called? How about the word for the cardboard cylinder you slip around your favorite Starbucks order?

More than 60 students and parents answered questions like these in Theatre Ink's second annual trivia night fundraiser, "Let's Get Trivial 2," in the Little Theater Friday, Jan. 25 at 7 p.m. All proceeds went directly to Theatre Ink, raising approximately $1,000, according to Theatre Ink parent Greg Wymer, a co-chair of the Theater Arts Opportunity Committee along with Theatre Ink parents Lisa Campbell and Rosa Marzen.

Trivia Night is "a chance for students and parents to participate in something together while also raising funds for Theatre Ink," Wymer said. "It helps raise an awareness with Theatre Ink and publicize our other shows, and it's just another way for people to get together and have fun."

Junior Mikaela Pratt said, "This is a really fun event, and I had a great time. I highly recommend this to other students."

Students and parents split up into 14 teams and submitted their answer sheets after every round in total. There were eight question rounds followed by a semifinal round and a final round. The team "Is This Going to Be on the Final" won the competition with five points, while the runner-up teams, "Spamalot" and "Thin Lizzy," finished with two points each.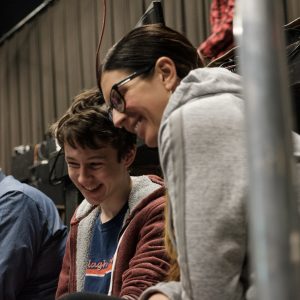 Freshman Hunter Young said he came to the event to "support Theatre Ink and have a great time." He added, "I was a little surprised by how competitive the event was, but it was everything I expected and a little more."

Each round had a different theme and format, such as science, music, sports, Newton's history and geography, vocabulary, literature, and pop culture. In the music round, participants listened to three songs by the same artist and had to name each song.

The fast pace of the semifinal round provided a contrast to the relaxed question rounds. Wymer said, "We try to vary the pace of the rounds to make things interesting. The semifinal is definitely more competitive in that sense—we've got the tension music and everything."

Wymer said that he has been involved with many trivia-related initiatives in the past. "I've been a DJ since college, and when I was in my DJ career, I ran a trivia night as well." However, he added that writing questions for different age groups was "really difficult because both students and parents relate to different things."

Young said that he enjoyed the event and hopes people will continue to come in the future. "It's a great experience and a great event for a great cause," he said. "I 100 percent recommend this event to everyone, students and parents."