Harvestfest showcases student-musician's hardwork, debuts year's music department
Harvestfest I
by Hannah Liu
The music department kick-started the performance season with Harvestfest, the annual two-part, fall concert, which showcased their range of skills and styles.
Harvestfest I, which took place on Nov. 15 at 7 p.m., featured the Jubilee Singers, directed by music teacher Sheldon Reid and Tiger Bebop, Jazz Ensemble 1, Symphonic Band, and Wind Ensemble, directed by music teacher Richard Labedz.
Jubilee opened up the show with joyful pieces, "Be Like Him," and "Total Praise."
According to junior Rene Miller, who sings tenor in Jubilee, "In Jubilee, we have prepared by learning and practicing a bunch of new songs over and over again until we feel confident and ready for an audience!" She added, "I am super excited to see all of the other bands play! We don't see other groups rehearse so all of us coming together and sharing our music is so fun!"
One highlight of the night was Jazz Ensemble I's rendition of "Brasilliance," a classic sounding jazz piece by Duke Ellington.
Sophomore Aneel Chittilappilly, who plays guitar in Jazz Ensemble I, said, "It's a cool uptempo song with a Latin big band vibe and has a lot of things going on.  It's really jamming and I think the highlight of the song is our band's rhythm section which really binds the whole thing together."
Wind Ensemble performed a whimsical piece called, "Among the Clouds," by Brian Balmages which truly made one feel like they were gliding through the clouds.
"It is soft and loud, it moves slowly and quickly, and everything in between,"  said sophomore Sara Manning, who plays trumpet in Wind Ensemble. "There are also some dramatic parts in it, which I really enjoy playing".
After all the groups performed a selection of pieces individually, Wind Ensemble and Symphonic Band, came together to perform "Our Director," by Frederik Bigelow.
Music Department Head Todd Young described this final piece as a familiar tune which is most famous for being the Harvard alma mater. The piece was brief but displayed the cohesion of the bands.
Sophomore Anabel Marré, who plays flute in Wind Ensemble, said that she enjoys "Our Director" because  "having all those students onstage playing together is a lot of fun."
"By the end of the show, I hope people feel thankful for everything they have in their life, especially music!" said Miller. "Thanksgiving is coming up and these concerts are a nice time to come together and appreciate each others' company."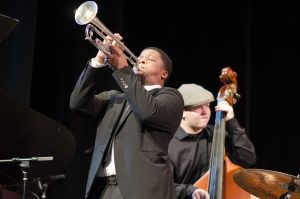 Harvestfest II
by Nour Chahboun
The second night of Harvestfest showcased the talents of Vocal Ensemble, Concert Choir, Family Singers, Orchestra, and String Ensemble all directed by music teacher Adam Grossman in a unified concert that took place in the auditorium last Thursday at 7 p.m.
The night opened up with Family Singers' sweet rendition of the song "Strike It Up, Tabor," by Thomas Weelkes. The piece had a pleasant tone and moved in a staccato tempo. The sopranos' talent was clearly shown during this piece as spectacular high voices took the lead and created rounds with the other singers.
Another piece that Family Singers sang was "Ave Verum Corpus," by W.A. Mozart. The song was slow and beautiful, and the group succeeded in perfectly blending each part. The group's angelic voices were accompanied by Newton resident Stephanie Rogers on the piano. High and low voices took turns forming crescendos which created a sense of suspense about what the group would sing next.
According to junior Family Singers member Kiley Smyth, "Ave Verum Corpus" was "an interesting and beautiful piece" as it "focuses on the present moment rather than rushing forward to the next part of the piece."
An audience favorite out of the six pieces that Family Singers performed was "Zigeunerleben," by Robert Schumann. Not only was this piece completely sung in German, but students had the opportunity to sing challenging solos in the different language. Senior soloists Rose Mooney, Thacher Andreae, Dustin Ledgard, and Martha Bennett sounded terrific during their solos, leaving the audience members cheering uproariously.
Bennett sounded especially beautiful due to her perfected German accent and graceful high voice. "I️ was obviously nervous about performing a solo but I think it's really important to give opportunities like that in choruses," said Bennett.
According to senior Family Singers member Adrian Scott, even though they "nearly lost [their] composure when Mr. Grossman's clip-bow tie fell off mid-song, [they] still mirrored cohesiveness and sang some pretty cool music."
Next, Concert Choir & Vocal Ensemble took the stage and united to perform four impressive pieces. One highlight of their performance was their rendition of  "The Lion Sleeps Tonight." The classic placed a smile on audience members' faces due to its youthful and easily recognizable melody. The Disney piece made for a sweet, memorable finale for both of the groups.
For senior Concert Choir member Gabriella Nugent, Harvestfest was the first time she performed on the stage in all four years of high school. "It was really great that I was able to experience the concert process from another perspective," said Nugent.
Senior Astrid Kugener, a Concert Choir member, spoke about helpful criticism she had for herself and her groupmates. "We could definitely work on listening to each other and practicing to make our voices more unified so that the lyrics are clearer and our voices blend more fully together," said Kugener.
Next, Orchestra and String Ensemble delighted the audience members with breathtaking pieces that truly demonstrated the students' talent. They performed a lovely version of the song "Air," by Norman Dello Joio. The blend of string instruments created a surreal, angelic sound that intensified as the song progressed.
According to senior Orchestra member Caroline Norton, the year "started out great" and has been exciting since it is the first time that six members of the group have been violists.
Overall, the night was truly inspiring for everyone that attended due to the pleasant variety of musical talents and the impressive pieces performed.