Mayoral candidates Ruthanne Fuller and Scott Lennon participated in a question and answer forum for the evening portion of Local Government Day in the Library Learning Commons (LLC), as part of an event organized by Model United Nations, Mock Trial, and debate team, Wednesday, Oct. 26.
"We're all public speaking teams, and public speaking leads right into government," said senior Sam Kesselman, a Debate captain. "It came down to the idea that there has been a culture within North that is tense and politically charged. We wanted something that would show that people can disagree respectfully, and people can have a lively forum and debate."
Each candidate stood by a group of seats on separate ends of the LLC, spoke to their respective groups for 30 minutes, and then switched sides. The candidates were introduced by members of the student clubs, who began the Q&A with predetermined questions about core beliefs and goals. The conversation was then opened to the audience.
Though both stated that the Newton Public Schools (NPS) are their primary focus, Lennon claimed to be "tested, trusted, and committed," while Fuller maintained her "experience, skills, and training."
The audience questioned the candidates on the charter, city development, climate change, and NPS logistics. "Education is a top priority for me," Lennon said. "It's the reason why people come to Newton, it's the reason why people stay in Newton, and it's why our property values stay strong."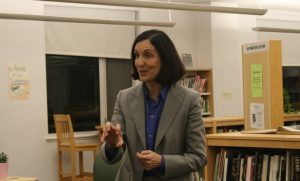 Similarly, Fuller said that a school system is the heart of the city, and requires both social and emotional learning. "I envision that we are a financially strong city so that we can make sure that we hire enough teachers, have the right class sizes, and invest in the schools," she said. "Even if the budget gets tight, I will always prioritize the schools, senior citizens, and people with special challenges."
Both candidates addressed the need for a later high school start time. "As someone who suffers from severe sleep apnea, I know what sleep deprivation does to you," Lennon said. "A question that has emerged is the possibility of kids getting home later, working later, and still not sleeping enough. These things need to be put on the table, and we need to have a robust discussion. It's not just a question of if the mayor supports it; you have to look at the school day, the hours, the transportation, and the after school activities."
Both candidates support the prospect of full-day kindergarten, but Fuller explained that it relates to the whole community. "This is a changing world, and we have an increasing number of women working full time," she said. "We are facing a situation in Newton where 11 percent of the students in NPS are on free or reduced lunch. This is a proxy for poverty. For those families to deal with paying or finding after school care, that's real."
Though the two candidates agree on most issues, the event was an exercise in balancing differing opinions. "We want North to be a place where we can foster discussion of dissenting opinions and different points of view, and that's what this event came out of," Kesselman said.
Election Day is Tuesday, Nov. 7.