BLAC presentations highlight racial inequality, black experience
A-Block
by Laura Schmidt-Hong
As part of Black Leadership Advisory Council (BLAC) Day, a panel of students and faculty members discussed topics surrounding racism and their experiences as black and African-American individuals last Friday during A-block in the auditorium.
Moderated by seniors Njioma Grevious and Damilola Oluwadara, the panel consisted of principal Henry Turner, history teacher William Joiner, seniors Dobbin Bookman and Alexandra Hendricks, junior Ashley Rozier, sophomore Achille Ricca, and freshman Amar Skelly.
First, each of the panel members introduced themselves and shared how they racially identify. Some identified as black, some as African-American, and some as biracial.
The panelists began by discussing their experiences being part of a minority in school and in their communities. Ricca noted, "One of the challenges with being part of a minority is that you're tokenized and singled out," especially in classes.
He added, "You feel pressured to speak for an entire race," and "you don't want to misrepresent your own race."
Joiner shared similar comments, explaining that "it can be a lonely experience simply when you don't see people who look like you."
The panel moved on to discuss microaggressions, which Ricca said can take the form of "backhanded comments that can eat away at your self-esteem."
Turner added that for people who have been on the receiving end of microaggressions, the comments "can stick with them for a lifetime."
The next topic of discussion was the n-word and whether or not its use is acceptable.
Joiner said that, though the word has now become harder for him to hear, it was used as a "term of affection" and that he rarely gave it much thought growing up.
Ricca added, however, that "there's a lot of power that comes from taking back a slur as volatile as that."
Turner noted that, regardless of reclaiming the word, it is not appropriate to use in school.
The panelists also discussed historically black colleges and universities, the black beauty movement, President Trump's success and what is means for black communities, stereotypes of African-Americans in the media, and the role of black women in feminism.
In regards to President Trump's campaign, Ricca noted that racism is "coming to the forefront," and "racial tensions are a lot more strained."
The discussion was then opened up to the audience, and the panel members answered questions about voter ID laws, Newton's inclusivity, and white privilege.
B-block
by Samantha Fredberg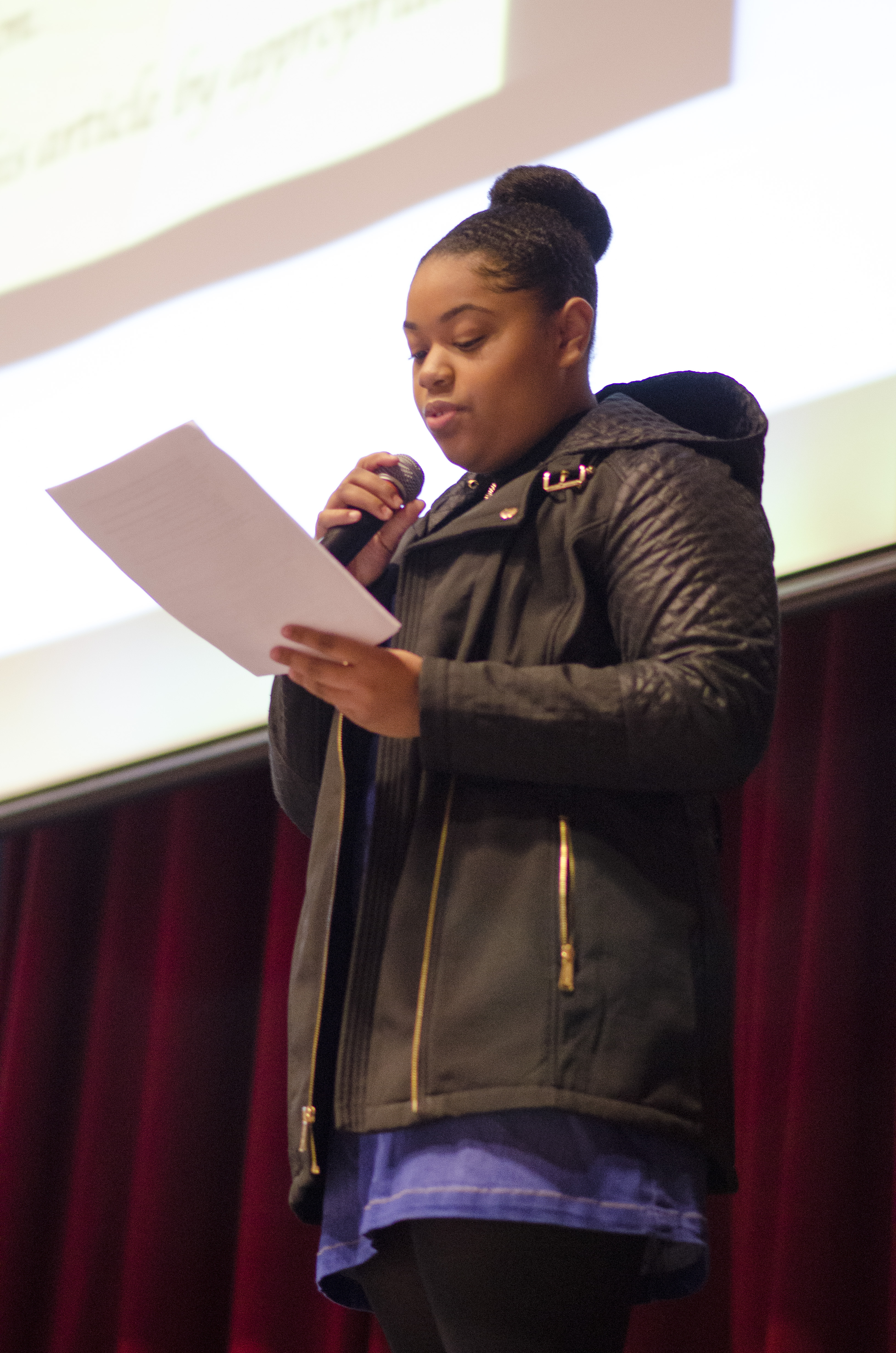 During B-Block of BLAC day in the auditorium last Friday, Jan. 27, senior Nattalya Brown, a BLAC officer,  and junior Jose Joseph, a club member, led an analysis of the movie, 13th, directed by Ava DuVernay.
Brown and Joseph presented small clips of the movie, followed by their opinions on the scene. The movie emphasizes the long history of racial inequality in the United States and uses the prison system as evidence. "The United States is home to five percent of the world's population, but 25% of the world's prisoners," Barack Obama says in the first lines of the movie.
The clips highlighted president Richard Nixon's "War on Drugs" and other loopholes that people found in the thirteenth amendment after slavery was abolished.
"When Nixon was elected he made this thing up, the 'War on drugs.'What had happened was the police were placing drugs on people who were a threat to the government," Brown said. "The black communities were getting crack cocaine while the white communities were getting cocaine, which was considered a luxury even though they are the same thing. This gave the police cause to arrest black people."
According to Josephs, black men would be arrested and put in jail for possessing small amounts of drugs, and their jail times were often too long for their offense. Because of the increase in arrests, "statistics show that poverty reached its highest rate in two decades," she said.
In addition, the clips explained the story of Kalief Browder, a young black man from the Bronx who was arrested. "He was wrongly convicted of a crime," Brown said. Browder's family could not pay his bail of 10,000 dollars.
Browder had the option to plead guilty for the crime he did not commit, but he did not. He remained in jail for three years until all of his charges were dropped. He was able to return home, but was damaged permanently from his treatment by the U.S. prison system and committed suicide in 2015, according to Brown.
Brown and Joseph encouraged students to watch 13th, which is on Netflix.
C-block
by Tali Falk-Judson
Renee Omolade spoke about institutional racism in the auditorium during C-block on BLAC day.
Omolade, cofounder of activist group We Are the Ones, gave a presentation highlighting the systematic and economical difficulties faced by African Americans in the United States today.
"Everyone has stereotypes attached to them, but when we're talking about institutional racism it's about what do those stereotypes mean and how do they affect people's lives," Omolade said.
Omalade began her presentation by discussing the differences between black and white students in the greater Boston area. According to Omolade, the predominantly black school of Jeremiah E Burke in Dorchester has a graduation rate of 68 percent while Newton North has a graduation rate of 96 percent. Students raised in Newton have a 75 percent college graduation rate while students in Dorchester have a nine percent college graduation rate, according to Omolade.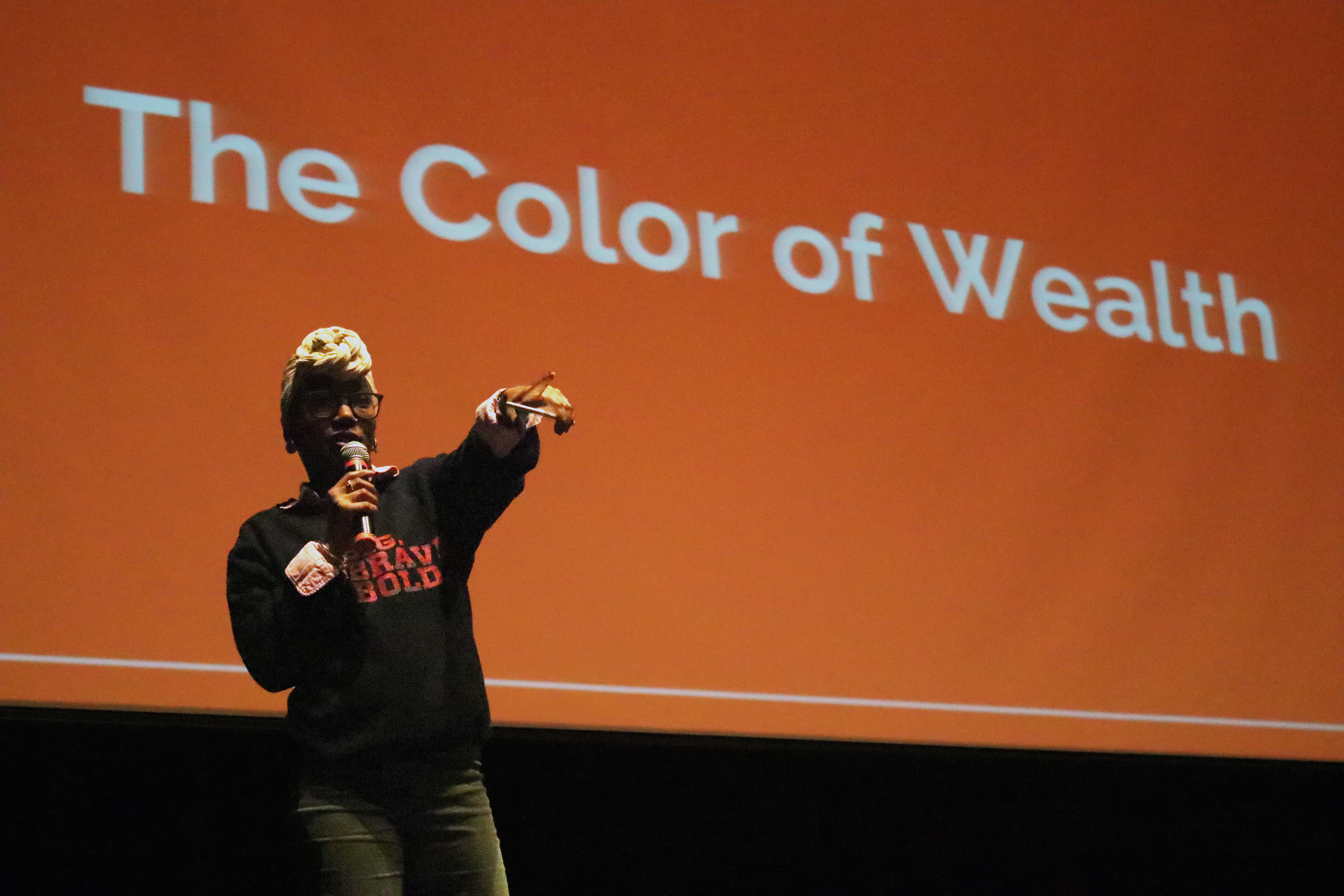 Omolade then moved on to the differences in treatment from police when interacting with black people versus white people. "Despite only making up 24 percent of Boston's population, black men and women are the targets of 63 percent of random stops by police," said Omolade. "But only 25 percent of those black individuals were ever found to be doing anything criminal. That is a failure rate of three out of four stops."
Next, Omolade talked about the struggles of obtaining work as an African American. "There was a study done recently in which the researchers sent two copies of the exact same resume to a prospective employers. The only difference being that one had a white sounding name and one had a black name," she said. "The white name had a 50 percent higher chance of receiving an interview."
Omolade concluded, "The slogan of my organization is be big, be brave, be bold, and I think that's something everyone can strive for."
E-block
by Amy Morrill
During E-Block last Friday, students involved with BLAC day set up a photo project on Main Street. They encouraged students to write statements beginning with "I matter because" or "I need racial equality because" on whiteboards and take pictures with their statements. The pictures will be put together in a collage on Facebook.
Senior Taylah Robinson, a member of BLAC, described this project as a way to "see people's mindsets, why they think they matter, and different things that are important in their lives."
Mayor Setti Warren stopped by to witness some of BLAC day, and greeted students. He said, "as a Newton North graduate myself, having faced some racial issues when I was in school, I'm really proud to see students taking the lead."
He added that the photo project is "brilliant" because it is "engaging students actively by having them take actions themselves and putting their thoughts down on the board about what we can do to push back on racism and injustice."
For some students who participated, the activity was a chance to express their opinions on racial equality, even if they weren't typically outspoken about them.
"This project gives people a voice in speaking up for what they believe in, which is undoubtedly a wonderful thing," said junior Thacher Andreae. "I definitely got to express my thoughts on racial equality–thoughts I had never really vocalized before."
According to Robinson, both the photo project and BLAC day as a whole were necessary in our school's climate because it is predominantly white, making students of color feel "under-represented."
"Our main goal is to really try to educate our fellow peers," said Robinson. "A lot of people are kind of oblivious and unknowledgeable to the things that occur with us in school."
For Warren, the day left him "encouraged" because given the current divided political climate in our country, "it's going to be young people that are able to play a leadership role and figure out how we can learn from one another and bring people together, and I'm seeing that right now. I'm really proud of this effort," he said.
G-block
by Rose Skylstad
English teacher Peter Goddard presented on the origins of hip-hop for Black Culture Day in the auditorium last Friday, G-block.
Goddard explained that, although hip-hop is now mainstream, it was originally villainized and was considered scandalous.
"A lot of different genres that were developed out of black America took their turn as a kind of 'devil's music,'" said Goddard. However, he added, nowadays "all the popular music you listen to is based on African music."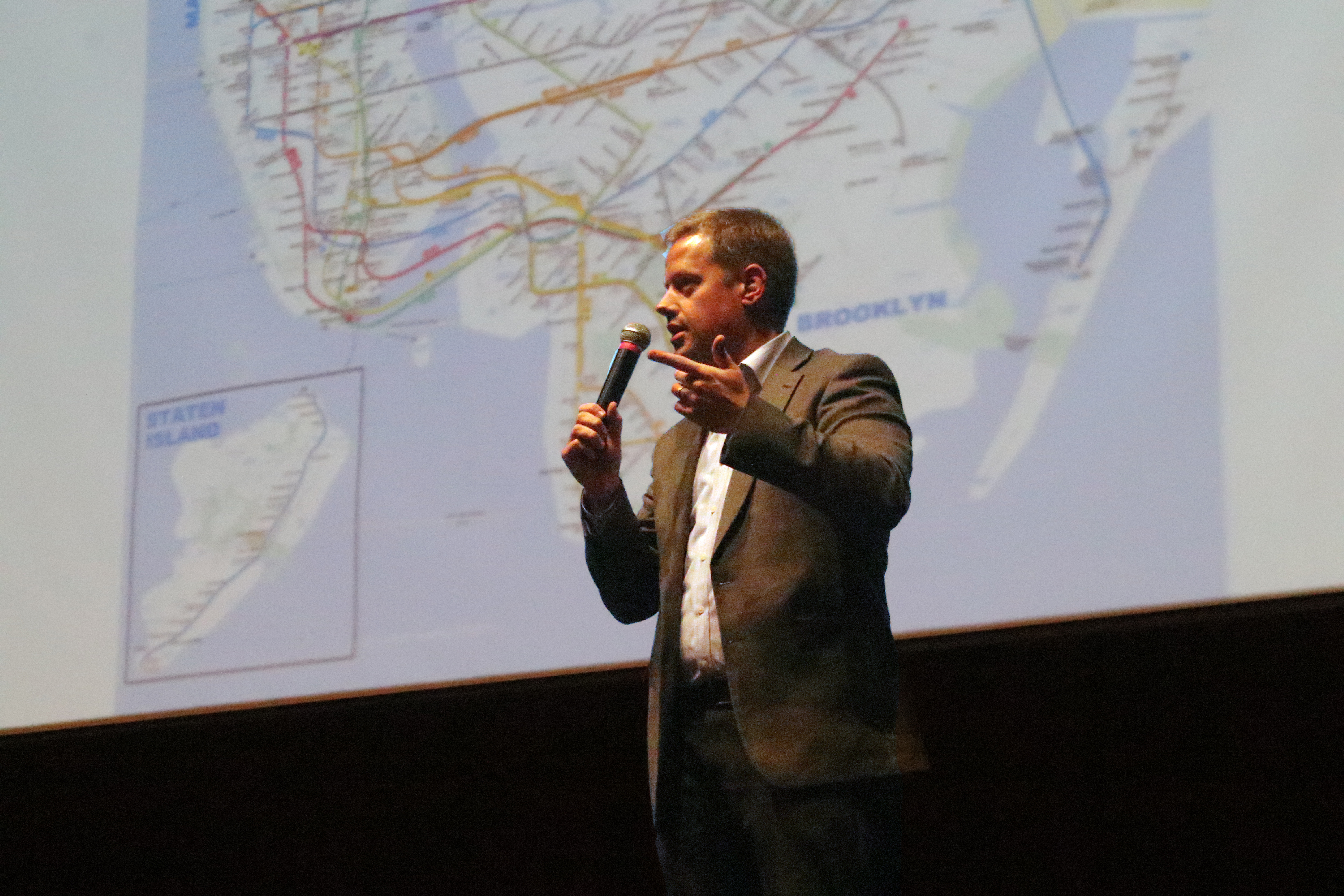 Goddard explained that hip-hop originated in the Bronx, in New York City. "Hip-hop is made originally of four elements: it's graffiti, it's DJing, it's B-boying or B-girling, and it's also emceeing," he said.
Hip-hop "really started from DJ culture and not from a rhyme," said Goddard.
B-boys or "Break-boys" were breakdancers, and were a central part of hip-hop's roots. emceeing, as Goddard explains, is the main form of hip-hop today. The emcee or Master of Ceremonies, used to be just a "hype-man" as Goddard put it; however M.C.s gradually added more to their performance, adding rhymes and raps to the music.
In the 1920's the Bronx was primarily a black and hispanic neighborhood, and was extremely impoverished. "To be in the south Bronx was to be stuck, to be lost," said Goddard. However, he added that, these conditions cultivated a "spirit of innovation" among the residents, which lead to the invention of hip-hop.
The first element of hip-hop that was born from this innovation was graffiti. "Part of what the graffiti writer is trying to do is to drench the city with their name," said Goddard. "Think of the power of what that can be when you've been kind of made to be nameless."
The next element was DJing, and one DJ in particular is attributed to inventing the style and concept of hip-hop music, according to Goddard. A young DJ living in the Bronx, who went by the name "DJ Kool Herc" used a combination of funk and disco music to create the new genre.
"When he was watching the dance floor, he noticed that these certain kids would wait for a certain part of the record and then they would come off the wall," and only danced in those moments, said Goddard. From this, Herc created the concept of music compiled from just these moments when people got the most excited, or the "breaks" in the song. "Hip-hop is a very post-modern kind of music because it is music made out of other music," said Goddard.
Goddard ended his presentation responding to questions, and a student asked his opinion on whether hip-hop receives respect in the mainstream music scene. Goddard said, "when Taylor Swift wins the best album over "To Pimp a Butterfly," I say that's a problem."
F-block
by Maya Waldman
North's Jubilee Singers performed a variety of African Diaspora music last Friday, F-block in the auditorium, as part of BLAC Day.
Described as an "open rehearsal" by music director Sheldon Reid, the singers showcased various aspects of black music, history, and culture through song.
The first piece, called "Be Like Him" by Kirk Franklin, was partly sung in the South African language Zulu. Featuring Reid on a commonly used African drum, known as a d'jembe, the song described the hope that many African Americans have despite undergoing constant discrimination, even today.
"These songs unify, they motivate," said Reid. "They give you freedom of expression when times are so bad that you have no other hope."
Arranged by North alumnus Alexi Paraschos '03, the second piece, "Ain't Gonna Let Nobody Turn Me Round", featured soloist senior Erique Green, who used a call-and-response method that is often associated with diasporic music. According to Reid, there was no set melody for the soloist section, allowing Green to improvise as he pleased.
The musical group performed two more pieces, "Voices of Freedom," and "The Star Spangled Banner."
Reid drew the audience's attention to the last line of "The Star Spangled Banner," and discussed its symbolism. While it describes the United States as "land of the free" and "home of the brave," many African Americans feel that such a place has not yet been achieved. According to Reid, "the song is a reminder of the bias they face every day."
After the last performance, the audience was allowed to ask questions. One question was about how black music was integrated into American life. "Black music was never accepted until it was co-opted," said Reid. "Black contributions to the musical world were minimized."