Assassins cast impresses audience with portrayal of complex characters

Immersed within the worlds of nine presidential assassins, audiences witness presidential assassins' motivations for their crimes through a series of dark, comedic, anecdote-like scenes in Theatre Ink's production of the musical Assassins.
Especially due to the aftermath of the 2016 presidential election, Assassins is a brilliant and timely piece that will run Dec. 7-10 at 7:30 p.m. in the Little Theatre.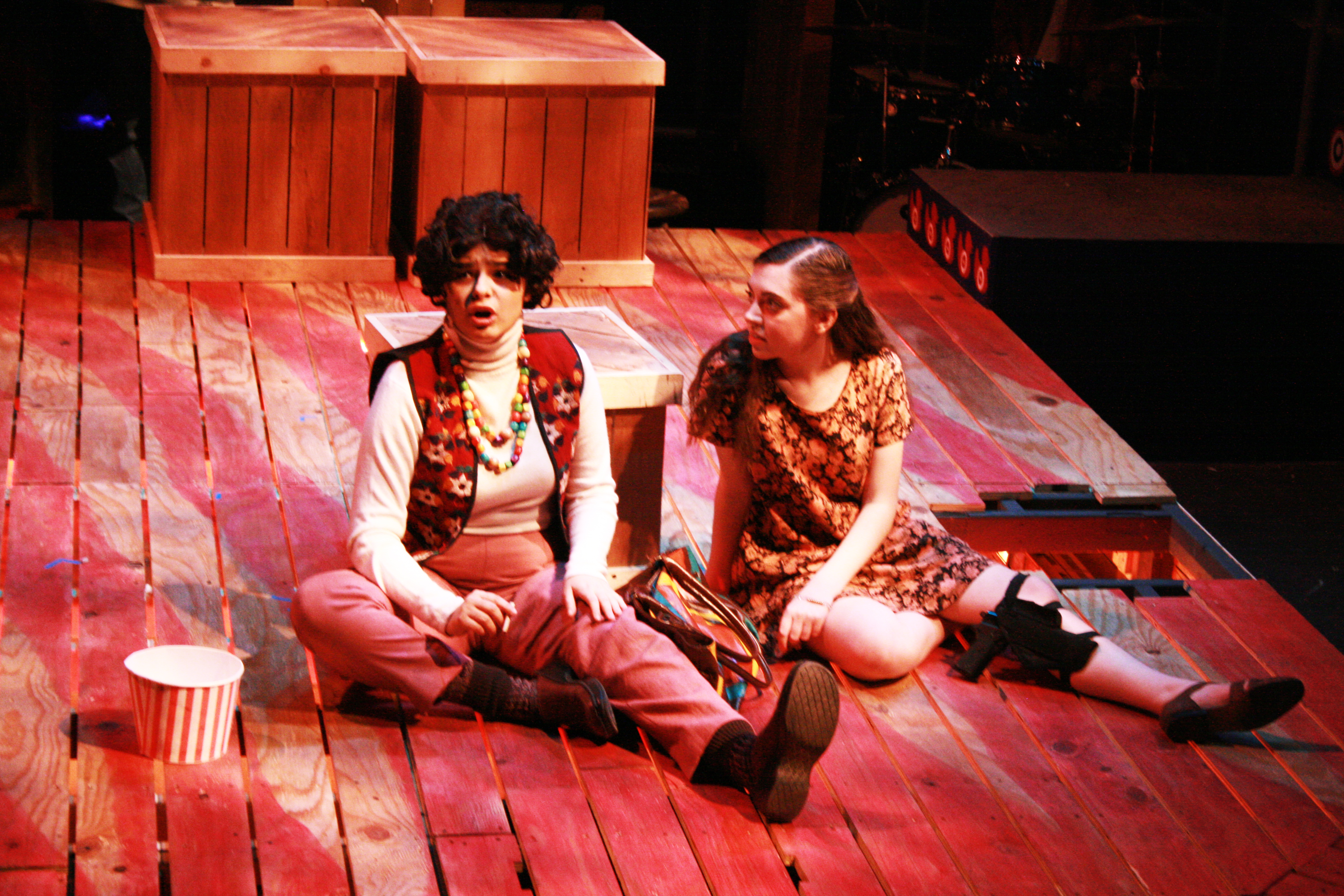 The exciting musical brings the assassins' stories to life in a exhilarating chain of anecdotes performed in song by each assassin. Senior Zoe Jasper, co-director, explained that "the show challenges the audience to empathize with people typically vilified, while evoking tears and laughs."
The show opens with junior Gabriella Avelino, playing the part of the Proprietor, nonchalantly distributing guns to the assassins while singing a beautiful rendition of "Everybody's Got the Right." The scene depicts the Proprietor's efforts to persuade the assassins to assassinate presidents that served during their time.
Each assassin then proceeds to explain their reasons for assassinating or attempting to assassinate a president. Their motivations range from defending the South during Civil War to taking a stand for the environment.
"It's been challenging but very rewarding to tackle a piece with such complex themes," said senior co-director Anastasia Foley.
A highlight of the show is when John Hinckley, played by junior Ben Schwartz, explains that he attempted to assassinate president Ronald Reagan to get his girlfriend's attention and make her less "whory." The scene's humorous plot brought the audience to laughter due to the lack of correlation between Hinckley's attempted assassination and his reason for it.
The disconnect between characters' motivations for their crimes and the outcomes continues throughout the show, providing comic relief for the audience
In order to prepare for the challenging roles, the cast did a great deal of historical research through documentaries. "I listened to an hour and a half long recording of Lynette Fromme's actual psych evaluation and we've all watched documentaries," said junior Nora Geffen who played the role of Lynette "Squeaky" Fromme, one of the nine assassins in the show who fought for environmental rights.
"It's definitely hard to portray these characters because they've all done things that are so hard to understand," said Geffen.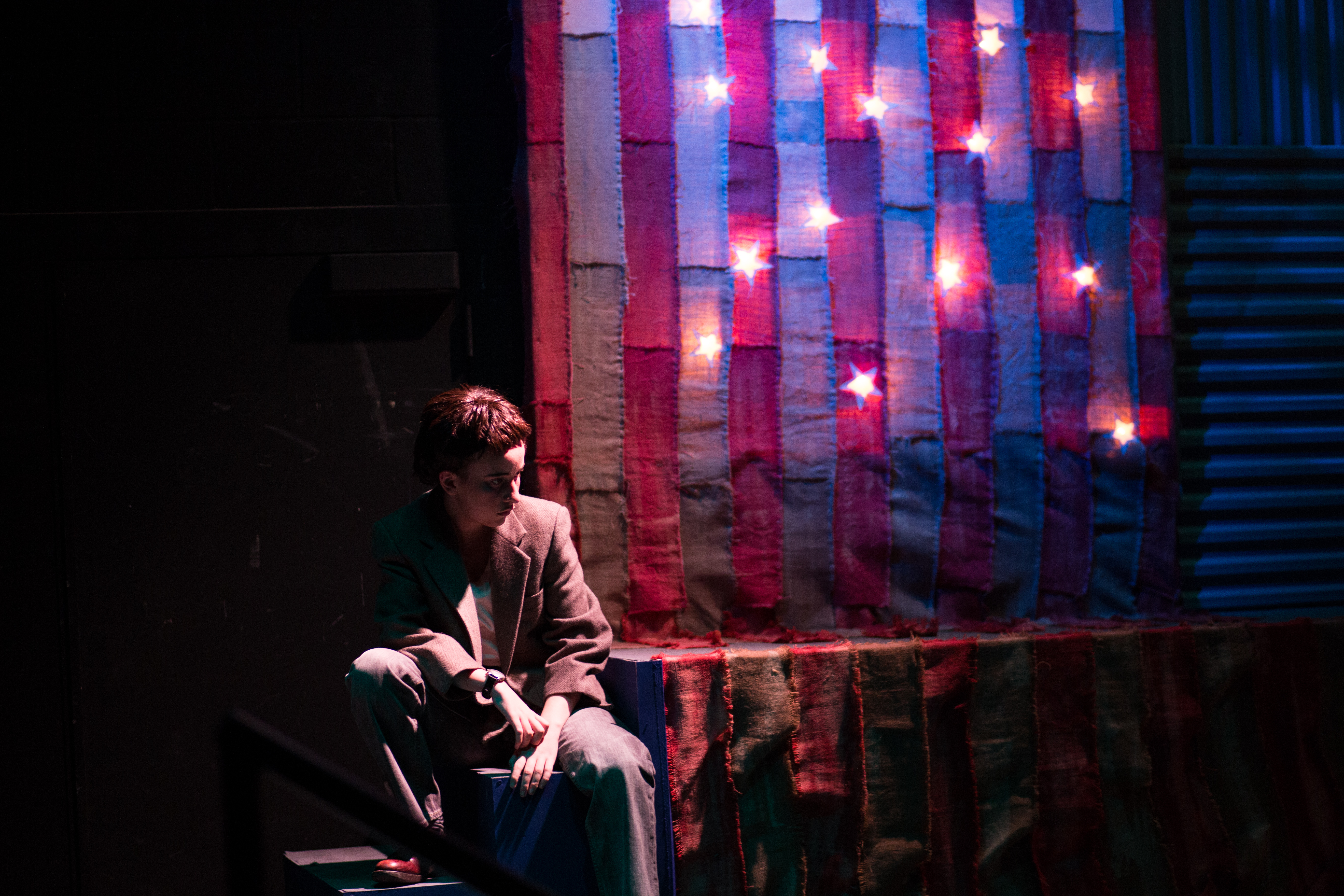 The show ends with the assassins convincing Oswald to assassinate John F. Kennedy and the cast bursting into a song of pride, clearly depicting the characters' peculiar judgement. All of the assassins then join in a circle pointing their guns up towards the stage and eventually fire shots that echo throughout the theatre and leave the premises dark except for a twinkling sign that reads "Shoot The President." The ending was spectacularly powerful in portraying the assassins' mentalities.
Junior Martha Bennett, who played the role of Lee Harvey Oswald, describes the show as unique because it "comes at a really relevant time for American politics."
Even though the musical's topic is quite controversial, Assassins enables the audience to sympathize with the characters' delusional realities.
According to Foley, "Assassins is a very important story in learning to empathize with those you don't agree with."
Bennett added, "It isn't just a comedy or purely dark–it's a mixture of everything and ultimately comes together to create a really different and dynamic piece about human nature."