Girls' volleyball keeps motivated for state tournament semifinal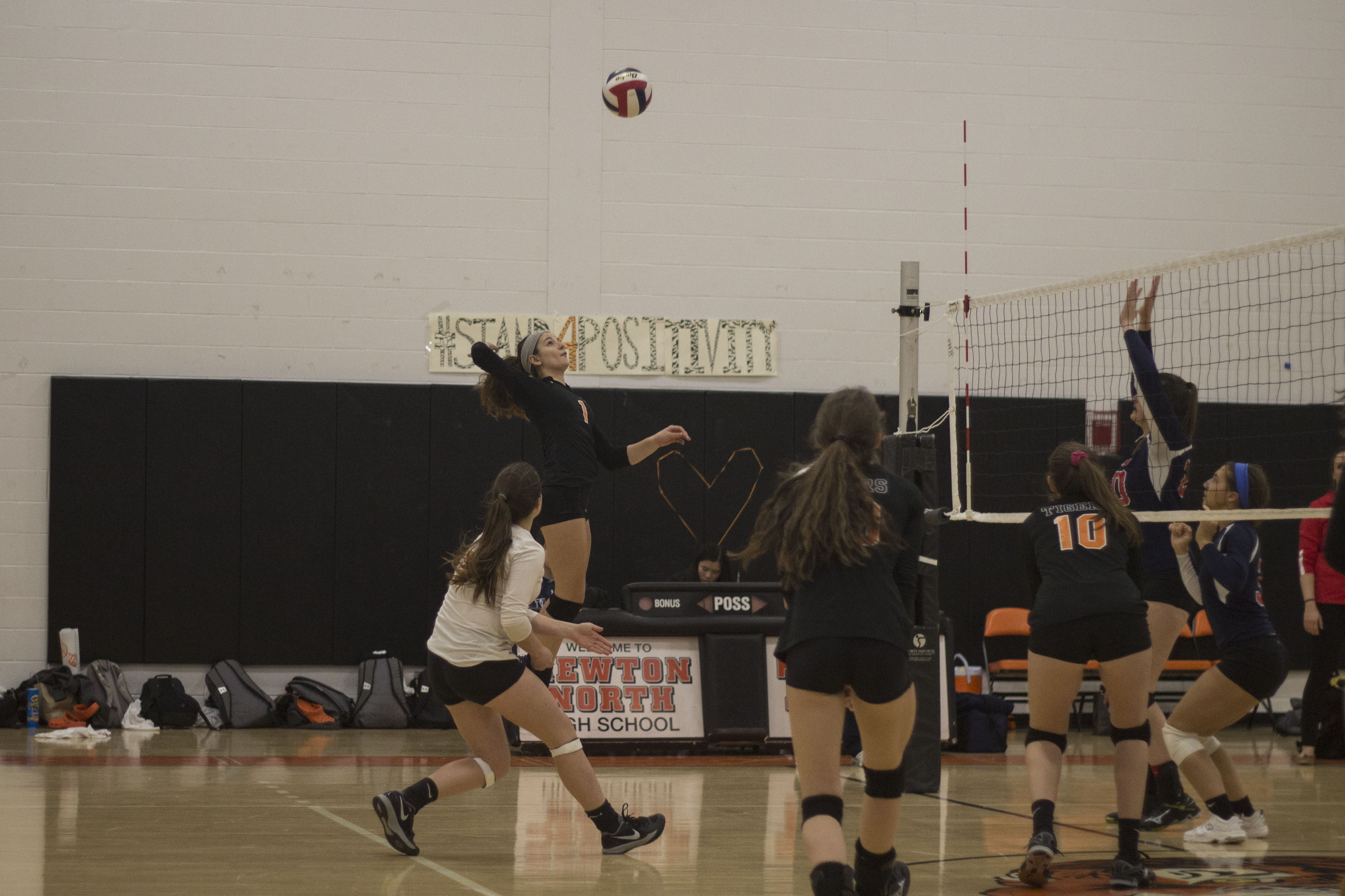 Girls' Volleyball, 20-0, remained undefeated and advanced to the state semifinals with a 3-0 victory over Quincy in the sectional finals Saturday, a "sharp game" for the Tigers before the last week of the season, according to senior Anna Zucchero, a captain with seniors Emma Brown, Abby Donnellan, Lily Marcus, Sofia Perez-Dietz, and Liana Reilly.
The team's state semifinal will take place on Wednesday against Acton Boxboro, for a trip to the finals to face the winner of a contest between Barnstable and Central Catholic.
The Tigers have yet to drop a set in the state tournament, defeating Brookline and North Quincy 3-0 before the most recent contest with Quincy. The team even set a new record on Saturday, winning the first set against Quincy by a score of 25-3, according to Marcus.
For Zucchero, the team's success can be largely derived from the team's motivation and preparation as a unit.
"Every person on the team cares so much and wants to succeed. I think that it is pretty rare to have a team where all of the players have so much focus and motivation," she explained, adding that "we are very good at preparing for each game the same way, without changing anything or doing anything different."
Brown concurred, stating that the Tigers have done a good job "staying united and supporting each other," and that the team should have a good chance for success in the semifinals and potential final matchup against rival Barnstable if they "play the way they play" and "don't let the team on the other side of the net determine how they perform."
After falling in the semifinals of the state tournament last year to Andover, the team now has its eyes set on one final step of finishing the season as state champions this fall, according to Reilly.   
"It's really motivating to each one of us," Reilly said of the Tigers' defeat at the end of last season, a "reasonably early loss" that has been followed up with a dominant run of twenty straight victories for the Tigers.
This year's team is also smaller than last year's group, with a thirteen player tournament team this year compared with nineteen last year, an apparent lack of depth that has potentially played to the Tigers' benefit.
"Most times strength in numbers is the motto to play by, but our small team works to our advantage," Reilly said. "All of our players are super versatile and can play many different positions, and practices can be really focused with everyone getting a lot of court time."
Moving forward, Marcus was optimistic about the Tigers' chances against any opponent, with a gameplan that has proven successful throughout the season.
"We have to focus on our consistency and keeping our serves in, because we know that when the ball is in play, we are always the better team, no matter who we are playing. We just have to keep pushing ourselves and play our game, and if we follow our plan, then we are going to be very successful," she said.