First published Jan. 16, 2015.
by Emily Moss
In October, NBC news published a story about soccer players in Washington State who had contracted lymphoma after playing on synthetic fields. Almost immediately, new concerns began to circulate about the safety of the material.
North community members weigh in
Senior Maddie Maloney, who plays soccer on synthetic turf at North, expressed concern about the fact that bits of "crumb rubber"—the turf's artificial dirt made from recycled tires—can follow players inside after practices and games.
"In my four years at North, I've spent an incredible amount of time sitting, running, and playing on it, and it's definitely scary to think about," said Maloney. "Oftentimes when I come home, I find it in my shoes, my shower, and even my bed."
She added, "I don't know much about the actual effects it can have, but having been around it so much, I know I must be at risk, and that poses a problem for sure."
Not all student-athletes are concerned, however. Senior Quinn Mayville, also a soccer player, noted, "The only problem I've had with synthetic turf is that it causes my cleats to split apart much faster than grass. I don't worry at all about the supposed health risks."
North athletics director Tom Giusti noted that the NBC story may be incomplete because it only features soccer players and fails to mention any football players or other athletes. According to Giusti, there have not been any notable issues related to the synthetic turf at North, except that players often carry bits of rubber inside with them.
"We would never jeopardize anyone for the sake of putting in a field," said Giusti, adding that, "we want to make sure the health and safety of our student-athletes is our first priority."
The long-drawn "Astroturf" dispute
The turf in question dates back to 1965, the year the owners of the Houston Astros baseball team realized it would be impossible to grow natural grass in their new indoor stadium, the Astrodome. In a desperate attempt to begin the season and make use of the facility, they turned to a new synthetic alternative. At the time, "Astroturf" was made of a thin, rug-like material.  Since then, a softer turf—which uses crumb rubber and more closely resembles natural grass—has become widely used. Its supporters claim that it provides a more durable playing surface that is easier to maintain.
Even before the recent NBC story, critics feared that synthetic turf could pose certain health hazards to players.
However, the NBC story brought new urgency to the matter, citing a soccer coach in Washington State who said she worried that carcinogens in crumb rubber could be the reason that two of her goalies had suffered from non-Hodgkin's lymphoma. Although no scientific studies have shown evidence that synthetic turf causes cancer, the NBC story notes that goalies have a particularly high exposure to crumb rubber because they make "constant contact with the turf."
Guive Mirfendereski, a Newton-based founder and managing editor of www.synturf.org, said that roughly 85 percent of the players on a recent version of a list detailing soccer players with cancer played as goalies. He noted that this list remains unofficial and that the coach's investigation has largely been conducted independently.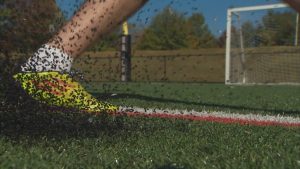 The debate in Newton since 2008
Aldermen Ted Hess-Mahan and Amy Sangiolo had other health risks in mind when they voted against installing synthetic turf first at South and later at North. 
In 2008, Hess-Mahan filed a report about the potential presence of lead in crumb rubber.
Hess-Mahan also said that synthetic turf can become dangerously hot in high temperatures—which in rare cases can lead to heatstroke and dehydration among players. Moreover, Hess-Mahan expressed concern that cuts and scrapes caused by synthetic turf can make players vulnerable to a skin infection called methicillin-resistant Staphylococcus aureus, more commonly known as MRSA.
However, the Synthetic Turf Council claims that "MRSA and other staph infections strike due to poor hygiene, regardless of type of playing surface" and that studies conducted by the California Environmental Protection Agency and Pennsylvania State University are "in agreement" with this conclusion. The Synthetic Turf Council also cited a study by the U.S. Consumer Product Safety Commission stating that "young children are not at risk from exposure to lead in these fields."
Although Hess-Mahan was not originally able to persuade enough of the other aldermen of the dangers of synthetic turf, he has since managed to pass an ordinance guaranteeing that "the installation of synthetic infilled turf athletic fields on city-owned property shall use sustainable, recyclable, lead-free, non-toxic products to the maximum extent feasible" and that cost should not be the "overriding factor" in deciding which material to use.
Newton Parks and Recreation commissioner Robert DeRubeis noted that synthetic turf is considerably more expensive to install than regular grass, but that it has lower maintenance costs over time because synthetic turf does not require mowing, re-sodding, or irrigation.
Joe Kacevich, who works for Shaw Sports Turf, the company that originally helped install synthetic turf at North, also noted that "all of our products undergo 16 material tests and 14 performance tests" and "must meet or exceed the safety and performance criteria of the very best natural grass fields in the world."
Even so, Ellie Goldberg—who is a children's environmental health and education advocate, the founder of
Healthy-Kids.Info, and a member of Green Decade Newton—said "organically-managed natural grass is the safer option."
Kids who play on synthetic turf, Goldberg noted, often swallow bits of crumb rubber and inhale the vapors that are emitted in hot weather. However, Goldberg said that when members of the U.S. Environmental Protection Agency (EPA) began to promote the recycling of old tires into synthetic turf infill and rubber play yard surfaces, they were heavily influenced by tire companies and failed to consider these health risks. She cited a report by the Resource Convention Challenge Scrap Tire Workgroup stating that the convention aimed to "Divert 85 percent of newly generated scrap tires to reuse, recycling or energy recovery by 2008."
Mirfendereski also commented on the likelihood of inhaling toxins from synthetic turf, saying that studies by an organization called Environment and Human Health, Inc. (EHHI) show that the toxins in synthetic turf are volatile—meaning that under certain conditions, the turf can ooze chemicals and emit gas. Some of the emissions are more likely to occur in the initial year following the installation of synthetic turf, according to Mirfendereski, yet crumb rubber itself becomes more dangerous after four to five years because it turns to a dust that can easily enter the body and settle in the lungs.
He added that although there have been no conclusive studies regarding the dangers of synthetic turf and crumb rubber, there have been studies that identify isolated ingredients in crumb rubber—including 12 carcinogens, according to the EPA—that have been proven harmful in other contexts.
Goldberg noted that the safety recommendations from the EHHI for kids playing on synthetic turf include to "shower immediately after leaving the field, as well as changing their clothing, including their socks and shoes." Goldberg also said that players need to wash hands before eating, that small children and dogs should stay off the turf at all times, and that families should avoid picnicking on the sidelines.
However, many student-athletes remain unaware of these guidelines. Senior Susanna Ming, who plays field hockey, said, "I don't think many girls on the team think about the health concerns of turf. The only extra thing anybody does that we don't do when we play on grass is shaking the pellets out of our shoes."
Maloney similarly noted that she had never heard of the safety recommendations. "I suppose if they were enforced and people were more aware of the safety risks, we may take better care to exercise these precautions," said Maloney. "But as of right now, I don't believe they are enforced."
Hess-Mahan says that while alternative infill materials—such as shredded coconut husks and acrylic-coated sand—are available, grass would not be financially feasible at North and South at this time because the fields, the subsurface, and the drainage system would all need to be replaced.