Review: Harvestfest features talented student musicians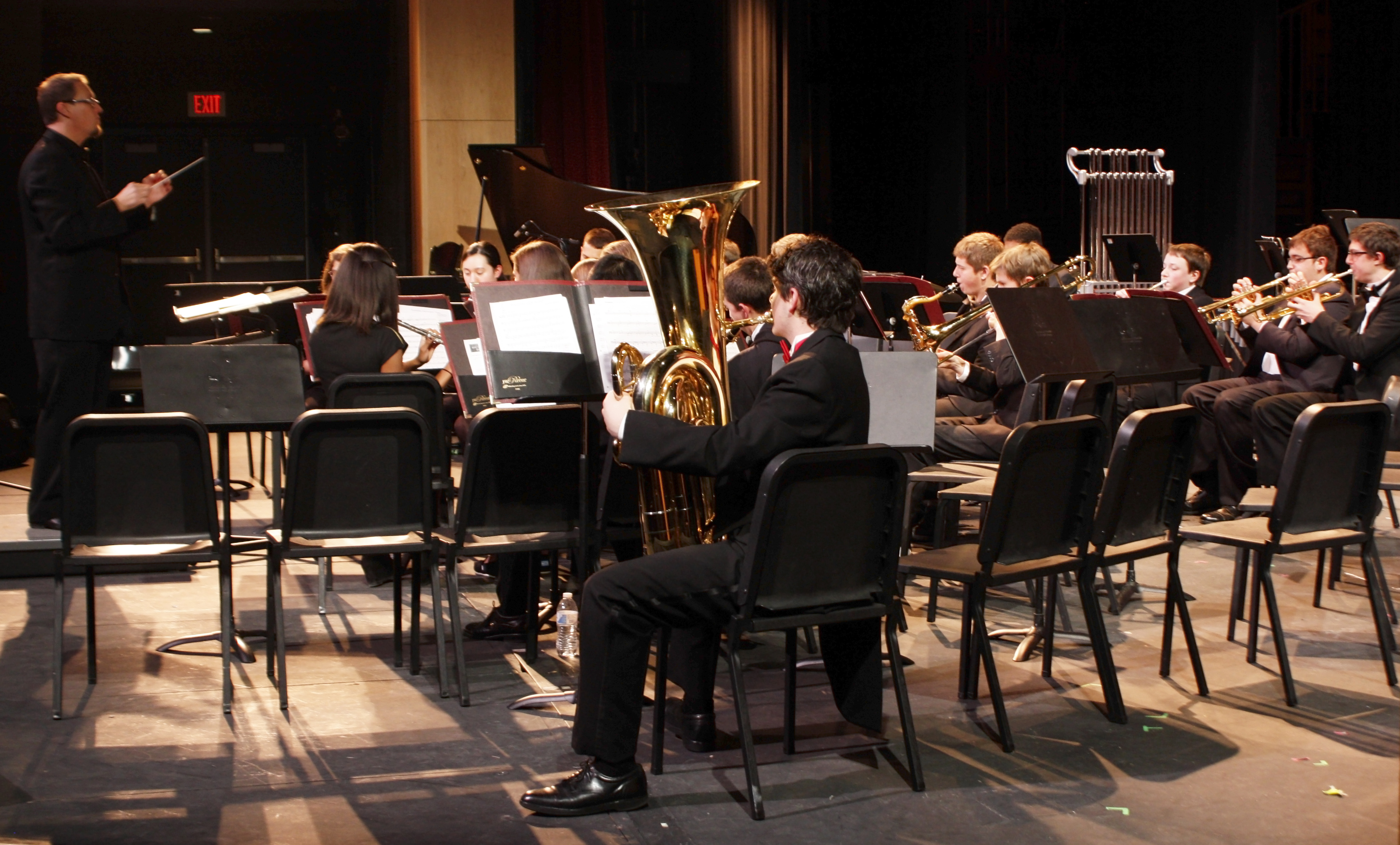 [divider]Harvestfest I[/divider]
by Amy Morrill
An almost tangible excitement filled the auditorium yesterday evening at Harvestfest I, as North's musical groups showcased their work for the first time this year. The talented musicians played a variety of styles, from classic band music to contemporary jazz.
The concert began with Symphonic Band playing "Joy," by Frank Ticheli, a whimsical song that skillfully used drums to contrast different sections; some were slow and somber while others were upbeat and purposeful. It ended with a flurry of frantic sound, followed by startling silence—a moving finish.
After another song, Symphonic Band joined Wind Ensemble to perform "Abracadabra," also by Ticheli. Richard Labedz, the director of both groups, described the song as "slightly mysterious but light-hearted." The playful piece evoked images of spies and detectives creeping around in the shadows. The two groups joined together effortlessly, despite only having one previous rehearsal. The song finished with a fittingly dissonant chord, leaving a taste of intrigue in the air.
Another standout song was "Voices of Freedom," a compilation of songs about liberty from different times in history, which was arranged by Jubilee Singers director Sheldon Reid. The song, performed by Jubilee, was dedicated to the people suffering from recent tragedies that have happened in the world. Different melodies and voices leapt out at the audience in this jumble of songs that perfectly captured the moment. It concluded with the chorus fading out and singing "some day." At the end, the audience was left speechless for a moment before bursting into applause.
Tiger Bebop came on next, and kept the audience engaged and excited with their jazzy songs. In particular, "Walking Down the Street," arranged by M. Bengsten, was jazzy and fun, with a standout saxophone solo from sophomore Ryan Park.
Jazz Ensemble finished out the night with a set of funky numbers that kept the audience dancing in their seats.
"Groove Merchant," by Jerome Richardson, was a slow, slick song. Trumpets blared in the background, crescendoing to show the extent of their power. Instruments slid from note to note in the slick way that can only be done in jazz.
The concert ended with "Island Breeze," by Mike Tomaro, an upbeat song with a Caribbean feel. Musicians mixed long and staccato notes to create an easygoing feel. After an impressive piano solo by sophomore Brendan King, the group came together and ended on a strong chord, resulting in a standing ovation from the audience.
Overall, the concert was fun and showed off the talented musicians at North. It was a perfect way to start off the year, and it was indicative of a great year in the music department.
[divider]Harvestfest II[/divider]
by Rose Bostwick
Continuing the tone set by Harvestfest I, Harvestfest II featured a wide variety of music and showcased incredible amounts of student talent in honor of the fall season yesterday night in the auditorium.
Concert Choir started the night with a strong and fitting performance. After a brief opening piece, the ensemble performed the classic sea chanty "Bound for the Rio Grande" by Emily Crocker. An uptempo song with strong background harmonies, the number had a solo piano accompaniment and left the audience energized and excited.
Concert Choir's closing piece "Jabula Jesu," an African folk song arranged by Stephen Hatfield. This unique piece started a capella, then was joined by congo drum accompaniment. "Jabula Jesu" was an interesting, catchy number that was different from the standard choir piece because of its exotic sound. The interesting inflections and different vocal parts delighted the audience and ended Concert Choir's performance on a high note.
Next, Family Singers took the stage. Dressed in black and white suits and floor length emerald gowns, Family Singers immediately caught the attention of everyone in the auditorium.
They then performed four madrigals, the highlight of which was "Black is the Color of my True Love's Hair" by Rene Clausen. The classic American choir song featured a captivating clarinet solo by senior Julia Ansolabehere, and had a beautiful, flowing sound that showcased the choir's talent for mastering many vocal parts and engrossed the audience.
Family Singers ended with "Geographical Fugue," a spoken chorus piece by Ernst Toch. The piece consisted of many different sections rhythmically chanting names of geographical places in a round. While confusing at first, the piece was extremely attention-grabbing and a surprising yet fitting end to Family Singers' performance.
After Family Singers,String Ensemble took the stage and performed Mozart's "Serenata Notturna," a complicated piece in three parts. Alternating between upbeat tempos with a powerful sound and slower, more elegant tunes, the piece was an excellent choice because its changing tones highlighted every member of the ensemble's various talents.
To finish the concert, Orchestra entered. After playing two pieces, Orchestra came to a grand finale with the six-part piece "Capriol Suite" by Peter Warlock. Each part had a different title and a completely different sound and feeling. Orchestra did an amazing job of conveying the emotions behind each part, ranging from somber and menacing to peaceful to intense and triumphant.
The last part of "Capriol Suite" was titled "Mattachins (Sword Dance)." Using sharp, punctuated notes, the musicians created an intense, choppy feeling for the song. The different sections of Orchestra created an alternating dynamic which made the audience feel as if they were listening to a representation of a jousting match. The high-energy piece kept the whole auditorium enthralled right until the last second of the concert.
Harvestfest II was a great night that showed large amounts of talent, both in vocals and instrumentals. The concert was a great end to a fall season of making music, and provided a lot to look forward to in the coming seasons of North's music program.