Entrepreneurship Day: Speakers discuss business opportunities, experiences

As part of National Entrepreneurship Day, business teacher Robert Kane and several business students invited speakers to share their entrepreneurial experience with students all day yesterday in Little Theatre.
[divider]B-block[/divider]
by Emily Moss
Hanson Grant '12, a college senior and small business owner, spoke to students about his experience as an entrepreneur.
Grant's business, called Think-Board, sells adhesive dry-erase film for walls and desks. Today, Grant says he has sold his product internationally and has also implemented it in 10 classrooms across New England.


Even as a young teenager, Grant says he had a knack for business.
"I sold sandpaper in eighth grade, gum in seventh grade, and T-shirts throughout high school," said Grant. His T-shirt business was particularly successful and ultimately inspired him to pursue his passion as an adult.
"Some of my friends said they wanted to be doctors or lawyers," said Grant, "but I just wanted to be my own boss."
His senior year of high school, Grant applied to Babson College to study business. There, he began a program called Foundations of Management and Entrepreneurship, in which each student was required to start a business.
As his project, Grant chose to create sunglasses with the logo "Boston Strong."
"It was a little scary to say, 'I'm going to be the CEO of this business,'" said Grant, "but sometime you just have to take that opportunity."
Grant added that the project was ultimately a very valuable learning opportunity. However, the business—despite a period of success—proved short-lived.
Grant, however, was not discouraged. He decided to brainstorm one new business idea each day until he found one that seemed most likely to succeed. To keep a record of his ideas, Grant decided to cover the wall of his room with a dry-erase board.
One of Grant's friends was the first to point out that his method of recording his ideas could be a marketable product in itself, thus creating Think-Board. Grant has been working to grow the company ever since and grants internships to high school students interested in pursuing entrepreneurship.

[divider]C-block[/divider]
by Maya Metser


Co-founder and chairman of the Boston Beer Company, the producer of Samuel Adams beer, Jim Koch came in to talk about his company as a part of Entrepreneurship Day C-block in the auditorium.
Koch started by talking about the lack of linearity to starting a business. "Nobody has linear paths to success. I did not know what in the world I wanted to do," he said.
Koch mainly spoke about the theme of happiness versus success. Koch explained that when starting a small business, the chances it will make you rich are "about one in 300." However, he argued, if you start the right, small business, you have large chances of being passionate and happy. "Don't ask if it will make you rich. Ask if it will make you happy," said Koch.
He also spoke to the importance of finding a business partner. According to Koch, his partner while he founded the Boston Beer Company did not have an MBA or even a college degree. Rather, she had "an enormous amount of energy, drive, and she was resourceful and great with people," he said.
"Talent comes in all kinds of packages," Koch said. "Many people ask me why I hire so many women. If we're not hiring women, we are overlooking half the human race." He advised people to open their eyes to everyone's abilities and supercede the class system. Doing so, he added, would help you find amazing people.
At first, Koch had no distributors to carry and sell his beer, so he had to learn how to sell beer on his own. "I went around from bar to bar with cold beer in my briefcase and tried to sell it," he said.
He described selling as 80 percent listening and 20 percent talking. Selling is about offering help to other people to accomplish their objectives, not your own. The human to human contact he experienced ended up being "very liberating," Koch said. In business, everything happens "with, by, and through people."
When starting a small business, resources are often scarce, he explained. "There was no way we should have been successful," he said. Koch added that his company used culture and values to substitute for money and resources.

[divider]D-block[/divider]
by Jacob Sims Speyer
Venture capitalist Gaurav Jain spoke about his experience as a technology entrepreneur as part of Entrepreneurship Day D-block in the auditorium.
Jain, who is a member of Founder Collective (a venture capital fund which has invested in companies ranging from Buzzfeed to Uber,) discussed the key components of starting a business in today's day and age.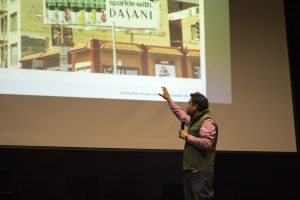 "We are in a golden age of entrepreneurship. There has never been a better time to start a company," said Jain, referencing how businesses have traded in the stereotypical boardroom and men-with-suits towards a more accessible setting. "The barriers to getting started are so much lower."
Although Jain did not guarantee that all businesses work out, he emphasized the personal gain of starting a company. "The worse case is you will learn a lot."
The first step one must take to start a business, Jain mentioned, is to have a product. "A product can be anything," he said. Next, a business must focus on capturing an audience to purchase a product. Jain said, "Getting an engaged audience is really what matters today."
To push the product to users, Jain emphasized the importance of a distribution network, such as Facebook or Snapchat. "Brands want to now leverage that following," Jain mentioned.  
In order to demonstrate these steps in the real world, Jain analyzed the success of Michelle Phan, a Youtuber who sampled different makeups. As she gained popularity, companies signed contracts with her to advertise their facial products.  "What started as a hobby- more and more brands became interested," said Jain. Soon, she started a company which would ship makeup to her followers.
"She never thought that this is where she would end up," Jain said.  
Lastly, Jain discussed how businesses require time and dedication to be successful. "The results take a long time," said Jain. "It's a marathon, not a sprint."

[divider]G-block[/divider]
by Jackie Gong
CEO of Edgeshares, a company that allows people to buy and trade stocks, Kenneth Kiron spoke to students about what it is like to be an entrepreneur in the auditorium G-block yesterday.
Kiron started his first business, Make My Day Cake Company, in college, where he sent ads to the parents of college freshmen asking if they are interested in sending a birthday cake to their child in college. According to Kiron, roughly 30% of the contacted parents responded, and the business became very popular. Kiron also launched two more successful businesses while in college: a delivery service for food, and a delivery service for movies.
Kiron's success turned in a different direction after college. Following the United States' invasion into Iraq in 1991, Kiron lost thousands of dollars in the stock market, and he wondered why he could not trade his mutual funds during regular stock market trading hours.


After sharing his concept, Kiron was told there was not a need for trading mutual funds during the day, and that it wouldn't work well. Kiron decided to pursue the idea anyway, and read books to help him learn more about writing his own patent application, which would protect his plans, by himself.
"It turns out that it was a pretty good idea," said Kiron, who showed the audience that daytime trading of mutual funds is currently a 2.2 trillion dollar industry.
Kiron advised students to work hard and not to worry about negative opinions of others. "People will be jealous, but that's okay. They won't see the hard work that goes into being an entrepreneur," he said.
Kiron is currently working on a math algorithm that will duplicate every stock market in the world. "It has the potential to affect every single investor in every single stock market," he said.
"[Being an entrepreneur] is like an adrenaline rush," said Kiron. "When you're working for yourself, it's very empowering."
[divider]F-block[/divider]
by Jackie Gong
Entrepreneurs David Montague and Scott Nassa each presented their companies to students during F-block yesterday in the Little Theatre.
Nassa, who currently runs an LED lighting company, started his business with no investors, a decision he does not regret; in the past three years, his company has made over 30 million dollars in sales, something he said was able to do without the pressure of an investor influencing the company.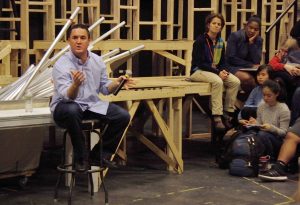 Nassa shared his motto to students. "I tell my kids three things everyday: work hard, never give up, and be good to people. If you can remember those three things, then you can do whatever you want to do, and go anywhere you want to go," he said.
Montague's company, Montague Bikes, sells full-size foldable bikes, which he demonstrated by bringing a couple of the company's products.
Montague's idea first started when he was taking a business class in graduate school at MIT, and submitted a business plan assignment for an idea his father had had for foldable bikes. Montague decided to start the company after his professor told him that the idea had potential.
Montague said that he thoroughly enjoys his job as an entrepreneur. "It's just so much fun to run your own company."
Agreeing with Nassa's previous point about choosing not to have investors in the company, Montague said, "You become your own boss, and you're not beholden to anyone."
Montague Bikes have had many partnerships with different organizations, including the Defense Advanced Research Projects Agency (DARPA), which develops new technologies for the United States military. The company developed quiet, load-bearing bikes with DARPA. Soldiers in Iraq were able to jump out of airplanes with the foldable bikes attached to each person, which made transportation much more efficient once on the ground.