Review: Pops Night celebrates year of music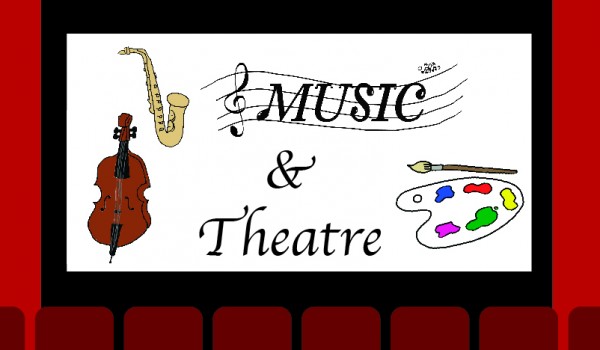 by Rose Bostwick
Hundreds of audience members enjoyed catchy, lighthearted tunes May 21 at 7 p.m. in the cafeteria as part of Pops Night, an annual concert held by North's music department to celebrate the culmination of the year's musical season.
After a casual potluck dinner for guests and students, the Clarinet Ensemble kicked off a fun, entertaining evening with their performance of "Super Mario Bros. Theme," composed by Koji Kondo, and "Ghostbusters Theme," composed by Ray Parker, Jr. Hearing the peppy renditions of the familiar theme songs engaged the audience and brought smiles to the faces of many.
Wind Ensemble and Symphonic Band followed, performing four songs together. Conducted by senior Molly Dalzell, the two groups combined gave a powerful performance of "Centuries," performed by Fall Out Boy. The high notes of the flutes contrasted with the low notes of the other instruments, creating an energizing, rapidly charged piece.
Next, Concert Choir performed "Carrying the Banner" from the musical Newsies, a motivational, upbeat tune about staying positive throughout hectic city life that energized the audience.
Orchestra followed with an impressively unique and dramatic medley of songs from the musical Wicked. Audience members immediately recognized the tune that followed as "Uptown Funk," performed by Bruno Mars. The catchy, well-orchestrated rendition of the popular song was a highlight of the night that led to cheering and dancing, and left almost everyone clapping along.
Next, the Family Singers performed two songs, one of which was "I See Fire" by Ed Sheeran. Angelic voices soared through the cafeteria during this slower piece, which featured many impressive solos.
Dressed in all black, the Jubilee Singers brought the night to a more solemn close with three songs that reflected current events. Opening with a medley of songs from throughout African-American history, the Jubilee Singers covered slavery, the civil rights movement, and racism today in the first piece.
Next, the Jubilee Singers performed an inspiring rendition of "The Star-Spangled Banner." Starting in unison then diverging into complex harmonies, the group began the national anthem brought the audience to their feet.
In the night's final piece, the Jubilee Singers brought awareness to police brutality against African-Americans with the protest song "I Can't Breathe," a tribute to Eric Garner. Junior Swabira Mayanja led the choir in this powerful piece, singing "We ain't gonna stop 'til people are free." Filled with emotion, the piece was striking and unforgettable for the strong delivery given by the performers and its overall message.
Pops Night drew to a close with the presentation of awards and scholarships from music department faculty. Seniors awarded were seniors Spencer Anderson, Zack Bennett, Dominic Bosco, Irene Golden, Ella Laniado, Dan Wayland, Serena Wolfe, and Adam Zupancic.
Overall, the concert provided a delightful night in which everyone in the music department came together to fill the cafeteria with remarkable performances of spectacular music.