Review: Springfest I brings together a variety of music, amazes audience

by Lucy Lu
In front of a pink and blue faded backdrop, beneath the bright lights, empty black chairs and music stands were delicately laid out before an eagerly-awaiting audience.
A sudden applause erupted, marking the start of Springfest I, a night of music that featured Jubilee Singers, Symphonic Band, Wind Ensemble, and Chamber Ensembles.
Before long, a string of musicians walked one-by-one onto the pre-assembled stage, dressed in black and white. The Wind Ensemble, conducted by music teacher Richard Labedz, began the night with an empowering piece by Percy Aldridge Grainger titled "Lincoln Posy." Subtle crescendos and contrasting harmonies gave the piece a grand feel and set the tone for the night.
Next, a quintet of male trumpets took to the stage, beginning with "Whiteleaf Hill" by Benjamin Tucker. The parts were scattered amongst trumpets—three played a deep, staccato harmony, while the other two played a legato melody—yet they blended perfectly, creating scales that echoed in countless octaves. Throughout the piece, the audience nodded and hummed and let out a roar of applause upon the final note.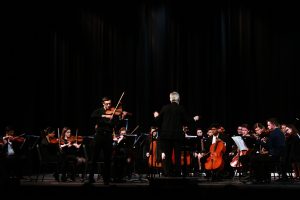 In contrast to the upbeat trumpet performance, the flute ensemble struck a calming mood. A quartet of female musicians played "Canon in D" composed by Johann Pachelbel. The gentle yet powerful music rang throughout the auditorium as bodies swayed to the elongated melodies. The audience, stunned from the beauty of the music, broke the delicate aura the piece created and applauded in silent adoration.
Following the flutes, the clarinet ensemble captured the audience's attention with an elongated flat in Klezmer's Freilach, arranged by Joshua Rubin. A type of instrumental folk music, the piece boasted unique, sharp melodies and a gospel style. The clarinets perfectly captured the beautiful flats and deep tones the piece held, making this a standout performance during the night.
To end the instrumental section of the night, the percussion ensemble featured catchy rhythms, a variety of drums, and an audience enthusiastically nodding to the beat in "Scherzo a Due" by William Kraft and "Crazy Army" by Ed Lemley.


Two unforgettable numbers performed by Jubilee Singers marked the end of a spectacular night of music. Jubilee director Sheldon Reid introduced a Jewish spiritual tradition, "Let My People Go" as well as "Game Changer," a piece by senior Rebecca Salganik based on the James Bond theme song. In "Game Changer," junior Swabira Mayanja stunned the audience with her full and passionate voice, earning a loud cheer on her final note and signing off the night with a bang.