Review: Actors showcase improv skills in Spontaneous Generation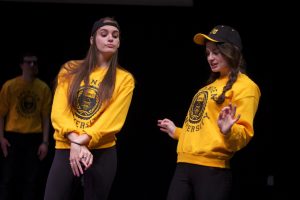 by Rose Bostwick
Actors clad in bright yellow "Spontaneous Generation University" sweatshirts thrilled audiences with improvised scenes, songs, and dances at yesterday's hilarious opening night of North's improvisational comedy troupe show Spontaneous Generation.
The troupe will continue its run, performing a different improvised show every night, tonight through Saturday at 7:30 p.m. in the little theatre.
Last night's show opened with a lively parody of a court case. Senior Elena Rodriguez, a director with junior Jen Gately, played a lawyer defending her client Beyonce against fervent accusations of identity theft. The scene was filled with witty jokes, and started the night off on  a high note.
After an amusing dance transition, the scene changed. An audience member was chosen to do a mock television interview about her love of socks, making audience participation was crucial  to this scene. Others in the audience helped choose the theme of commercial breaks interspersed throughout the scene for members to act out.


Later, the cast played the popular improv game "Da Doo Ron Ron." Cast members rhymed one-syllable names chosen by the audience to the tune of a song. Each member was eliminated after making a mistake until only the winner, junior Jackson Bunis, was left standing.
Next, a pair of irritable friends had a "music night" together where they listened to songs together. Song titles and album names were suggested by the audience, and cast members then made up the songs and lyrics on the spot. One of the funniest songs from this was a reggae breakup anthem sung by Gately, titled "Even Though You Give Me Chocolate, I Won't Take You Back."
In the last and best performance of the night, the mother of senior Jelani Asim, a member of the troupe, was chosen to come down to the stage to recount some important events from her life.
After, the actors took what she had told them and created a catchy musical on the spot based on her life, which showed her lying father, love of walnut trees, and her cross-dressing friend, hilariously played by senior Natalie Tereshchenko. The audience applauded wildly as the final song, "You Give Me Life," came to a sensational close.


The bond of the cast members in Spontaneous Generation was evident. The group had an amazing dynamic, and worked well to showcase each other's strengths. Whenever a scene started to become worn-out, the troupe would quickly switch, ensuring that dull moments in the show were rare and short-lived.
Additionally, audience participation added another layer of complexity which guaranteed that everyone watching was laughing and kept on the edge of their seats.
Overall, Spontaneous Generation was a lighthearted, diverse performance that was an absolute pleasure to watch, as demonstrated by the huge smiles of every member of the audience.
Tickets for the next three nights are sold out, but there is a wait list available on Theatre Ink's website.