Kindness Day teaches students the value of happiness, mindfulness
A-block
by Lucy Lu
Nataly Kogan, founder of the website Happier, spoke about the importance of kindness in her journey towards greater happiness last Friday during A-block as a part of Kindness Day.
Kogan grew up in Soviet Russia until she and her family escaped to Detroit, where she started the eighth grade.
Middle and high school were hard for Kogan due to her lack of English skills and underexposure to seemingly everyday objects, including lockers. However, continuous acts of kindness enabled her to fit in quickly, and she was eventually attended Wesleyan University after she graduated.
Kogan explained that although she achieved many goals and became "successful," she did not reach happiness. "Happiness is not a destination," she said. "It's a lifestyle. Neither is happiness the end; it is a beginning."
A new beginning for Kogan was when she founded Happier, a social media platform created as an outlet for sharing happy moments, no matter how small. "Life is made up of moments," Kogan said. "You can choose to make them happy ones. You can also choose to share them." Today, Happier has over a hundred thousand users and over four million moments.
However, Kogan believes that, in the end, being happy comes down to one thing: being grateful. "Happiness isn't some euphoric state or an absence of negativity," she said. "It's just pausing longer to appreciate the positivity."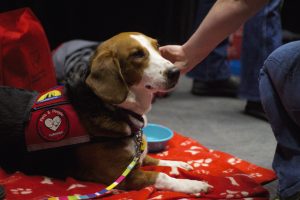 E-block
by Maya Metser
Five panelists talked about their experiences with mindfulness during E-block in the Little Theatre as a part of Kindness day last Friday.
Math teacher and co-advisor of Kindness day Tracey Stewart opened up the discussion by explaining how kindness is proven to have positive effects on people's lives, whether it is on the giver's end or the receiver's.
The first panelist, zen practitioner and priest Mike Fieleke discussed the importance of bowing to the practice of mindfulness. Bowing may seem silly, but "what I'm bowing to is the moment just as it is," he said.
He also added, "We're always looking for the next thing to do, but appreciating things just as they are offers peace."
Beals housemaster Michelle Stauss focused on yoga and mindfulness. She first started doing yoga in her twenties and had trouble with "doing it right." She soon realized that "It's not about doing mindfulness right; it's more about accepting yourself. Taking time for yourself allows you to be less judgmental of yourself and kind to yourself."
Junior Kayla Tymes talked next about how she prefers to do something familiar instead of traditional meditation and breathing to be mindful.
She said, "Quietness just doesn't work for me." Instead, she finds a hobby like running or drawing and focuses on that "rather than something I have to do tomorrow."
Similarly to Tymes, physical education teacher Lauren Baugher is not someone who relaxes easily. She enjoys practicing mindfulness through running or exercising or other familiar things. She said, "Sometimes, we're pulled in so many different directions that  it is important to take time for ourselves."
Baugher teaches mindfulness to her kids who are three and five. She added, "When they are frustrated, I teach them to take a deep breath. How you choose to react after doing this is so different."
The last panelist was senior Eli Schwamm. Schwamm practices sitting meditation for 30 minutes each day. He started meditating because he felt that he spent a lot of hours "wasting time," and he was not as happy as he wanted to be.
He said, "I am starting to understand that I've been putting pressure on myself to feel happy. I still get angry and sad, and I'm okay with that. I've been able to laugh with myself and be honest with myself more."
The session ended with a short sitting meditation period and a few questions from the audience.
G-block
by Amy Morrill


Members of Inward Bound Mindfulness Education (iBme) discussed ways to care for others and to relieve stress during G block in the auditorium Friday as part of Kindness Day.
Philip Murphy, a senior associate at iBme, was joined by Jen Brooker, a leader of adult and teen retreats at the program, in leading students in a series of stress relieving activities and talking a little bit about their own experiences with mindfulness.
According to Murphy, "mindfulness is about being fully present in the moment with kindness and curiosity." He added that having mindfulness can be a "pathway to kindness," both to yourself and to others.
The presentation was enriched by interactive activities with the audience. In one, Brooker had everyone plant their feet on the floor and close their eyes. She then told them to focus on each part of their feet and legs from "the inside out". Later, students partnered up and discussed one kind thing that has happened to them, one kind thing they have done for themselves, and one kind thing they have done for someone else.
"We are in a high-stress culture today, and [mindfulness] is an incredibly helpful tool. It's about learning to live in the present," said Murphy.
F-block
by Cate Waters
Senior associate Philip Murphy and intern Jena Brooker from Inward Bound Mindfulness Education came to speak to students during F-block, as part of kindness day.
Brooker and Murphy spoke about their experiences with mindfulness.
"Mindfulness has really helped me in the past year manage my stress," said Brooker.
Brooker explained to students that she graduated early from high school because of all the stress she felt.
Murphy explained the way this fit it to kindness day was that "managing stress allows us to be happy and kind to others."
Next Brooker lead the students in a three minute breathing exercise that focused on feeling grounded. Students closed their eyes and focused on the muscles in their legs.
Students were then told to reflect on one way that they care for themselves, one way others care for them, and one way they care for others. Then students turned to a partner and shared what they reflected on.
Students then discussed a good way they care for themselves, one way they do not caring for themselves, and what they could do to care more for themselves.
Next, they discussed how they care for someone else and how they could care more for others.
Brooker explained happiness as a cup of water.
"Your cup needs to overflow before you can be kind to someone else," said Brooker.
To end the block, Brooker and Murphy talked about their organization and the annual retreats they offer to teens.
"This organization has really changed the lives of teens," said Murphy.