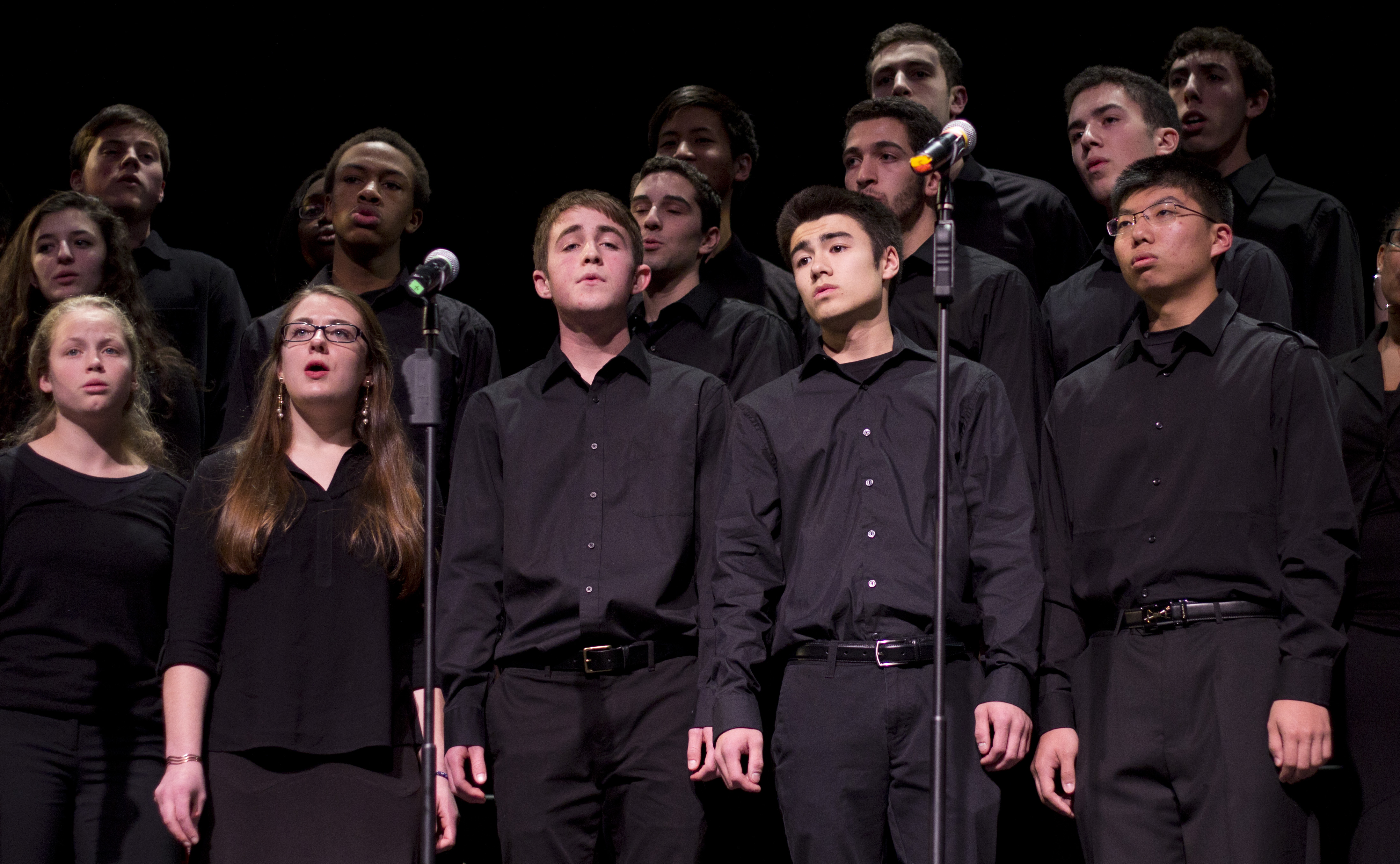 UPDATE 1/28/2015: Due to the inclement weather, Winterfest I has been postponed to Feb. 4 at 7 p.m. Winterfest II will remain tomorrow at the updated time of 8 p.m.
---

In honor of the winter season, student musicians perform annually in Winterfest, a concert featuring six of this school's music groups. This unique music event is split into two parts: Winterfest I and Winterfest II Wednesday, Jan. 28 and Thursday, Jan. 29, respectively, in the auditorium.
[divider]Winterfest I[/divider]
by Amy Morrill
Winterfest I will feature Wind Ensemble and Symphonic Band, both directed by music teacher Richard Labedz. The two groups will perform a medley of classic band music.
The concert will begin with smaller groups of Wind Ensemble. The trumpet ensemble will play the first piece of the evening, "Canzona per Sonare No. 4" by Giovanni Gabrieli.
Labedz said that a highlight of the concert for him is the piece "Stormchasers" by Larry Neeck, which will be played by Wind Ensemble. The entertaining number includes "elements that feel like a movie soundtrack," he said. Though at first Labedz was not particularly fond of the song, over time it grew to become one of his favorites.
This year's concert will include big group pieces, with Wind Ensemble and Symphonic Band combined. Some eighth-grade band members will also be joining them.
"This concert is really about the involvement of everybody," said Labedz. "It's about all of the students working together."
Senior Irene Golden, a member of Wind Ensemble, said that her favorite part of Winterfest is to display the group's hard work. She also enjoyed hearing other ensembles, who play different instruments and musical pieces.
"For Wind Ensemble specifically, we get to showcase some of our individual sections in a chamber music context," added Golden.
According to senior Molly Dalzell, a member of the Wind Ensemble, she enjoys hearing North's music ensembles in new combinations.
"It's a pretty unique experience: to hear and play Wind Ensemble music in a smaller group setting," said Dalzell.
[divider]Winterfest II[/divider]
by Rose Bostwick
Concert Choir, Family Singers, and Orchestra join together in this year's Winterfest II, also known as the Ray Smith Memorial Concert, to present two of Beethoven's pieces: "Choral Fantasy," and "Calm Sea and Prosperous Voyage." Additionally, Orchestra will present a piece of its own: "Divertissement" by Jean Berger.
Winterfest II features classical pianist and North alumnus Constantine Finehouse as a special guest. Finehouse will perform "Choral Fantasy" with the ensembles at the concert. His performance has been funded and supported through the Lillian Radlo Resident Artist Fund.
According to music teacher Adam Grossman, who directs all three ensembles, "Choral Fantasy" is not a typical piece, as it is one of the only ones from Beethoven that includes solo, piano, and orchestra.
"It's an unusual thing for high school students to perform such a large Beethoven piece," Grossman said. "I am very excited about it."
Freshman Katherine Ho, a member of Concert Choir, said she has enjoyed participating in Winterfest, because she "gets a chance to perform with Family Singers."
According to fine and performing arts head Todd Young, the concert provides a meaningful opportunity for students involved, who may never have performed pieces on this scale before.
"To engage in works of this size and caliber is significant," Young said. "This could be an experience students remember for the rest of their lives."
There is a suggested donation of $5 for the concert.