Feature: Senior Tommy Mobley thrives in spotlight
by Jacob Gurvis
When Greg Kelly '10 visited Yale University for his official basketball recruiting trip in 2009, his younger brother, seventh grader Tommy Mobley, tagged along. Bulldogs head coach James Jones' recruiting itineraries are very organized, and the visits are serious. That didn't matter to young Tommy.
"Tommy was dictating the itinerary for the recruiting trip," recounted North basketball coach Paul Connolly, who has known Mobley since he was in fourth grade. "Tommy said, 'Well coach, we're actually gonna go have dinner somewhere, then we'll meet you back here.' Coach Jones looked at me like, 'Who's this little seventh grader telling me how one of my recruiting itineraries is gonna go?'"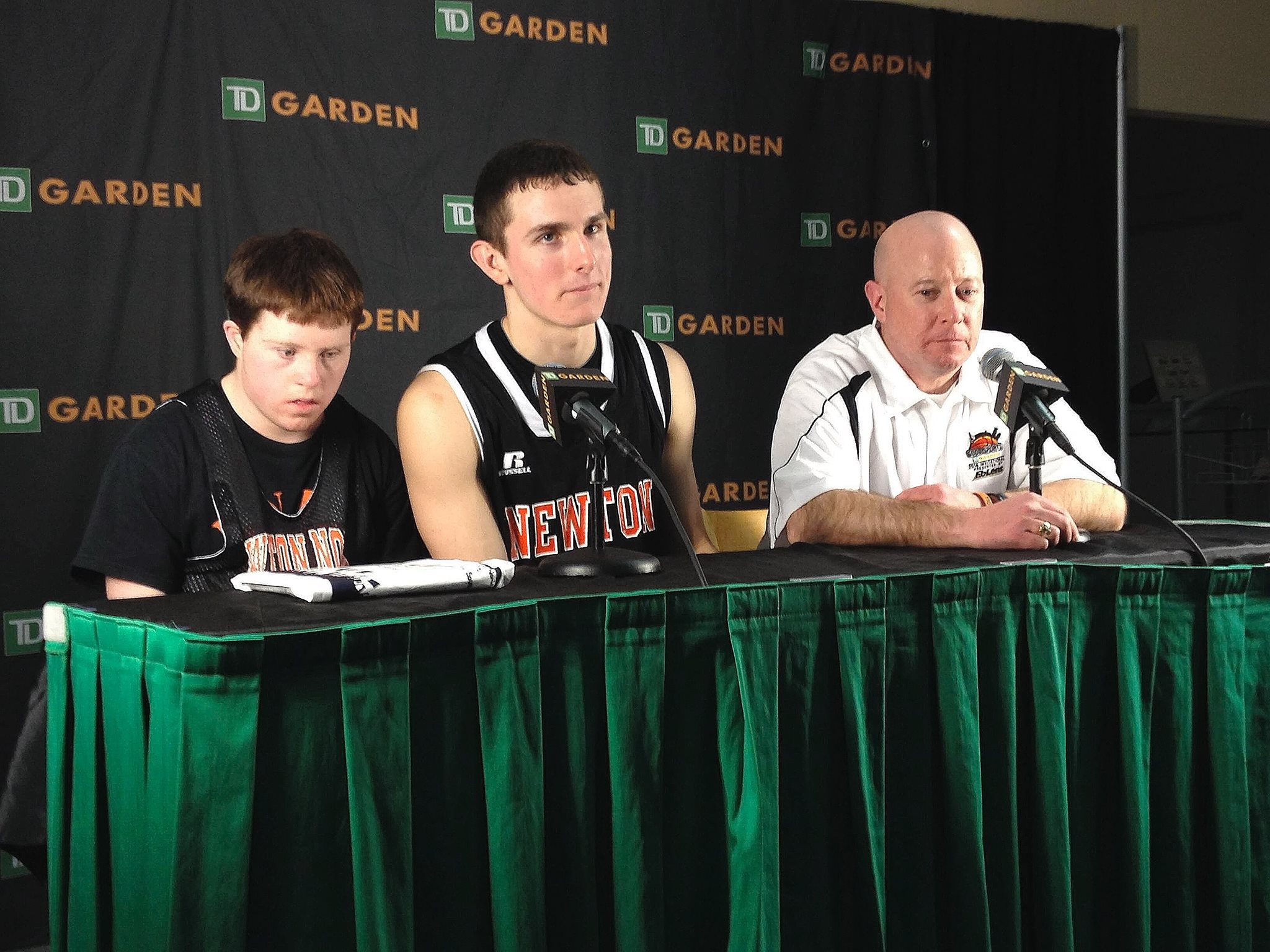 Years later, Mobley laughs looking back.
"I do remember that," said Mobley with a chuckle. "The coach said, 'Tommy, you're already telling me what to do.' He obviously thought it was cute, and he respected my organization, but that was a little cocky and maybe I should have known my place a little better."
Now a senior in high school, Mobley still exhibits confidence and charisma, and it shows in many of his skills and hobbies. He enjoys the spotlight, and excels in it.
"I'm not sure where it comes from," said Mobley. "Public speaking is something people in my family are comfortable with, so I think I inherited that. I like to sing, I enjoy public speaking, and I enjoy being heard, whether or not other people want to hear me or see me."
The best way for Mobley to showcase his passion and talent is by playing basketball, and it's a form of meditation for him. "Basketball relaxes me," he said. "It's a stress reliever, what I like to do every day, especially when I'm having a bad day. I love to watch basketball, play basketball, and just be in the gym," he said.
Last season, Mobley averaged 24.6 points per game with a 44% three-point mark, as he captured his second straight league MVP. "He embodies everything that a coach looks for in a student athlete," said Connolly. "He's one of these kids that shoots 500 shots a day. He wants to get better."
Not only does Mobley work hard, he gets results. "Then there's obviously his ability to score the basketball," said Connolly. "He's really good at that. From a coaching standpoint, you have to like that. But there's so much more to it than that."
Mobley, too, says his biggest focus is working hard.
"He's such a hard worker, that you have to sit back and give him that respect for the effort he puts in," said basketball coach Paul Connolly. "He bleeds Newton North basketball."
"I know that sounds very cliche, but if you put in enough hours, you're going to get good at something," he said. Mobley believes in the theory of needing 10,000 hours to master a skill. Though he hasn't kept track, "I think definitely with shooting, I'm close to 10,000," he said.
"You're going to make mistakes, but you need to have the right mindset, and try to improve," said Mobley. "Anyone can go into a gym and just throw a ball around, the key is knowing what you want to work on, and putting in the time, sweat, and work to get better."
Senior Sam Jefferson, another captain, said, "Tommy is an incredible player, but he's also a great leader in the locker room and at all other times. He is a scorer by nature, but he has also worked on other aspects of his game to become a more complete player and better teammate."
Even with two very impressive seasons behind him, there's still room to grow.
Mobley said he most needs to improve his court vision. "I have good passing skills, but sometimes I miss open teammates because I'm not able to anticipate their cut."
Despite the competitive nature of sports, winning isn't everything.
"People talk a lot about championships, and I'm sure some kids put it as a goal," said Connolly. "In our program, in what we call the culture of our basketball program, we play hard, we play together, we play the right way, and we have fun. We embrace the process of getting better and working every day."
Emphasizing the "student" aspect of student-athletes, Connolly believes it's crucial for students to try their hardest and always do the right thing.
"We don't focus as much on the scoreboard as on doing the right things, in the classroom, in school, in the community, and on the basketball court. When we do that, success will follow."
Success isn't defined by championship banners. What's more important, as Connolly stressed, is being well-rounded and hard-working. Being a student comes first, and through Mobley's other hobbies and talents, he shows that. It's not just about basketball.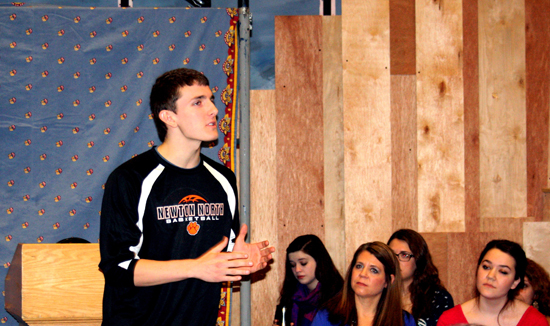 His leadership and charisma translate to other aspects of his life as well. Mobley was his freshman class president, won the Martin Luther King, Jr. sophomore speech contest, participates in Jubilee Singers, is active in his Church, volunteers with the Boys & Girls Club, and is part of North's High School Quiz Show team. "He's a real well-rounded young man," said Connolly.
Connolly was especially impressed with Mobley's sophomore speech, in which he spoke about the potential harm of LGBTQ slurs. "Tommy blew the crowd away," said Connolly. "His speech was fantastic. He just did an unbelievable job of capturing the audience really through his words and who he is, his demeanor."
Mobley also loves to sing, and is the bass section leader in Jubilee. The group sings music from the African Diaspora, including a good amount of gospel music, which Mobley has a lot of experience with because of his father.
"I was never traditionally taught how to sing, I just kind of learned by ear. I would hear somebody sing and try to mimic it. Being in Jubilee and working with Mr. Reid has really helped me expand on my knowledge of musical theory and understanding how to read music, and the different concepts within music."


Mobley also helps coach a seventh grade basketball team for the Newton Athletic Association with two of his friends, seniors Nathan Buchwald and Ethan Plotkin. "I enjoy coming down and helping out with Nathan and Ethan when I can, trying to give back to the game that I love so much, that has given me so much," he said.
"Coaching with Tommy was an incredibly enjoyable experience," said Buchwald. "He brought great insight about the game of basketball. It was clear that the players understood he was an accomplished player in his own right, and they respected him immensely for that reason."
Mobley hopes to continue to be in the spotlight later in life, though not necessarily through basketball.
Mobley plans on pursuing basketball in college, and he "want[s] to use basketball to help me get into a school I wouldn't be able to get into solely based on academics."
Instead of trying to play professionally, Mobley wants to join a different field. "I hope to someday be a small-time politician, maybe a mayor, or an Alderman. I want to try to get involved with some kind of government when I get older."
Tommy Mobley is one of the best basketball players in Massachusetts. But more importantly, Mobley shows his dedication on the court, in the classroom, and in everything he does. "Tommy deserves all the success he has had," said Jefferson. "He works harder than anyone I have ever been around. His work ethic and high level of play makes him and everyone around him better."
Behind the MVP player, said Connolly, is "one of the nicest young men I've had the opportunity to coach."
"He's such a hard worker, that you have to sit back and give him that respect for the effort he puts in," said Connolly. "He bleeds Newton North basketball."