Review: Cabaret Troupe performs songs about hardships of high school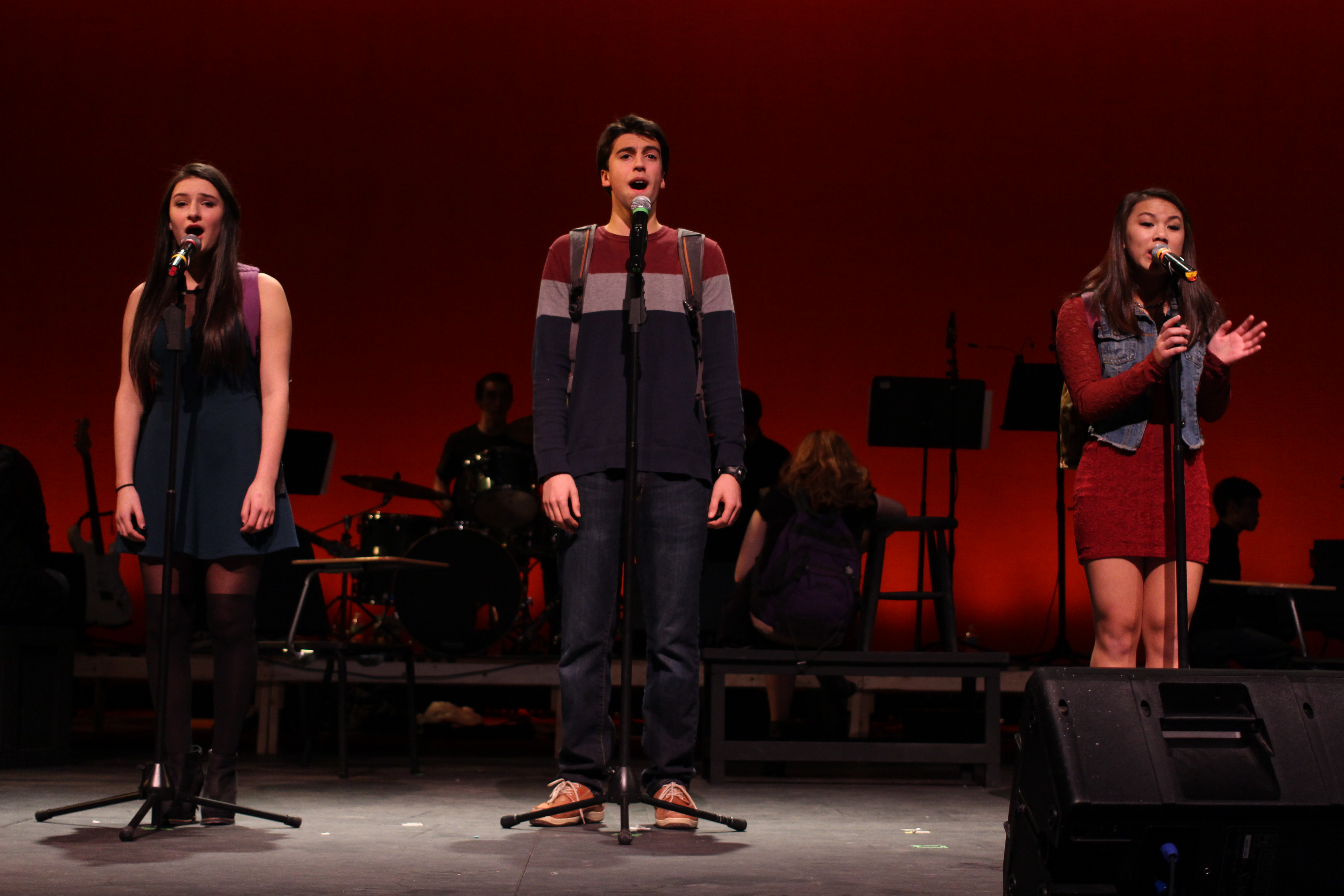 by Amy Morrill
Actors stand silhouetted against a bright red backdrop, singing about relatable high school issues, as they portray awkward, quirky teenagers in Cabaret Troupe's "Seventeen." The show goes up today and tomorrow at 7:30 p.m. in the auditorium.
Directed by senior Jonathan Gomolka and junior Elise Hausman, the show features a cast of talented singers and actors, who perform songs about the stress of adolescence and high school.
Act I opens with the full cast singing "In" by Michael Gore from Carrie: The Musical. The song sets the tone of the show, as each actor, equipped with a backpack, joins in a perfectly blended harmony in this number about fitting in.

Later, the first act continues with sophomore Liana Glennon, who skillfully portrays a girl who just wants to be noticed, in "Lost in the Brass" from the musical Band Geeks by Tommy Newman and Gaby Alter. The song displays her impressive voice and complements the uplifting melody beautifully.
Seniors Ashley Campbell and Nick Hansell play an out-of-sync couple in "Breaking Up" by Peter Mills, keeping the audience laughing as they suffer the consequences of inconveniently bad cell phone service.
Additionally, junior Rowan Morrissey shows off her beautiful voice as she sings "A Quiet Night at Home" from Bare: A Pop Opera by Damon Intrabartolo and Jon Hartmere, a heartbreaking song about being alone.
Glennon and Gomolka sing a compelling duet, "Seventeen" from Heathers: The Musical by Laurence O'Keefe and Kevin Murphy, in a fitting end to the first act. Their voices overlap in uplifting harmony, as they sing about accepting their "damage" and choosing to be with each other.
At the start of the second act, junior Amanda Kuo shows off her considerable range in "Caught in the Storm" from the musical Smash by Ben Pasek and Justin Paul. The song is about a teenager in love and caught up in the drama of it.
Hausman then joins Kuo to play a couple in a long distance relationship in "Halfway" by Ryan Scott Oliver. The two travel to meet each other and unite in the end. The song has a sweet ending with Hausman and Kuo walking off stage in each other's arms.
Freshman Jonathan Champion and senior Ella Laniado portray two lonely teens that bump into each other in the song "I Can See Him Now" from Calvin Berger: A New Musical by Ryan Scott Oliver. They nail the awkwardness of meeting someone new in a comedic and accurate way.
Senior Aiden O'Neal sings a haunting solo in "All Grown Up" from Bare: A Pop Opera by Damon Intrabartolo and Jon Hartmere, a highlight of the show.
The cast reassembles to finish the show with "Seventeen (Reprise)" from Heathers: The Musical by Laurence O'Keefe and Kevin Murphy. The actors excitedly sing about their youth and holding on to it while they can. The show concludes with a stunning harmony as the lights go down.
Tickets are sold during all lunches and online for $7.