Review: Prelude to a Kiss tells story of love, drama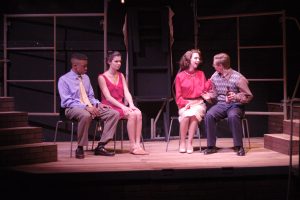 by Jacob Sims Speyer
A dark, brick-clad set brings the audience back to the early '90s for a play that is comedic yet deals with serious themes about a young couple's chaotic love story.
Prelude to a Kiss, directed by Natalie Tereshchenko and Natalie Burr, will run tonight through Saturday night at 7:30 p.m. in the little theatre.
The show starts off with the introduction of Rita Boyle, played by junior Caroline Kaler, and Peter Hoskins, played by senior Jelani Asim, at a party. Rita and Peter's first interaction quickly becomes awkward due to their lack of experience with the opposite gender, which makes the audience grin. Viewers quickly get a feel for the characters' personalities as they became for comfortable with one another.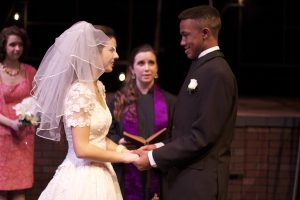 The audience finds out about both Rita's and Peter's deep backstories as they fall in love. Peter's childhood struggle is told through his powerful soliloquies. Within two months, the young couple is happily engaged.
At the marriage ceremony, a mysterious, unnamed old man appears, who is played by sophomore Gabe Jasper. After the old man gives the bride a congratulatory kiss, the two very different characters mysteriously switch bodies in a dramatic flash of lights which transports the show to a different world for a moment.


After Rita and Peter go on their honeymoon, Peter notices that Rita is acting strangely; the once enthusiastic bartender did not know how to make a Long-Island Iced Tea. Kaler does an outstanding job at making a distinct difference clear between the two personalities.
Soon, Peter realizes that his wife is no longer herself and undertakes a journey to reverse the seemingly unfixable dilemma, leaving everybody in the audience on the edge of their seats. Meanwhile, his relationship with Rita's family, who is unaware of the switch, deteriorates. Peter is now tasked with reversing the mysterious spell so he can get his new wife back.
Overall, the show was outstanding, with funny, yet realistic actors that the audience can relate to.
Tickets are $7 and can be purchased online or during lunch.