Service trips: How do they affect college applications?
[polldaddy poll=8437637]
by Elena Schwartz
It is college season once again. Seniors feverishly scribble their Common App essays (and likely numerous supplements as well), and juniors, sophomores, and perhaps some ambitious freshmen search for ways to beef up their resumes. In this climate, service trips abroad are increasingly becoming a catch-all option for students looking for either an essay topic or volunteer hours.
In a contentious article about this country's higher education system, former Yale University professor William Deresiewicz, who sat for a day-long stint on the Yale admissions committee in 2008, wrote of the boxes being checked by students seeking admission to elite colleges. Included among those he mentioned was "service work in distant corners of the globe."
Deresiewicz questioned why students feel the need to go to exotic, far-off countries to do "their projects of rescue or documentation" instead of places within the U.S.
"Perhaps it's no surprise," he said, "when kids are trained to think of service as something they are ultimately doing for themselves—that is, for their resumes. 'Do well by doing good,' goes the slogan. How about just doing good?"
Certain admissions officers are equally unimpressed with such trips. On National Public Radio program "This American Life," Rick Clark, director of undergraduate admissions at the Georgia Institute of Technology, complained of how banal many applicants' essays about their their service trips are.
"We just call it now the mission trip essay," said Clark. "And great to go on a mission trip, great to have a cultural experience. But inevitably, the way it reads is so predictable."
He quipped, "You know, we flew down to somewhere in Central America. And we got off the plane. It was really hot. And we got on the bus, and 20 miles outside of the village, our bus broke down. But we got picked up by like a chicken truck and taken into town. And then, over the course of my time there, I went expecting to help others. But it was, in fact, me who was changed."
"And even just when you first start reading that essay, you're like, 'oh, here it comes again,'" said Clark.
Of course, Clark's sentiments are not universal; not all admissions officers experience the turnoff moment he described. Luigi Solla, associate dean of admissions at Wesleyan University and a former admissions officer at Brandeis University, said that he considers students' essays about their service trips "on a case-by-case basis."
"Usually those essay are fine or really good," he said. "The only time I think 'not again' is if the essay is really just a story of what you did over the summer. Talk about yourself—that's what's important."
Solla did caution students to focus on a service trip for those essays only if it profoundly affected their character development. "An essay about a service trip becomes compelling when it's about the students. A 'look at the people I helped' essay tends to fall flat."
It seems that, contrary to popular belief, service trips do not offer any identifiable leg up in college admissions. Admissions officer responses range from disinterest to outright aversion, and some students are conscious of this trend.
Senior SeungWan Kang spent a week in Guatemala this past summer on a mission trip with his church, Grace Chapel. He articulated the problem with the idea that service trips can act as a ticket to college entrance: "How can one week in Guatemala, or Africa or Haiti or wherever you go, define you? How much can you learn about a person other than that he or she has the money to go on the trip?"
And yet, students keep going. So—if stripped of advantages in the college application process—do these trips retain any intrinsic value? For some, yes they do.
Sophomore Elinor Graham spent five weeks in Armenia this past summer through a summer camp program called International Camper Exchange Program, or ICEP. Graham racked up 55 hours of community service during those weeks.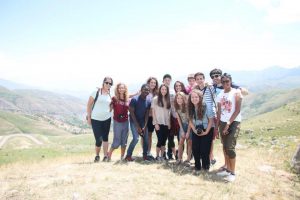 Her group's work included both social and physical service. Participants also got the opportunity to interact with local teenagers daily.
"We planned a Fourth of July celebration and they planned an Armenia Day carnival," said Graham. Among the Armenians and the Americans, Graham said she made "some really good friends."
"It honestly was never about college apps or looking good on a resume," she said. "It was just an amazing travel experience."
Sophomore Laurel Stanley spent four weeks in Cambodia this summer with a service group called Visions Service Adventures. Stanley had traveled with Visions the previous two summers as well, doing service work in the British Virgin Islands and on an Indian reservation in Montana.
The trip began in Cambodia's capital, Phenom Phen, where Stanley's group spent a few days "exploring the new culture." Buses then took the group to Battambang, where they spent the majority of the trip.
Stanley's group worked in tandem with Salt Academy, "an amazing organization" that educates girls who have been victims of the sex trade, a major issue in Cambodia. Salt Academy girls were rescued and brought to live in the Mighty Girls home, where the organization provides them with intense therapy that uses soccer to help them cope with their difficult pasts.
Stanley herself taught English to six classes of 30 girls, "which was one of the most rewarding experiences." Stanley also did construction for Salt Academy, participating in the building of multiple structures, and taught the Salt girls how to swim.
After a long day of work, Stanley and her peers went on nightly excursions into the local area, visiting families, the circus, and markets. In the process, Stanley learned some of the native language of Khemr.
This past summer, Stanley loved the experience of being "immersed in the culture" and appreciated the chance to "work harder than I ever had before." For her, service trips are "a way to travel while doing what I love."
"Personally," said Stanley, "doing service has NOTHING to do with getting into college. The fact that people think it will help them is actually absurd because it has become so 'mainstream' to do service trips."
Kang's trip sent him and other participants to the Guatemala City dump, one of the largest garbage dumps in the world.
Kang worked with an organization called Potter's House to serve some of 11,000 "scavengers," people who live in the dump and sell recyclables and other materials they find there.
Kang received one weekend's worth of training at a retreat preceding the trip. During this time, he learned about how to best assimilate into and learn from a new culture.
In addition to their work in the dump, the Grace Chapel group participants also constructed a house for a family, ran a sports clinic for the children who live in the dump, and spent time with children during Vacation Bible School, in which volunteers taught kids about the Bible and played games with them.
During the week, Kang and his group went on a prayer walk during which they visited various families in their homes and had conversations with them about their lifestyles and struggles.
Kang's group shared their own testimonies as well, "especially in regard to our spiritual walks and experiences. This day was a highlight to a lot of people in our group, as it gave them the chance to reach out to others about their faith and gain a more intimate understanding of the lives of people from an entirely different world."
"Why did I go on this trip?" mused Kang. "This is the question of questions, and I found myself asking it all the time."
"I decided to go because I felt a call to serve. This was my first mission trip ever, and I took it as an opportunity to learn something more about God, about how he moves in other parts of the world and in people that I've never met before; I took it as a chance to serve people that are materially impoverished—but abundant in many other aspects of life—and to learn from their experiences and culture; I took it as a time where I could focus solely on serving God and being used by him in all of my capacities."
"In a way, it was an escape," said Kang, "but I could not have felt closer to home than by serving alongside the family of which I had become a part; I found genuine joy in my service and deep love for those around me."
"This love is what made the trip worthwhile. It's given me a reason to reach out to people I don't know and value the relationships I have with the people that I do know."
A chance to broaden one's horizons and connect with people from across the globe, as Kang did, is all well and good. The fact remains, however, that the steep cost of these trips often inhibits all but wealthy children from participating. In many cases, the opportunity to serve is only available to those who can pay for it.
Graham's service trip cost $5,000, as did Stanley's originally, though she received an "alumni discount" and paid only $4,000. Kang fundraised $1,850 to go on his his trip by doing odd jobs and writing to people asking for financial support. These price tags are out of the range of what many families can afford, even if students have a regular salary.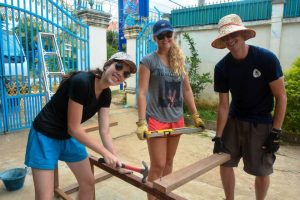 There are options, however, for people looking to volunteer without paying exorbitant sums. Many charities and organizations are willing to support volunteers or send them abroad for little or no money, according to a CNN article. These include the Appalachian Trail Conference, which provides volunteers with food and basic accommodations in exchange for help with trail building and maintenance, and Conservation Volunteers, which lodges volunteers who work to protect habitats promote ecotourism for $100 a week.
So money need not play a role in who is able to go on service trips, although undeniably in many cases it does. And while Deresiewicz and admissions officers might call service trip essays stale and insincere, the cases of Kang, Graham, and Stanley illustrate that it is possible to have an enriching experience. Nevertheless, as Deresiewicz suggests, there might be at-home service options that are equally worthwhile.