by Adam Rabinowitz
After a long, challenging season, girls' cross country, 8-3, has seen great improvement, and is hopeful to succeed in the postseason.
According to senior Catherine Xie, a captain with seniors Irene Golden, Sonya Jampel, and Isabella Reilly, the season has been going better than expected, with the team improving every day.
"At the recent Bay State Conference League Meet on October 25th, we were able to beat Walpole, win the freshman meet, come home with 11 pumpkins (awards), and achieve many personal records," she said.
The team's size has increased greatly this year, said Xie.
"This year's team of 65 is significantly larger than all the previous year's, which were usually 40 girls or less. We love that so many new girls decided to give cross country a try," she said.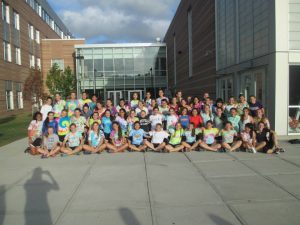 However, she said that although it seems like a lot, "everyone has really bonded with each other and found a way to contribute to the team, whether it's by simply cheering loudly for teammates or displacing an opposing runner."
According to Reilly, the Tigers' goal at the beginning of the season was to keep getting better.
"Everyone has been working hard, and we've been seeing a lot of personal best times and are showing improvement. As the state meet approaches, hopefully we will see our times improve and we'll have breakthrough performances," she said.
With the state meet at the Wrentham Development Center this Friday, Nov. 8, Golden said everyone is working harder and harder to get better.
"We obviously want to make the All State Meet, which is a goal we are still working toward. Everyone works towards their own personal goals, and that builds up. Every time someone sets a personal record, the team gets faster. That happens every week," she said.
Reilly also said that the Tigers had to fill the big gaps left from last year's seniors.
"Coming into the season, my expectation for the team was that we would work hard to keep achieving personal bests, and that we would try our best to step up and fill the gaps left by the key runners who graduated," she said.
Xie echoes her sentiments, saying that at the beginning of the season, the Tigers were unsure of their potential.
"We came into the season having lower expectations for this season than last year. In the beginning of the season, we knew that it would be almost impossible to beat Needham, but we were hoping to beat Walpole and potentially Weymouth," she said.
However, Xie said, the Tigers have improved greatly, and are showing great potential for the future.
"Although we were unable to beat Walpole at the time, we definitely showed that we are capable of sustaining our talent and continually improving. With the success we've had so far, we're definitely expecting even greater success in the upcoming meets," she said.
Xie also said that the new runners have helped fill the gaps from last year.
"Many of our new runners, especially freshmen Einat Gavish, Natalie Solari, and Rose Teszler have been key scoring members. We are so glad to have so many talented new members, because the depth of our team and their contribution will allow girls' cross country at North to be successful in the future," she said.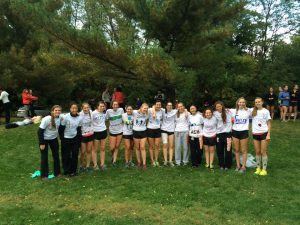 Xie also noted that more upperclassmen have joined the team too, and have had a great impact.
"Even if they didn't directly impact the scoring, we are happy to see them become part of our fun community, fall in love with cross country, and experience something new."
With the postseason nearing, Xie said the team's goal is to qualify for the All-State Meet, which will take place at Franklin Park on Nov. 15, as a team.
"Last year, we were disappointed that we were a few points away from qualifying. However, with the depth we have this year, the amount of improvement veteran members have made, and the dedication our girls have shown, we are hoping to make it!" she said.
Golden added that she thinks one aspect that could determine their success is health.
"I think the team could work on health in general. Everyone needs to remember to get enough sleep, eat reasonably healthy, and eat enough. Honestly, that's what can make or break a race," she said.