Feature: Marijuana, just down the street
by Douglas Abrams
Standing on an especially quiet block in Newtonville, 697 Washington Street has never been the center of attention. There are four business spaces inside of it; three are occupied by wellness businesses and one is vacant. But the building's anonymity is about to change. The vacant space, a 945 square-foot room, is about to be transformed into a medical marijuana dispensary—one of the first in Massachusetts.
And although city officials claim the dispensary, named Garden Remedies, will have little impact on Newtonville, the new business—and the patients and security measures that come with it—raises concerns that the face of Washington Street, and its surrounding community, will be changed forever.
Public debate
"Have you seen the size of 697 Washington Street? Absolutely tiny," said Jessica Bessonette, the owner of East West Massage Therapy, which is located in 709 Washington Street, two buildings down from the dispensary. "In no way is this an appropriate place to set up an office like this."
Wil Chilin, the owner of Supreme Cleaners, which is also located in 709 Washington Street, also has qualms about the new dispensary. "My only concern is the type of clients that will be drawn to the medical facility. We are used to a type of client—moms with children, business people—and I just don't want them to feel intimidated to go around Washington Street if people are hanging out outside," he said.
Business owners are not the only ones with reservations. "The location is problematic," said Donna Beers, president of the Massachusetts chapter of the International Nurses Society on Addictions. She worries that the location of the dispensary—largely because of its proximity to this school—could make it easier for students to obtain marijuana, even though it complies with a city ordinance that requires medical marijuana dispensaries to be located at least 500 feet away from any school, child care facility, or house of worship.
She cited the state's laws concerning medical marijuana as the root of potential problems.
When legislators passed the state law legalizing the sale of medical marijuana on Jan. 1, 2012, they set the amount of medical marijuana that patients can receive from dispensaries at 10 ounces per 60 days, four or five times higher than the limit in most other states. In Colorado, for example, a state that has become a national focal point for the sale of medical and commercial marijuana, patients can only get two ounces at one time. New Hampshire, too, has a limit of two ounces. Indeed, Massachusetts has the third highest limit in the country, surpassed only by Oregon and Washington at 24 ounces.
"It is crucial to note just how much marijuana 10 ounces is," said Beers. "Ten ounces per 60 days translates to 12 blunts a day. In my experience, patients in even the most horrific pain don't go through more than one blunt a day." It is also worthwhile to note how much 10 ounces is worth. Assuming that patients could sell excess marijuana for roughly the current street rates, at which one gram sells for about $20, 10 ounces could sell for $5,670, said one senior, who has been regularly purchasing recreational marijuana since sophomore year. "And this is not your momma's marijuana," added Beers, "this is high quality, potent, genetically engineered marijuana."
Another source of her worry is that patients can get a medical marijuana certificate from an outside doctor they have never met, making it too easy for patients to obtain medical marijuana, she said. She worries that this law, in conjunction with the 10 ounce regulation, might lead to a stream of illegal marijuana sales.
Richard Comenzo, manager of the Holistic Center in Boston, begs to differ. The Holistic Center he co-runs with doctor Thomas Wong helps patients obtain medical marijuana certificates by connecting them with doctors. Comenzo, having been a defense attorney for more than 25 years, has ample experience with Massachusetts state regulations. "I don't think that the certificate law in Massachusetts is the least bit problematic," he said. "It's not like doctors just prescribe medical marijuana on a whim. This is a careful and highly regulated process."
[polldaddy poll=8144886]
 According to Comenzo, patients that are addicted to opiates or have mental disabilities are highly scrutinized when they apply for a certificate. Thirty to 40 percent of addicted patients are denied a prescription, he said, and patients with mental disabilities—often bipolarity and posttraumatic stress disorder—are asked to get confirmation from their primary practitioner before they are given certificates. "These patients are extremely rare," said Comenzo.
Oversight continues even after patients get their medical marijuana. "Patients must renew their prescription at least once a year, and doctors have the ability to adjust how much marijuana a patient gets as time goes on," said Comenzo.
He added that although the 10 ounce limit seems excessive, it is there because many patients use tinctures: medicinal concoctions such as oils or balms that are made with high amounts of marijuana. "Most patients are not even prescribed the full 10 ounces."
Yet, Beers still fears what could happen. "When patients sell, who are they going to sell to? Students. This dispensary puts readily accessible pot in the reach of minors." Beers continued, her voice rising higher and cracking with concern: "The location of this dispensary demonstrates a lack of attention to consequences on the part of legislators and city planners. It's irresponsible."
Legislative process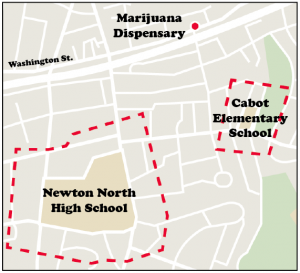 Even though there is dissent over the facility, the process leading to selection was exhaustive, to say the least.
Voters decided to legalize the sale of medical marijuana in Massachusetts in a 2012 referendum, with 63 percent approval. The following year, legislators imposed statewide laws to regulate marijuana sale. Newton went even further and imposed zoning ordinances, restricting dispensaries to commercial corridors and instituting the 500 foot rule—some of the strictest regulations in the state.
After laying this framework, lawmakers reviewed applications from 182 companies and groups wanting to open dispensaries around Massachusetts in a two-phase selection process. Twenty-one applicants were rejected in the first phase. Only 101 applicants continued on to phase two, where they were evaluated based on corporate background, business experience, suitability, financial condition, location, staffing, and operations program. Once Garden Remedies received the preliminary approval, they held public community meetings to share their plans with the public and to answer any questions from Newton residents.
The view from North
Principal Jennifer Price also thinks that the dispensary will not impact the status quo, although she did acknowledge that if "students are able to somehow gain access to marijuana through the dispensary,"––as Beers purports––"then it will be a real problem."
"Everything that I have read about it seems to point to strict rules and making sure our students do not gain access," she said. "If it is run in a very strict manner, I think it should have no impact on our school, other than mixed messages."
[polldaddy poll=8144880]
The impact of this dispensary is yet to be felt, so there is no way to know with certainty whether or not the dispensary will increase student drug use. In other states, where medical marijuana has been legal for several years, there is still no consensus. In 2012, PBS news reported that officials at some Colorado high schools felt that their schools were "under siege" by nearby medical marijuana dispensaries.
This year, an array of scientific studies claimed that there is no correlation between medical marijuana dispensaries and teen drug use. Yet, the Surgeon General's 1982 warning against marijuana, which deems it a "major public health problem," still stands. The federal government still avidly pursues an anti-marijuana policy. The only real truth about medical marijuana and 697 Washington Street is that there is no consensus. Newton residents can only wait and see to discover the affects the dispensary will have on our community.
Student voices: How do you think the dispensary will affect North?
Senior Laura Schlossman: "I really don't see how this could impact the school. I may be naive, but teenagers will do what they want, and I don't think a dispensary will change that."
Senior Alexander Wei: "I do think it will have an impact on North, but not a huge impact. Still I think the presence of weed in our school is large enough that an added dispensary would not have a significant effect on school life."
Junior Nick Johnson: "I don't think we'll see [an increase in] kids that are stoned walking around North. It will benefit those who need it for medical purposes but that's about it."
Junior Lauren Moriarty: "I think it will be a lot easier for students to have access to drugs, and also maybe there will be an increase in dealing."
Sophomore Gabe Jasper: "I honestly don't think any student will come up with a way to get pot from a medicinal dispensary. This isn't a TV show. Yeah there's a lot of pot smoking at North, but no I don't think there's going to be any correlation of data regarding increase or decrease of pot smoking at North and this dispensary opening up."
Sophomore Alicia Wright: "I don't think it will make much of a difference. People are going to smoke no matter what, with or without the dispensary. Honestly, it's probably a good thing—this way you know the weed is safe and not drugged."
Freshman Jake Mahoony: "I think that it will impact North because people who smoke marijuana will go there, it could also tempt people who haven't started smoking to start."