Review: EnviroJam showcases diverse musical talent

by Jessica Tharaud
Varied and exciting, Friday night's EnviroJam concert wowed the entire audience with talented musical groups and individual acts.
The acts performed in the little theatre for the annual concert, run by the Environment Club, to raise funds for local environmental group Green Decade Coalition.
Before performances began at 7:00 p.m., attendees had the opportunity to learn more about improving the environment through information tables set up in the theatre lobby. The tables were run by representatives from local businesses.
One of the first groups to perform, this school's improvisational comedy troupe Spontaneous Generation allowed the crowd to get involved with their iconic game "Da Doo Run Run." Members of the crowd were chosen to provide one syllable names that the cast members then had to rhyme in a song. Each competitor was eliminated until the last two players tied for the win.
Northern Lights, an a cappella singing group, performed a unique version of "Yesterday," written by Paul McCartney. The singers began with the usual melody that captured the heartfelt nature of the song before switching to a faster-paced version that showed their ability to harmonize and stay in sync.
Melocotones, also an a cappella singing group, performed a standout song called "Gun Has No Trigger" written by David Longstreth. Freshman David Mapes-Frances arranged the piece for a capella and also sang an incredible solo. Mapes-Frances showed his vocal range, unique tone, and emotion through the haunting song.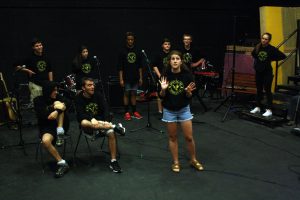 The band Four Noble Truths, the winning act at last year's Newton Has Talent competition, was electrifying as they played two original songs that filled the room with music. The band's second song had been written only three hours prior to the concert, according to sophomore Cole Brightbill, the lead singer and a guitarist. Dynamic and lively, the band put on a great show.
Later, the band Toy Boat energized the crowd during original song "Fifteen First Impressions," featuring a harmonica solo by senior Sam Mayer, the lead singer and a guitarist for the band.
For the final act, this school's all-girl a cappella group Forte sang two popular contemporary songs: their versions of "Royals," written by Lorde and Coldplay's "Paradise," written by Chris Martin.
Every audience member who attended EnviroJam seemed excited to be able to support a worthy cause and to enjoy listening to great music from each of the twelve acts who participated in the fundraiser.