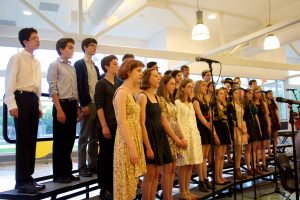 by Jake Sims Speyer
Music was left echoing in the ears of the audience after students from across the music department performed at the annual end-of-year Pops Night, yesterday in the cafeteria.
After a delicious potluck, the night was kicked off by fine and performing arts department head Todd Young, who welcomed everyone to the event.
First, the Brass Ensemble played "Brahms Lullaby" by Johannes Brahms, which, although soft, resonated throughout the room, and set the mood for the night as the sun dipped over the horizon.
The Concert Choir performed two songs, including "Man in the Mirror" by Michael Jackson, which quickly caught on with the crowd as it clapped along with the beat.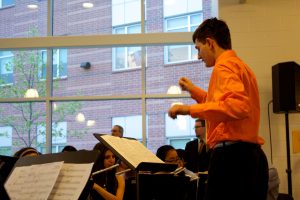 Trying something different, the Symphonic Band and the Wind Ensemble performed three songs together, including "I'm Shipping Up to Boston" by the Dropkick Murphys, "Hay" by Crucial Conflict, and "The Final Countdown" by Europe. The energetic songs were conducted by seniors Mac Hecht, Adina Kruskal, and Jared Perlo.
Adding to the pop theme, the Family Singers sang the recent hit "Happy" by Pharrell Williams, which was familiar to the audience, who cheered when individual students sang solo verses.
Music from the big-screen also made an appearance when the Orchestra performed pieces from HBO's "Game of Thrones" and Disney's "Frozen."
Jubilee Singers powerful rendition of "Psalm 93" soared through the cafeteria and deeply moved audience members.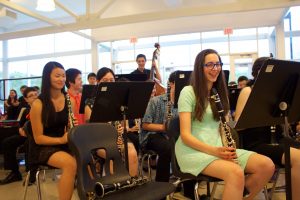 The final act of the night was Jazz Ensemble's rendition of "Chameleon," by Herbie Hancock, and "In the Mood," by Glenn Miller. The fast-paced, 'bouncy' tunes featured seniors performing in small groups or solo.
Pops Night drew to a close with the presentation of awards and scholarships from music department faculty. Award recipients included seniors Alexander Fabry, Hannah Gallogly, Mac Hecht, Andrew Larson, Juliet Roll, Sarah Shy, and Shani Yavin.
Overall, the music sounded spectacular, and it was phenomenal to hear the different music groups performing at one event.