Review: "Jazz Night" engages audience with vocal and instrumental songs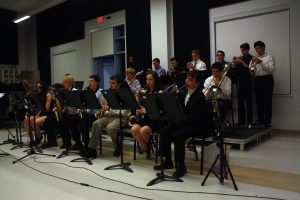 by Jessica Tharaud
Including performances from five different jazz groups, last night's "Jazz Night" allowed the audience to see the immense skill of the participants Monday at 7:00 p.m. in the band and choir room.
Music teacher Richard Labedz, who conducts the various jazz groups, started the night off by welcoming the attendees to the concert in an "intimate setting," which allowed the audience to feel more engaged with the student performers.
First, vocal jazz group Tiger BeBop took the stage with a jazz rendition of the classic song "Blue Skies," written by Irving Berlin. Senior Juliet Roll conducted the performance, which showed off the range of the singers and energized the audience with the famous melody.
For their last song, the group concluded with "Hit That Jive, Jack," written by Johnny Alston and Campbell Skeets Tolbert. While the singers with the deepest voices mimicked the sound of a bass in the background, this spunky song featured several soloists. Notably, Roll used her bluesy tone of voice to sing a pleasant solo.
Next, the Jazz Lab Band, an instrumental jazz ensemble, brought its musicians to the forefront, displaying their impressive hard work and cohesiveness through songs like "Blue Bossa," composed by Kenny Dorham, and "Cold Duck Time," composed by Eddie Harris.
Playing classic jazz songs with original arrangements created by the group, Jazz Workshop left the audience floored. Not only did they play their instruments exceedingly well, but they also had composed the arrangements to the music they played, including the intriguing song "Equinox," originally composed by John Coltrane.
Featuring sophomore Matt Shifrin on vocals, the Advanced Jazz Improv group comprised of fewer members, but incredible talent. The group harmonized well together, and each member gave it their all to a great reaction from the crowd. Shifrin's classic, Sinatra-like tone allowed the audience members to really relax and enjoy the performance. In the song "How High the Moon," composed by Morgan Lewis, with lyrics written by Nancy Hamilton, Shifrin crooned about love for another.
Jazz Ensemble then took the stage, the final group to perform and by far the largest. Comprising of many students from previous jazz groups, Jazz Ensemble brought the room to life with its energy and excitement. "My Ship," composed by Kurt Weill for the 1941 Broadway musical "Lady in the Dark," featured students doubling on instruments, a jazz term for when musicians play more than one type of instrument.
Overall, the night was exciting and energizing. The audience enthusiastically watched, applauded, and at times clapped along with the beat. It was a great night for everyone who attended and performed.