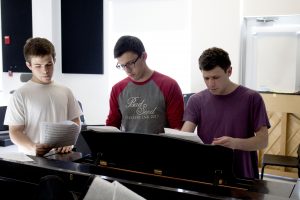 by Izzy Sumner
If you are looking for something to do next Monday night, May 12, stop by the band and choir room at 7 p.m., where students from this school's jazz program will host Jazz Night.
According to senior Alex Fabry, the jazz ensemble will perform as well as Tiger BeBop, a vocal jazz group, Blue Skies, which consists of scat soloists and instrumentalists from the jazz band, and two jazz combos.
"The pieces that we're playing are all big and fun; there's just a lot of energy there," Fabry said.
Music teacher Richard Labedz said, "There's a lot of talented students in these groups. What's cool about the jazz program is that it really fosters students' creativity."
Labedz added that the two jazz combos will feature original compositions that students worked on in class.
They're really invested in it and I think they would do a good performance; and their creativity and improv comes through, so a lot of their peers will be specifically featured in it."
Fabry will be playing Miles Davis's "My Ship" on the trumpet. According to Labedz, this is an"unusual" piece for a jazz ensemble because it is very "orchestral." The ensemble will be bringing in a bassoon, french horns, and clarinets for the piece.
Jazz night was originally planned to take place on April 12, but some members of the music program were in Australia during that time. The postponed date  gave them a little more time to prepare, according to Fabry.
Fabry said he felt optimistic about how rehearsals were going. "Everyone's starting to get to really know these tunes. It's a pretty ambitious repertoire, but we're handling it pretty well, which is cool."
Labedz and Fabry hope students will use the skills they learned from rehearsal and execute a perfect performance.