Review: "Much Ado About Nothing" puts a modern twist on a classic play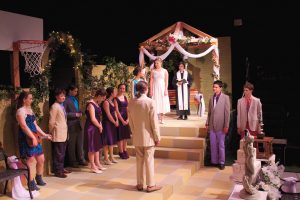 by Maya Abou-Rizk
As you watch your friends date boys and girls, break up then make up, only to break up again, you promise yourself you will never be the relationship person. You like to be free; talk to whomever you want, be with whomever you want, whenever you want. Until you meet that one person.
Theatre Ink and South's South Stage students combined to produce a modern-day, hilarious, and emotional twist to a classic Shakespearean style show. The play, "Much Ado About Nothing" will run today, May 8th, through Saturday, May 10th at 7:30 p.m. in the little theater.


An intricately-made and realistic set, covered in vines, filled the stage and caught the audience's eyes. A scattered amount of basketball items could be seen, for example a basketball net and a championship trophy, reminding the audience of the play's modern-day twist.
The play opens with college basketball players winning the championships. After, they immediately begin their exclamations and approvals of love and thought.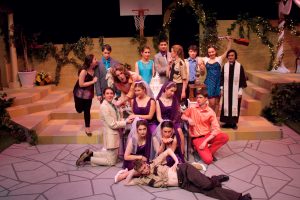 The show explores themes of love, honor, and public shaming. Although the show was performed using Shakespearean language, the actors' stellar expressions and actions helped convey the story-line, as well as add emphasis on the emotions.
Balthasar, played by South freshman Abby Lass, played music interludes on a ukulele.
Near the end of Act One, the cast spills onto the stage in masks for the masquerade "dance." Although characters hinted about knowing each other's identities, once the dance was over, everything was a bit more complicated.
The show entertains both students and adults because of its common themes. Although spoken in Shakespearean language, the actors expressions well portray their lines in their actions, making the show both even more entertaining, and very clear.