Artist of the Month: Will Champion
by Jessica Tharaud
Active in theatre since he was in middle school, senior Will Champion is May's Artist of the Month because of his passion and talent for acting. Next year, he will attend Ithaca College to pursue a Bachelor of Fine Arts degree.
Q: How did you get involved in theatre?
A: Both my parents are professional actors so I was raised very much around that lifestyle with my dad often going off and touring to do shows. When I was growing up I didn't listen to popular music, I was often being played musical soundtracks. And when I moved to this country and I got into middle school, I started auditioning for the middle school plays just out of fun, and I found that I really enjoyed it. So I've just stuck with it. Since then, it's become my passion. It's what I love to do most.
Q: What do you find appealing about theatre?
A: The act of fully immersing yourself in a specific character and to fully be somebody else. It's such an appealing and intriguing task. The other part of it is that there is nothing, there is no feeling quite like being onstage and hearing the audience applaud or just feel that everyone is watching you and everyone supports you. It's a feeling I can't describe, but it's unlike anything else. It's one of the best feelings in the world.
Q: When did you realize that you wanted to have a career in acting?
A: My sophomore year, I played Cripple Billy in the show the Cripple of Inishmaan. The process of that show and getting my first big part at this school was what really made me decide that I wanted to go into acting as a profession and to pursue it for the rest of my life.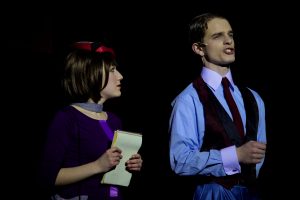 Q: What process do you go through to understand the characters you play?
A: I think first you have to base everything in the text; every character decision should start somewhere in the text. I try to really understand my character, his background, why he holds the views he demonstrates in the show. I like to be able to really delve into a character because I think characters really make a show memorable.
Q: How do you decide what characters to audition for?
A: I look at at which do I find most interesting, which do I think would be the most fun to play, and which do I think would be the best fit for me to play. And in a musical, you also have to look at what character has a similar vocal range as you do, what character you can sing the best. Sometimes, you get cast as a different character than you think and sometimes you get cast as the character you want. That's just how the business goes. But it's really what fits best for you.
Q: What challenges have you faced in theatre?
A: When you start being involved in a lot of shows onstage or offstage, you suddenly have no time to do anything. You've just got to push through because at the end of the day if you enjoy what you're doing in theatre, then the payoff is incredible. Also in theatre, you will face disappointment, you will face rejection. It's just a part of it. It's important to go through that so that you build yourself back up and make yourself stronger and better than before.
Q: How do you balance school work with theatre?
A: It's hard. It nearly killed me last year in my junior year. That was a nightmare. But you do homework when you can. There are a lot of late nights and you either do it before rehearsal or during downtime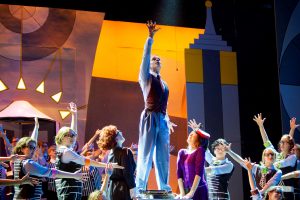 in rehearsal. Theatre Ink emphasizes that homework always comes first, but a lot of us generally tend to prioritize theatre first. If you're having fun, then any amount of extra time you have to put in to do homework and to continue maintaining a healthy school life is worth it.
Q: What kind of characters do you like to play?
A: I like to play characters that are decidedly different from me. I like to play characters that aren't usual, that aren't normal. It's exploring the things that you can't do as a person–like when I get to play an 80-year-old man or when I get to play a revolutionary leader in 18th century France. I love branching away from the normal, and that theatre allows you to do that so often. I think despite that, you've got to find a part of yourself in any character you play. That's the only way to get honesty across.
Q: How do you think you have benefitted from theatre?
A: It's definitely an outlet. It's a really good way to express emotions. It's helped me get through hard times in my life because up on stage you can't let any of that affect you visibly, so you channel whatever you're feeling and whatever's going on in your life just through the acting, through the song, whatever you're doing. It's cathartic.