by Jessica Tharaud
Students from Theatre Ink teamed up with students from South's theatre company, South Stage, for their annual Shakespeare production. This year's play, "Much Ado About Nothing," runs Thursday, May 8 through Saturday, May 10 at 7:30 p.m. in the little theatre.
"Much Ado About Nothing" puts a comedic spin on the tale of two couples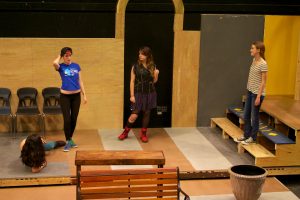 who navigate the difficulties of love.
Directed by local director and actress Jennifer Alison Lewis, this show will use the Shakespearean language of the classic play, but it will take place in 2014 to demonstrate how "timeless" the themes of it are, according to Lewis.
Lewis decided on the change of setting because the themes of the play "are still so relevant," according to Lewis. The characters, like teenagers today, "struggle with figuring out who they really are, who they are expected to be, and when and if they break out of those molds," she added.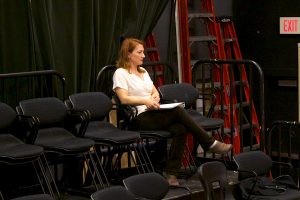 Sophomore Naomi Forman-Katz, who plays Beatrice, said that the modern twist makes the show interesting "because it's really neat to see how each actor puts their own individual spin on such a classic play."
Additionally, the play is a unique opportunity for students from this school and from South to perform together. Lewis said that the actors' "comfort with the language and willingness to explore" impressed her.
Lewis was also impressed by the quality of the production values. According to Lewis, the "sets, costumes, lights, music, props" are "as good as most professional theatres in Boston."
Overall, "Much Ado About Nothing" is a "crazy, hectic, emotional production and I'm really glad to be a part of it," said Forman-Katz.
Tickets are $7 and are sold at all lunches and on Theatre Ink's website.