Preview: Springfest to bring Australian special guests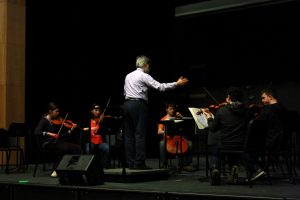 by Maya Abou-Rizk
To celebrate the beginning of each new season in the school year, the musicians in our school perform three concerts: Harvestfest, Winterfest and Springfest. According to fine and performing arts department head Todd Young, all three concerts are unique. Springfest this year will include many significant pieces and multiple special guests, including Australian exchange students.
Springfest is a concert split into two parts with Springfest I April 9, and Springfest II April 10, both at 7 p.m. in the auditorium.
Springfest I
Springfest I will include Concert Choir, Symphonic Band, Wind Ensemble, and Jubilee Singers.
Labedz directs the Symphonic Band and the Wind Ensemble. The band will perform "Variations on America" by Charles Ives. The piece will be interesting and entertaining, as it includes many odd aspects.
"Some parts of the piece will be very ironic and comical, and others will sound wrong, but are correct," said Labedz.
Senior Ned Martenis, leader of the flute section, said this piece is his favorite to prepare for. "It's fun to practice a song with so many different sounds."
Australian exchange musicians will also be performing in this year's Springfest.  The vocalists will join Concert Choir, and the other musicians will join the different bands on Wednesday.
"It's great to have them," said Young. "They bring us a new variety of students and abilities."
Freshman Maya Seckler, a trumpet player in the Symphonic band, said the experience performing with the Australians will be "exciting and fun." She added, "I am curious to find out how their music program differs from ours."
Concert Choir will also, for the first time in many years, perform a piece with the Jubilee Singers.
"This will be great for both groups," said Jubilee Singers director Sheldon Reid. "It will be great to see both groups collaborate."
Young added that specifically for his group, the Concert Choir, it will be good for them to "perform with more experienced singers, as well as with singers who perform a more spiritual genre of music."
Springfest II
Springfest II will include the Orchestra, the String Ensemble, and Family Singers; all directed by music teacher Adam Grossman
Family Singers has been preparing with an alumni of our school, who has gone on to a "significant career as a soprano in classic music."
The Orchestra will be performing, "Impresario Overture" by W.A. Mozart, and "Violin Concerto" by Ludwig Van Beethoven.
The Family Singers will be performing "Mirjam's Siegesang" by Franz Schubert, with special guests Sara Heaton and Ms, Stephanie Rogers.
"We are lucky enough to have Sara Heaton, an accomplished soprano singer, be with us," said Young. "Stephanie Rogers will be helping with us with this piece by playing the piano part."