Preview: Spontaneous Generation unique from other productions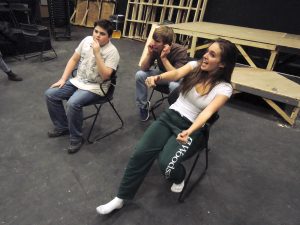 by Leah Budson
One of these things is not like the other. In the case of Theatre Ink, this phrase refers to Spontaneous Generation. Unlike the cast's of other Theatre Ink productions, this school's improvisational comedy troupe Spontaneous Generation performs unscripted each night, ensuring that each show is different.
The troupe will perform Wednesday, April 2 through Saturday, April 5 at 7:30 p.m. in the Little Theatre. Tickets are available online and will be sold during all lunches.
Junior Daniel Ruttenberg, a member of the troupe, explained that "most shows have a script of some sort; in Spon Gen, the script is made up as we go along."
Junior Elena Rodriguez, a director of Spontaneous Generation along with senior Kelsey Fox, noted other ways that Spontaneous Generation is different from the rest of Theatre Ink productions. "It isn't composed of the average 'theatre kids,'" explained Rodriguez. "That's because improv is so accessible to all kinds of people."
According to Rodriguez, this diversity works to the group's advantage. "It's important in a troupe to be balanced and full of diverse talents," she said.
Rodriguez said she was looking forward to seeing new Spontaneous Generation members perform. "I'm excited to see them utilize their skills from rehearsal to create a great show," she commented.
Spon Gen also attracts a different kind of audience than most Theatre Ink shows, according to Ruttenberg. "I always love to see people who don't normally go to Theatre Ink shows come see Spontaneous Generation. It has a far more universal appeal in the community," he said.
Rodriguez echoed Ruttenberg's statement, explaining that Spontaneous Generation tends to have a different audience because, "People don't have to understand the complexities of theatre to enjoy improv, all they have to do is be willing to laugh and have fun."