Ceremony honors Athletic Hall of Fame Inductees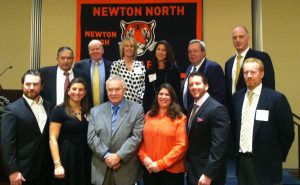 by MacKenzie Silvia
Last Saturday, 12 former Tiger athletes and coaches were inducted into the Newton North/ Newton High School Athletic Hall of Fame. The inductees received an award of honor and all were given the chance to speak about their Newton North careers.
Francis "Buddy" Ryan, '59, was recognized for his accomplishments in basketball and baseball. Ryan went on to play in the Cape Cod Baseball League after graduating. Ryan helped Falmouth advance to the Championship and he won All-League honors. He played professional baseball and tied the Alabama-Florida League strikeout record.
Frederick Dalicandro, '61, was awarded for his success in football and baseball. Dalicandro was a league All-Star numerous times during his high school baseball career. In his adult years, he founded the Newton youth football program, otherwise known as Pop Warner.
"I owe most of my success to my dad; my parents," Dalicandro said.
Richard Dezotell, '67, was a varsity hockey, football, and baseball star. Dezotell attributes his success to Newton North's Hall of Fame baseball coach Howard Ferguson. After graduation, Dezotell attended Manlius Military Academy in New York, and then proceeded to join the Army.
Dezotell concluded his speech by saying, "I love Newton, and I love being a Tiger."
Sandy Smith Calabro, '81, was recognized for her success in soccer, basketball, and softball. Calabro led her basketball team to be the Division I State Champions her senior year. She went on to Massachusetts Bay Community College where she was inducted into the Silver Key Society, an activities organization which recognizes the student contributions. She later was nationally ranked as being one of the top free throw shooters in Division II and III colleges.
Calabro reminisced about her high school memories and recalls, "It really boils down to one memory, winning that basketball State Championship my senior year."
Lisa McKinney, '81, was awarded for her perseverance to not only better her students, but the Newton community. McKinney's generosity was acknowledged and appreciated. McKinney helped in creating the Athletic Hall of Fame because she felt Newton needed to keep its positive culture alive.
June Ferestein, '81, was acknowledged for her superb tennis skills. Ferestien led the team to back-to-back State Championships during her years at this school. Senior year Ferestien represented the United States at the Junior Wimbledon, Junior Italians, and Junior U.S. Open. Ferestien received a full scholarship to the University of Florida.
"The only time I was a part of a team is when I played for Newton North High School," Ferestien said. She thanked her coaches and appreciates how "they genuinely cared."
David Quinn, '90, was honored for his accomplishments in lacrosse and football. Quinn's success in lacrosse did not go unnoticed, as he was named a High School All-American twice. Quinn graduated and continued playing lacrosse at Towson State. At Towson, Quinn earned Division I All-American honors.
Douglas Gentile, '92, was awarded for his impressive skills in hockey and baseball. In his high school hockey career he was awarded Bay State League All-Star three times and was named a Boston Herald All-Scholastic. Gentile's baseball skills won him Academic Athlete of the Year. Gentile went on to play at Tufts where he captained both hockey and baseball his junior and senior years.
David DeCew, '95, was praised for his skill in soccer, basketball, baseball, and tennis. DeCew was awarded with First Team All-Star in soccer, basketball, and baseball. DeCew went on to Bowdoin college where he shined in both soccer and baseball. Shortly after his graduation from Bowdoin, he began his coaching career at Babson. He now works as the Head Baseball and Men's Soccer coach at New England College.
Vanessa Cedrone, '01, was acknowledged for her athleticism in basketball, soccer, and softball. Cedrone reached 1,000 points in her basketball career, a very hard task to accomplish. USA Today chose her as one of the Top 15 basketball players in the state. Cedrone won First Team Bay State All-Star three times in basketball and twice in softball. Cedrone went to Southern New Hampshire University with a full basketball scholarship.
Andrew Sharpin, '01, was appreciated for his fierce speed in the swimming pool. Sharpin was a four-time Bay State League All-Star, Boston Globe and Boston Herald All-Scholastic, as well as a state record holder. Sharpin continued to shine in the pool when he graduated and began school at Brown University. Sharpin attributes all of his success to his supportive parents.
Jack Heavey, a coach from 1983 to 1996, was applauded for his unique but effective coaching style. Heavey's boys' hockey team advanced to the State Tournament during all 13 years of his coaching career. He put in countless hours to create the Newton High/Newton North Athletic Hall of Fame, and is also a member of the Massachusetts State Hockey Coaches' Hall of Fame.
How to vote for next years inductees : http://nnhs.newton.k12.ma.us/athletics/index.php?%20option=com_content&view=article&id=327.