Students' art appreciated: National Scholastic Arts Awards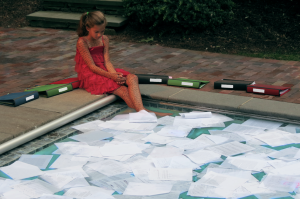 by Maya Abou-Rizk
This school has participated in the National Scholastic Arts Awards for many years. This year, art students submitted mainly prints, and photo students submitted both film and digital works.
"It's an opportunity for middle and high school students to submit their work to judges and get into an exhibition, as well as earn small awards," said art teacher Shannon Slattery.
Slattery expressed some disagreement with the contest, and is not fond of entering most of her students' work into it.
"I don't necessarily agree with the criteria that they judge on," said Slattery. "They judge the students on technical skill, personal voice, and creativity. And something I have noticed, is increasingly, a lot of the work that wins in the drawing and painting categories is copied from photographs."
Slattery explained that she did not think this was an appropriate way to teach painting and drawing, and said, "I don't submit my students' drawings and paintings because it won't win, and it's not fair."
Sophomore Naomi Forman-Katz, an Art Major I student, submitted a print titled, "Out, Out, Brief Candle." She won a silver key for her piece.
"My piece is different because it is actually printed twice, with one print inverted on the other," Forman-Katz said.  "I thought being able to submit my work was a neat experience."
Although some art students did submit a few prints, photography teacher Thomas MacIntyre's students submitted quite a few pieces.
Senior Jessica Moylan submitted a photograph inspired by Gregory Crewdson titled, "Untitled." She won a silver key award for her piece.
"I shot at night with a fog machine and, after experimenting with different light sources, I used only the street lights for the picture," Moylan explained. "I like submitting to the Scholastic Art competition and I love going to see my competitors' artwork on exhibit."
Sophomore Nadav Konforty also submitted photograph titled, "Untitled." He won a gold key for his piece.
"I was inspired for this piece by the thought that students are usually drowning in their school work," Konforty said. "I like the Scholastic Art Competition because I like to appreciate others' art from across the country, as well as send my own art in against others."