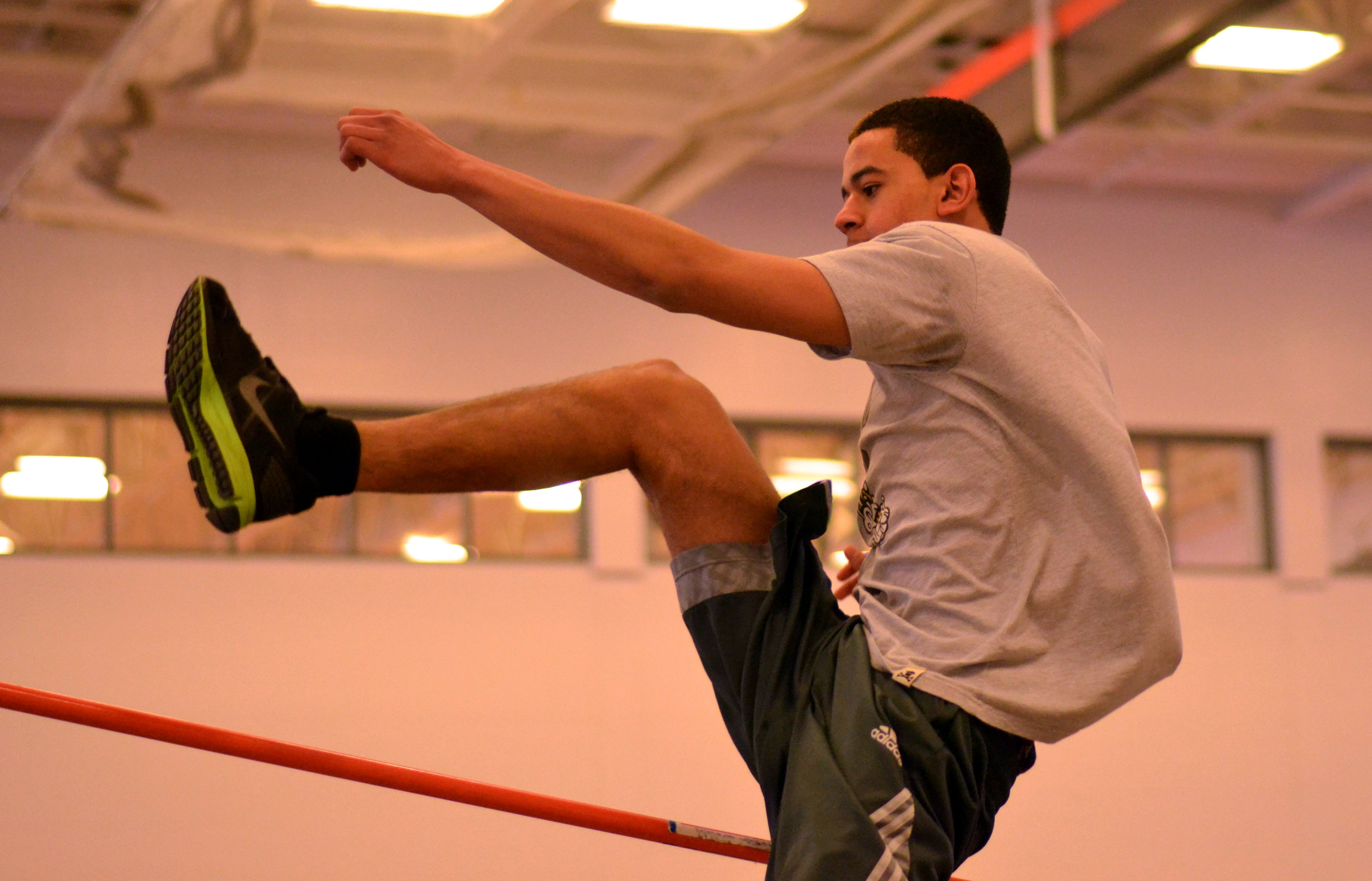 by Jacob Gurvis
For the 17th consecutive year, boys' indoor track, 6-0, won the Bay State Conference title and also took home the Division I Championship and All-State title.
Coach Jim Blackburn acknowledged the team's success, saying that the team does "all things well," with "no improvement needed."
Senior Gabe Montague, a captain with seniors Nick Fofana, Jackson King, and Mike Schlichting, believes that the team's hard work and preparation translated to success during meets.
"This season, the team did a tremendous job in their training. It was a really successful year because everyone accepted what needed to be done and put 100% into it, and it paid off in the state championships," he said.
Montague also feels that the Tigers were not lacking in any aspect, saying, "We had an undefeated season all the way to the end, so it's pretty hard to ask for more."
According to Blackburn, in the All-State meet, there were standout performances from Fofana, Montague, and Schlichting, as well as junior Ben Porter.
Fofana broke the school record (a record he previously set) for the 55 Meter Hurdle, with an impressive time of 7.67 seconds.
Montague finished the 1000 Meter with a time of 2:25.45, which not only put him in first for the meet, but also ranked him first in the country at the high school level for that event.
Schlichting, a strong runner all season, placed in tenth in the mile at the meet.
Porter finished in sixth place in the 300 Meter, and senior Mike Howard had an impressive 6'4" mark in the High Jump, tying for second place.
Montague also praised Howard's standout performance. "This was Mike's first year of track, but he blew everyone away at the All-State meet. He put in the work over the course of the season to improve his jumps by over a foot, and it allowed us to win All-States," said Montague.
Montague was also impressed by his fellow captains' dominance.
"Nick Fofana scored us the most points in the most meets, and was really valuable to the team. He earned league MVP for winning us points in the high jump, hurdles, and long jump. At the divisional meet, Mike Schlichting scored us 20 points with great races, winning the mile and 2 mile which allowed us to win the meet," he said.
Depth is crucial for any team's success. According to Montague, some of the team's younger players have also stood out.
"Our younger shot-putters, sophomores Eddy Acuna and Kevin Joyce improved a lot this season and were really valuable to the team. They're approaching being the next crew of 50-foot shot putters that coach Mike Bower seems to turn out regularly," said Montague.
Even with continual dominance, the Tigers still appreciate and cherish their success.
"The highlight of the season was definitely winning the All-State Championships. It is what we had our sights set on for the beginning and we were able to do it and round off a perfect season," said Montague. "For me, winning the All-State Championship 1000 Meter and setting the state-meet record [were highlights.]"
Montague has enjoyed large success all year, and throughout his career at this school. This year has been special to him, and he has enjoyed being a leader.
"Being a senior this year, it's been great to finally be in the position of the runners I looked up to my freshman year. It's fun to be more successful and recognized as an older, more improved runner," he said.
Despite this change, Montague feels as though his track experience has remained the same throughout all four years.
"A lot of track hasn't changed much for me, because the great thing about track is that you can be successful and recognized no matter who you are when you accomplish something that you're proud of or that you've been working towards," said Montague.
The gift of opportunity is something Montague likes about his sport, as he feels anyone can succeed track, and that all it takes is hard work.
"It doesn't matter so much if your goal is to be one of the best freshman on the team, or to score points in a league meet, or to improve your rank at a national level, as long as you have a goal to work towards. That's why I've always liked running. This season has been particularly exciting for me, but that's why its also a lot like my other seasons running at North," he said.