by Elena Schwartz
In many aspects of school life, the achievement hierarchy is apparent. On a sports team, members know who is the most skilled because some athletes play for the freshman or junior varsity team, while others play at the varsity level. In theatre productions, auditions may be private, but when the cast list goes up, everyone knows who is the best performer: the person who landed the role of Annie is clearly judged to be more talented than the person who will play "orphan with mended sock."
But in a school claiming that "learning sustains the human spirit," does academic achievement receive the same kind of public recognition—and should it?
At some high schools, there is a publicized class rank and students can graduate with various levels of honors and become members of the National Honor Society; at this school, however, neither class rank, graduating honors, nor  NHS exist.
There is an Honor Roll policy—students who achieve all A's and B's in a marking period are considered Honor Roll students—and students can put that status on their college applications and resumes, according to the course catalogue. But this school does not publish a list of students who earn Honor Roll status, said Head of Guidance Beth Swederskas.
Swederskas explained this and other policies regarding recognition of academic excellence, such as the lack of class rank, saying that "having ranked spots based on only GPA would increase stress and pressure for students, which is already very high. Being at the bottom of the class would make students feel very defeated."
Although there is no class rank, students can get a sense of where they stand within their class. Every year, this school puts together a histogram or bar chart of the graduating class, which indicates the number and percentage of students who have a GPA in certain grade ranges. This is part of the school profile that is sent to colleges.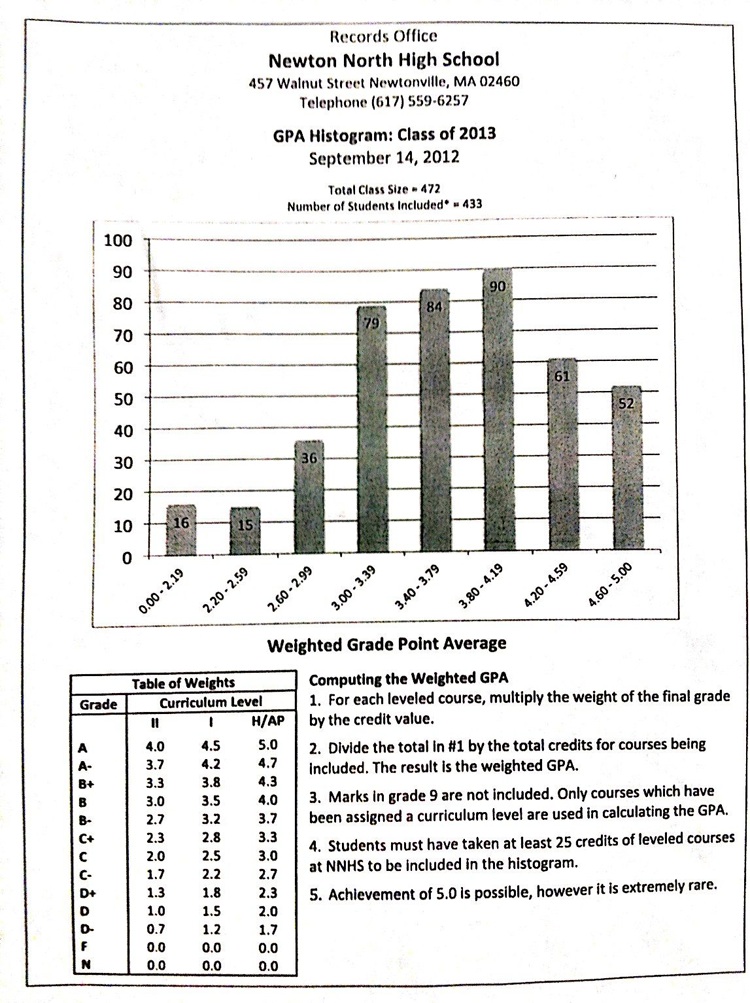 College counselor Brad MacGowan called this form of ranking "a nice balance" between class rank and no ranking.
"The histogram gives colleges some idea of where students stand without getting hung up in specifics," MacGowan said.
MacGowan denounced class rank because it "gives a false sense of accuracy."
"Class rank is entirely based on GPA, which gets down to thousandths of a point," he said. "It serves as a distraction from learning. I hope we never use it."
"I've worked for schools that use class rank," said MacGowan. "It has no advantages and plenty of disadvantages. Students should take the classes that interest them, not take classes in order to manipulate their GPAs and class rank."
While Needham High School and Natick High School also do not maintain a class rank, they do recognize academically accomplished students in ways this school does not.
At Needham, students can join NHS. These students are honored at the Needham Class Day baccalaureate celebration, and their membership in NHS is noted in the graduation bulletin, according to principal Jonathan Pizzi.
In the same manner as in this school, there is an honor roll at Needham, but it is not published. Each term, however, the main office sends a letter home congratulating those students who have achieved Academic Honors or High Academic Honors, a practice that this school has not adopted.
"We also announce special academic awards in our weekly school newsletter and at school committee meetings," said Pizzi.
At Natick, according to principal Rose Bertucci, students can graduate with honors and high honors. These students are indicated in the Graduation Program with one or two asterisks.
In addition, "every week we have a 'Student of the Week' in our online message that goes to each family," Bertucci said. "And students who gain a certain point average receive 'Junior or Senior Priv.'"
There are also awards given at Class Night and graduation at Natick.
Some students are satisfied with the extent to which this school publicizes academic achievement. Junior Chloe Amouyal, for instance, is glad that there is no valedictorian at this school.
"Even though it is a little too politically correct and 'everyone's special here in Newton,' it means that there's less pressure on kids to get valedictorian or be in the top ten percent [of their class]. Since it does not exist, there is no shame in not getting it," Amouyal said.
English teacher Peter Goddard said that the way academic achievement is recognized is meant to foster "well-rounded kids."
"We don't value one [area of excellence] or the other," said Goddard.
Goddard conceded that academics could garner more attention, but reasoned that this school "tries to downplay a lot of this because all students are supposed to be equally valued. That's why there's no valedictorian, no class rank."
"That's also why there is no prom king or queen. It's about not elevating one or two kids at others' expense."
Principal Jennifer Price insists that this school does recognize students' academic achievement "in a number of ways."
For example, each year the school committee presents the Massachusetts Association of School Superintendents' Excellence Awards; the event is televised. Four students, two from this school and two from South are recognized for academic excellence. This year, the award was presented to seniors Alex Feit and Adina Kruskal.
In addition, Price holds one breakfast with all of the National Merit semifinalists and their parents, and another for commended students.
At graduation, a number of academic awards are presented, including the Meserve Award, which goes to students at the top of their class who "contribute a lot to the school community." The top student each year also receives the Phi Delta Kappa award.
In addition, some departments give individual prizes to honor student success in specific subjects.
The mathematics department presents the Ferguson Scholarship, the Ellen Raphael Prize, and the Ron Barndt Award, which honor a student who has consistently worked to achieve his or her academic potential and has been involved in school activities, a student who has made substantive progress in mathematics, and a student who excels in mathematics, respectively. In addition, there is the Mary Sapienza Award, which is presented to someone who appreciates the creative aspect of mathematics, and the Meredith Ghattas Scholarship, which is given to a hard-working student.
The history department awards the best Junior Thesis and distributes the Peletier and Perkins prizes.
The English department presents a number of grade-specific awards. Freshmen are eligible to receive the John Harris Award, which honors a student who exhibits growth and improvement in writing, as well as the Charles Kamar Award, which recognizes a student who is particularly inspired to develop analytical writing skills.
The department holds the sophomore speech competition and presents the winner with the Martin Luther King, Jr. Award. The Heintzelman Memorial Award recognizes juniors or seniors who make an ongoing effort to write and speak effectively. Juniors can also win the Marilyn Hubbard Award for overcoming struggles with language, the Lori Borden Award for excellence in analytical writing, and the Alison Kenney Hall Award, which honors a student who is an enthusiastic reader, a thoughtful listener, and an active participant in discussions. Seniors may win the award for excellence in an english portfolio, for a portfolio reflecting an original voice, and for a portfolio that shows marked improvement (the Achievement in a Portfolio award).
The science department gives the Bausch and Lomb Science Award, a book award given at junior book awards.
Price said that this school has reasons for recognizing academic achievement to the extent and in the way that it does. The diversity in a student body that is "racially, ethnically, and socioeconomically varied" means that students also achieve in different ways.
"Some kids excel in career and technical education," said Price. "We don't want to make those kids feel marginalized."