Director, actors respond to musical's stereotypes
by Peter Diamond
In a number of ways, "Thoroughly Modern Millie," Theatre Ink's spring musical, resembles the quintessential Broadway romantic comedy—showy dance numbers, a sizeable ensemble, slapstick comedy. But more so than most comparable pieces of theatre, this musical features racial stereotyping in a controversial way that students and faculty at this school are addressing in light of Theatre Ink's upcoming production of the show.
Based on the 1967 film of the same title, this musical tells the story of Millie Dillmount, a woman from Kansas who moves to New York City in the 1920s to embrace new opportunities for women in urban environments. Millie's journey highlights her experiences living in the Hotel Priscilla, run by the show's main antagonist, a white actress/landlady named Mrs. Meers who poses as a Chinese immigrant. Mrs. Meers disguises her property as a boarding house for actresses with the secret intention to sell young white women into slavery in southeast Asia.
English teacher Bradley Jensen, who is directing the musical, has identified the show's negative images and plans to tackle them with the cast and team.
"As the director, first and foremost I want to make my cast aware of the negative images of Asians that appear within our show," said Jensen. "In order to address them, we must recognize them and have a basic understanding of the historical context of these offensive images and ideas."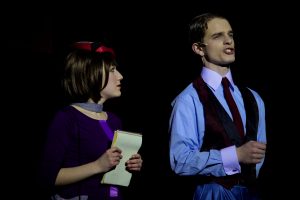 On behalf of this school's Office of Human Rights, English teacher Michele Leong will work with the cast and crew to "bring fully developed, and non-stereotypical characters to life in the musical" and to make sure that the show has "a balance of positive images of Asians and Asian-Americans" along with English teacher Charlene Beh, said Leong. Jensen also intends to collaborate with the Asian Culture Club, which Beh and Leong advise.
To respond to stereotypes, actors will be conscientious in their portrayals of racist characters. In the musical's libretto by Richard Morris and Dick Scanlan, a stage direction says, "The actress portraying Mrs. Meers should be encouraged to embrace the offensiveness of her politically incorrect rendering of Asian, confident in the knowledge that, when contrasted with the actual Asian characters we meet later on, her depiction of a hateful stereotype will be busted as inauthentic and absurd."
Senior Kelsey Fox will portray the role of Mrs. Meers in Theatre Ink's upcoming production. Fox is no stranger to comedy, having appeared in Nitrous Oxide and Spontaneous Generation, this school's sketch comedy troupe and improvisational comedy troupe, respectively, since her freshman year. Additionally, Fox is a student in Leadership in a Diverse Society, a course taught by Leong and English teacher Peter Goddard that includes a unit on Asian-American identity.
Fox said that her goal is to be an ally of the Asian-American community at this school. According to her, that alliance "means just really, honestly listening, and doing what I can to understand something I will never fully understand," she said. "'Millie' is a comedy, so ultimately, Mrs. Meers is intended to be a comic villain. It's just my job to make sure the comedy centers around her, and not around making fun of and stereotyping Asian culture."
As a part of her connection to the white slavery ring, Mrs. Meers manipulates two innocent Chinese immigrant brothers, named Ching Ho and Bun Foo, into helping her by promising them the opportunity to bring their mother from Hong Kong to the United States. In Theatre Ink's production, Ching Ho will be played by senior Hiroki Shibuya, who is Asian-American, and Bun Foo will be played by senior Ezra Dulit-Greenberg, who is white.
According to Shibuya, a proper analysis of Ching Ho and Bun Foo could paint them as something much deeper than a racist stereotype of two Chinese immigrants.
"Whenever Ching Ho is seen with Ms. Meers, he plays the typical minion role, not speaking much and following his employers orders no matter how much he disagrees with them," said Shibuya. "This is the stereotype that is all too easy to see on the surface, but when you see the brothers by themselves, they are more than quiet, timid henchman.
"They are conflicted characters who are passionate to take their mother away from Hong Kong and to bring them to the land of promise, but must put themselves through this vile job in order to save her," he said.
Dulit-Greenberg echoed Shibuya's viewpoint of these characters, describing Bun Foo as "a truly recognizable character whose deepest motive, reunification with his mother, transcends race."
Both Dulit-Greenberg and Shibuya feel that an honest portrayal of these characters will balance the blatant racism that is used as a vehicle for dark comedy in the portrayal of Mrs. Meers, who Dulit-Greenberg described as "a sarcastic comment on racism."
"The sense of humor in the show is usually centered around Mrs. Meers's obscene impression of a Chinese woman," said Dulit-Greenberg. "Though the joke was probably originally the impression itself, we will try to pull humor by making Mrs. Meers seem ridiculous, and not her targets."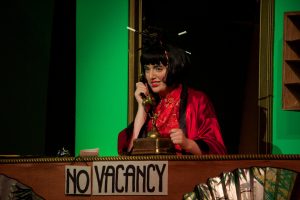 Shibuya hopes that his performance will convey Ching Ho's most universal traits, apart from his race.
"Rather than playing an overdramatic Asian caricature, I hope to develop a character that comes simply from his innermost feelings, especially his desire to see his mother," he said. "By being honest to the character and his words, I believe the historical context and the show's humor and story will naturally become apparent."
Jensen is leading the cast and team through the process by addressing the musical's difficult content and maintaining an open dialogue. For example, he has chosen to have Dulit-Greenberg portray Bun Foo as a white man who had been adopted into China as a baby rather than in yellowface, and he held a full-cast meeting on Thursday, Jan. 9 to ensure that each cast member was able to articulate the importance of addressing the stereotypes in the musical and the distinction between expressions of hate and the comedy of "Thoroughly Modern Millie."
Despite the especially challenging content of "Thoroughly Modern Millie," the cast and team are currently undergoing a comprehensive rehearsal process, primarily learning the dance, music, and scene work of the show.
"I hope that by discussing these issues now and proactively engaging in socially responsible dialogue, our show will not only be barrels of fun, but it will also be a socially conscious piece that opens doors for further dialogues, bringing light to a topic that must be discussed within our school," said Jensen.