Review: 'Bad Seed' grips audience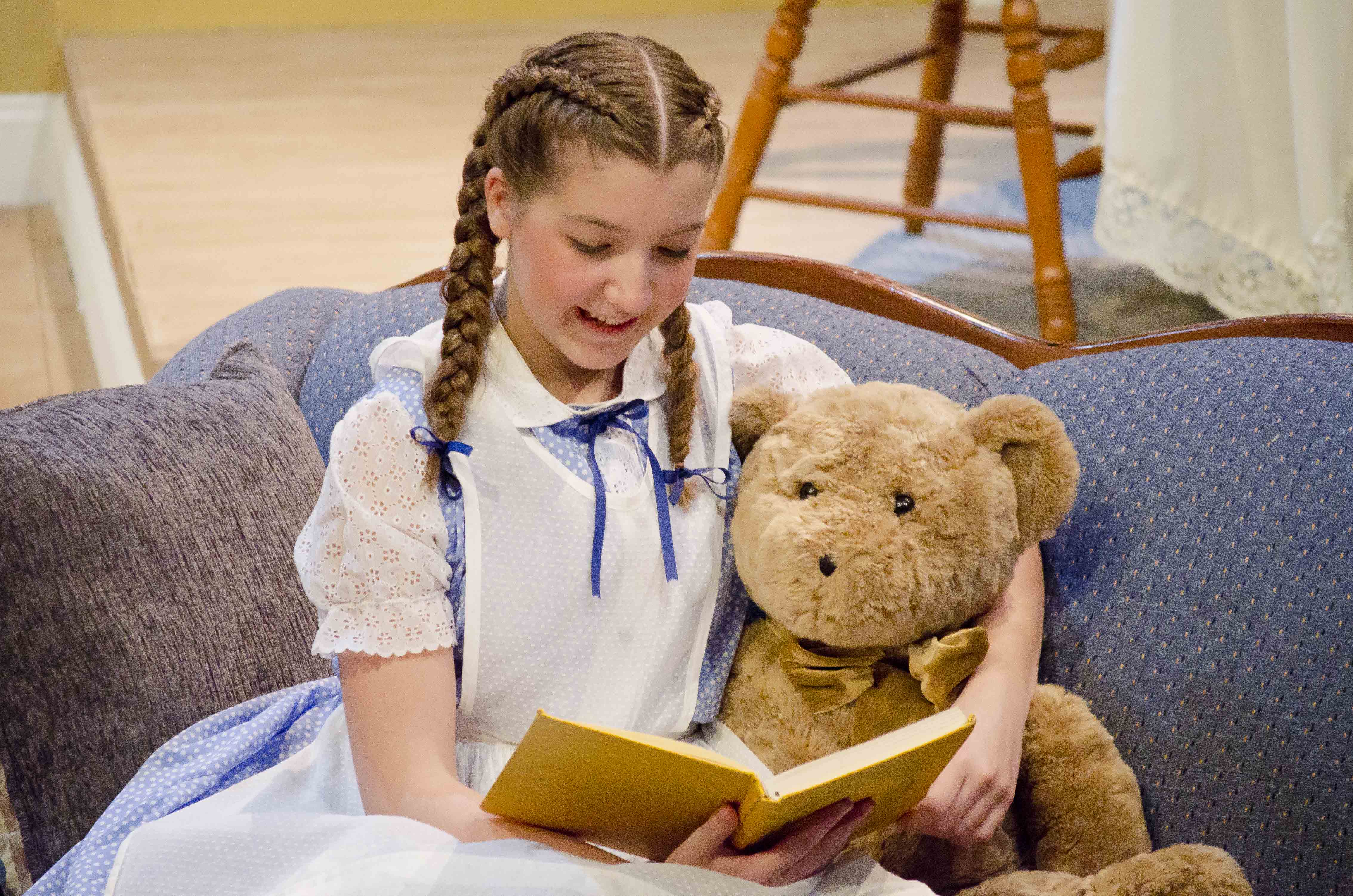 by Maddie Griswold
"Bad Seed" by Maxwell Anderson, directed by seniors Ezra Dulit-Greenberg and Simon Wolfe, commands attention throughout as it tells the thrilling story of a mother's realization that her daughter committed a murder. The show goes up tonight through Saturday night at 7:30 in the little theatre.
Eight-year-old Rhoda Penmark, played by sophomore Ellie Strayer, flits around the 1950s-style living room adorned with endearing black-and-white family photographs that give the space a personal touch.
In comes Kenneth and Christine Penmark, played by junior Nico Krauss and senior Juliet Roll, saying their goodbyes before Air Force colonel Kenneth is deployed. These interactions set the stage for a perfect Southern family, complete with the accents to match.
Cherubic Rhoda appears equally perfect. Strayer lays on the charm with her sugar sweet tone and beaming smile, but an alarming change in her is palpable when her mother references the penmanship medal that she lost to classmate Claude Daigle, as the girl huffs that she deserved first place herself.
Enter Monica Breedlove, the Penmark's lovable landlady who lives in the above apartment and is a close friend of the family, played by senior Deedee Elbieh. Monica appears to love Rhoda dearly, acting as a makeshift aunt to spoil her fulfill her every desire. Elbieh conveys Monica's strong-willed nature with ease, laying on the sass that accompanies her frequent one-liners.
Throughout the start of the play, Rhoda is portrayed as an angelic child and exemplary in school as explained to Christine in a parent-teacher conference of sorts by her teacher Miss Fern, played by senior Maddy Waters. But there is something different about Rhoda, something that causes her classmates to keep their distance.
Rhoda's relationship with the apartment's handyman, Leroy, played by junior Jelani Asim, presents another complication. Asim paints the picture of Leroy as an immature character, one who appears to have an eight-year-old mind himself and thus regularly spars with Rhoda.
The plot gains steam when Christine receives the news that Claude Daigle, a child from her daughter's school was drowned, coincidentally the same boy who beat out Rhoda for the penmanship medal.
Rhoda returns home from school that day unaffected, as displayed when her mother asked if she felt sorry, and she calmly responded with the haunting line "Why should I feel sorry? It was Claude Daigle who drowned, not me."
Suspicions arise in Christine as Miss Fern returns to discuss the details of Claude's accident and it is revealed that Rhoda was the last one to see the boy alive, and the medal he was wearing that day, is missing.
Her notions are confirmed when she finds the medal in the lining of Rhoda's drawer, staring blankly at it as her daughter enters the room. What ensues is a terrifying walk across the room, brilliantly played by Strayer, as Rhoda returns to find her mother's discovery. She is infuriatingly calm throughout Christine's questioning, as she tries desperately to illicit information from her daughter.
In a dinner party scene that follows, there is a discussion between Christine's father, Richard Bravo, played by junior Nick Hansell and Monica's author friend Reginald Tasker, played by junior Peter Diamond about the nature of criminals. Diamond delivers the strongest line of the play with a southern drawl, "There are bad seeds. Just plain bad and nothing can change them."
Tickets are $7 and sold at lunches and on theatreink.net.