Preview: Freshman Cabaret's 'Brand New You' to feature three disciplines, diverse talent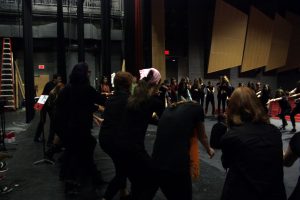 by Peter Diamond
In Theatre Ink's annual Freshman Cabaret, any interested freshman has the opportunity to sing, dance, and act in an all-inclusive variety show directed by sophomores. This year's cabaret, entitled "Brand New You" (named after a song from Jason Robert Brown's "13"), goes up Thursday, Dec. 5 and Friday, Dec. 6 at 7:30 p.m. in the auditorium.
This year, four ambitious sophomores share the responsibilities that come with directing a cast of over 50 freshmen: sophomore Jackson Bunis has written and directed several comedic sketches, sophomore Amanda Kuo has choreographed and taught seven different dances, and sophomores Jen Gately and Caroline Kaler have taught this cast of freshmen numerous songs from Broadway musicals and the modern pop songbook. Each of these directors feels that this experience, although challenging, has been more than worthwhile.
"This process was extremely rewarding because I got the opportunity to see new faces of the high school come into the theatre program with no idea what to expect and watch them grow as performers and members of Theatre Ink," said Gately. "Since it is such a big cast, we have faced a lot of challenges when it came to rehearsals running smoothly and efficiently, but it's all been really worth it."
Kaler echoed Gately's sentiments and feels that the four directors now serve as older guides to Theatre Ink's newest participants.
"Seeing how much of an impact we have on the cast, and how much they look up to us for advice and guidance, is such a rewarding feeling," she said.
Kaler also said that the audience can expect an exciting production that features a diversity of talent.
"The audience can expect to see a show that will make them forget about anything else going on in their lives and just have a chance to laugh and enjoy the great, energetic performances of the talented freshman," she said.
Tickets are $7 and sold at all lunches and on Theatre Ink's website.