Review: Jubilee concert full of infectious passion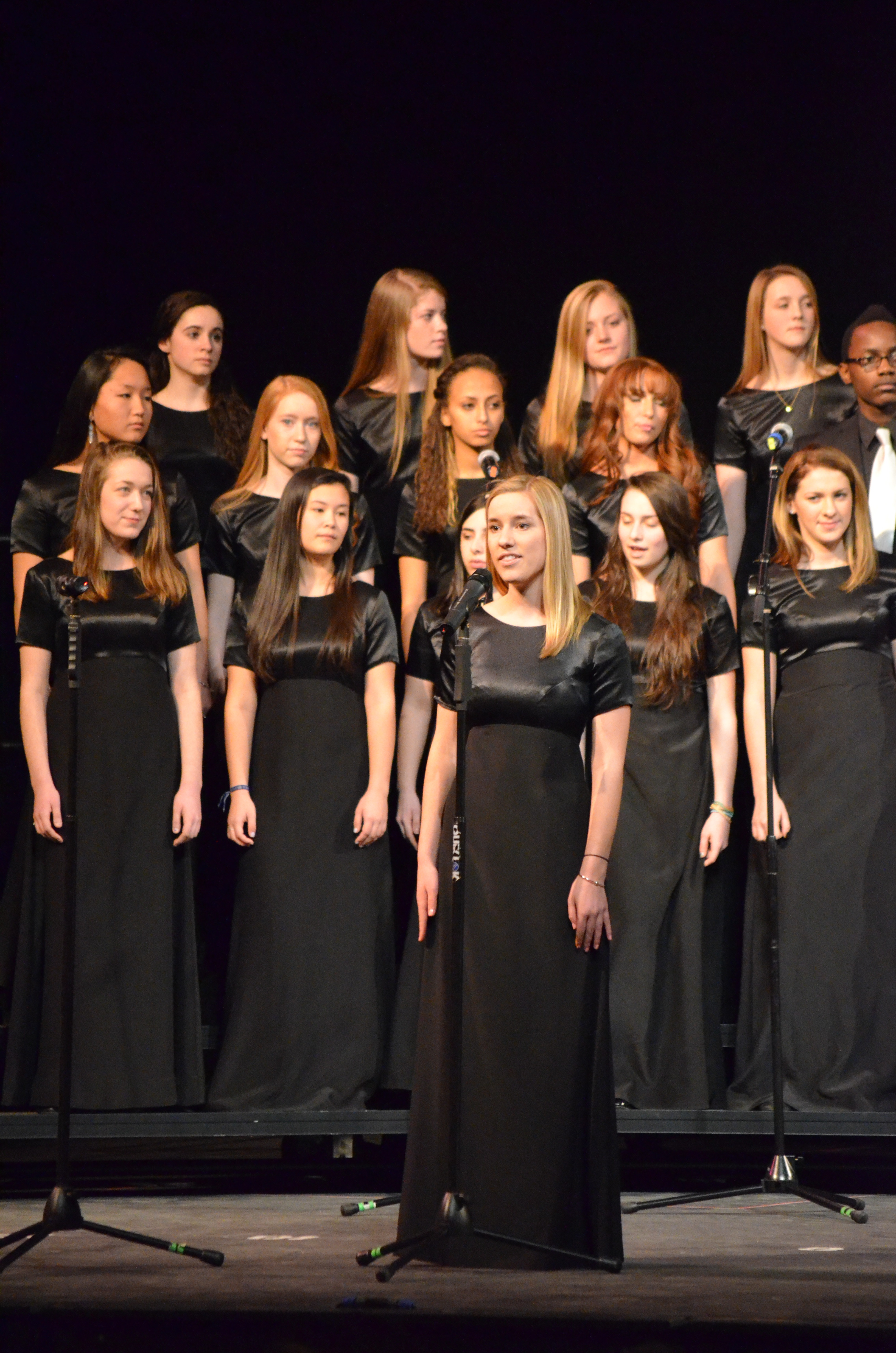 by Maddie Griswold
"Bring up the lights in the house! These people need room to stand up, clap, dance in the aisles, do whatever it takes to enjoy themselves," Choral director Sheldon Reid bellowed, to the amusement of the audience.
On Saturday, Jan. 26 at 7 p.m. in the auditorium, the Jubilee Singers hosted their annual winter concert, appropriately titled "Give Him Praise." Selections included spirituals, contemporary gospels, music from the African Diaspora and freedom songs. Although the songs were mainly themed in Christianity, they encompassed the group's overarching tone of peace and equality.
Newton South Harambee Gospel Choir was the special guest of the night for the second year in a row, taking the stage in the middle of the show to sing four pieces.
The night opened with the rousing "Ain't Gonna Let Nobody Turn Me 'Round," arranged by Alexi Paraschos. Junior Aajia Freeman gave life to the piece, with an impressive solo to start it off. The song gave voice to a fiery protest of segregation during the Civil Rights movement and the time of Martin Luther King.
The chorus's passion was infectious, and their voice's carried the piece's strength, as well as the dynamic harmonies that were produced.
And as promised, there was constant hand-clapping and audience interaction, which only added to the lively atmosphere.
Later in the evening, the uptempo notes of "Turn Me Around" were balanced by the more mellow "There Is A Balm In Gilead," arranged by William L. Dawson. This piece had longer, more drawn out harmonies that seemed to float through the auditorium, contrasting the energetic opener. The high notes in this piece were truly a high note of the night.
Ironically, the true unforgettable highlight of the night came in the form of junior Hannah Gallogly's solo in "Please Don't Forget About Me" by Joshua's Troop. Gallogly soulfully belted the verses, aided by the ensemble for the chorus.
Reid continued to introduce the songs with ease and comfort, cracking jokes and laughing along with the audience as he introduced the finale of the night, "Everybody Give Him Praise" by Joshua's Troop. The chorus swayed and clapped along to the bluesy yet energetic final piece.
Accompanied by a brass band of saxophone and trumpets, the members of Jubilee implored the audience to "stand up on your feet and give him praise," which they did enthusiastically, ending their night with a rousing standing ovation.
Each of the group's 45 members contributed to the success of this concert, and even though they come from different backgrounds, they all share an infectious passion for music.