Billy Cohen wins Mr. 013 pageant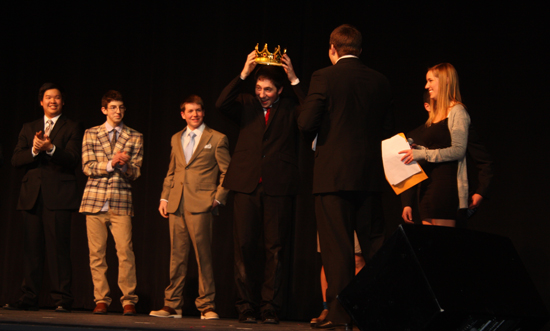 by Maxwell Kozlov
Last night, Mr. '013, the all-male beauty pageant to help fundraise for the senior prom, took place in the auditorium at 7 p.m. After the judges finished deliberating, Billy Cohen was announced Mr. '013 and won 2 free senior prom tickets, along with a crown.
The contestants were Cohen, Ryne Duffy, Brian Goldfinger, Kyle Hartmann, Emory Holmes, AJ Johnson, Jonathan Kim, Jacob Schwartz and Randy Tow.
The judging panel consisted of culinary arts teacher Lisa McKinney, math teacher Rachel Mingos, campus aide Nicole Mitchell and Barry house secretary Karen Tobin.
Mitchell said she loved it because "you get to see the kids in a different light. You get to see their talents which you don't usually know about."
The pageant was set up in several rounds: an introduction, an athletic-wear round, a talent round and a formal-wear round, which included questions from the judges.
Then, all of the contestants danced to "Gangnam Style" while the judges deliberated on the winner of the night.
Senior Mike Safran, who is the senior class president, said, "It was impressive because they didn't learn the choreography for 'Gangnam Style' until an hour before the event.
"I hope it will continue in the following years because it's a great way to get the grade involved," said Safran.