Review: Musicians perform with energy at Jazz Night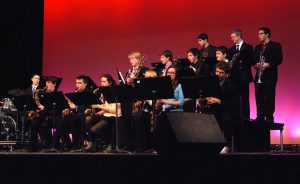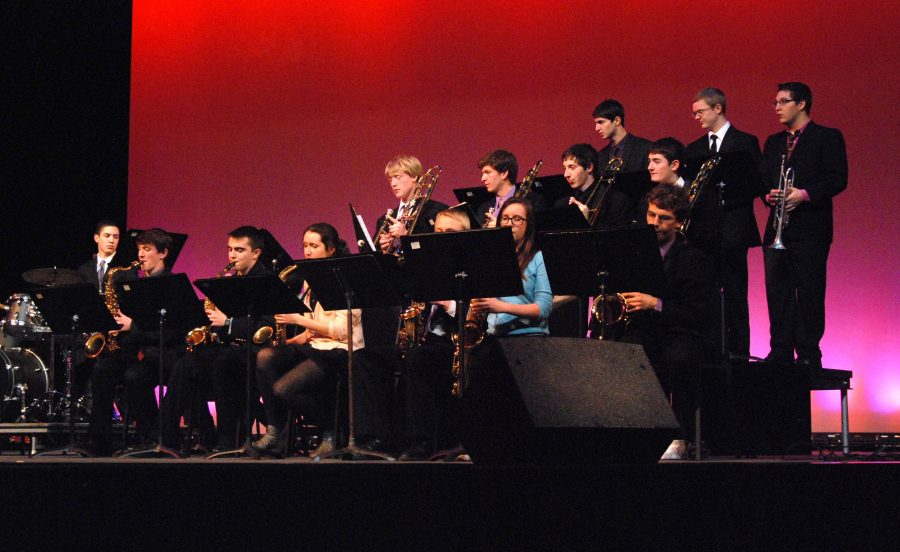 by Leah Budson
Whether the audience detected the energy of the night from the dancing singers, the musicians' tapping feet or the sheer excitement of the music, it is clear that Jazz Night exploded with excitement.
Yesterday at 7 in the auditorium, Jazz Night featured the Jazz Lab Band, Jazz Workshop, Tiger BeBop and Jazz Ensemble.
Jazz Lab Band began the night with "Bertha's Bossa" by Jamey Aebersold, arranged by Peter Blaire. An upbeat piece, it featured many impressive solos, including a clarinet solo by sophomore Zachary Bennett which Jazz Lab Band director Ed Harlow described as "extremely innovative."

Next, Jazz Workshop, a class dedicated to learning about jazz and improvisation, took the stage with two original compositions.
Bennett, junior Joe D'Urso, sophomores Irene Golden and Liam Wilcox-Warren and freshmen Sam Eastman, Benny Roover and Aaron Schwartz composed and performed "The Orange Hat on the Piano." The players seamlessly transitioned between their solos, going back and forth as if the musicians were having a conversation.
The lively "Midnight in Paris" was a highlight of the night with its passionate solos, composed by seniors Zach Balder, Scott Giles, Brian Goldfinger and Sam Mayer, junior Alex Fabry and freshman Matthew Shifrin. Scatting done by Shifrin was unique and refreshing. One would never have guessed that high schoolers composed and performed the piece.


Tiger BeBop, this school's jazz choir, continued the high energy atmosphere with their playful performance of "He Beeped when He Shoulda Bopped" by John "Dizzy" Gillespie, arranged by Kirby Shaw. Also performed in Harvestfest and at the Holiday Concert, it was evident from the audience's smiles and tapping feet that the listeners were excited to hear it again.
The choir also performed "That Old Black Magic," words by Johnny Mercer and music by Harold Arlen, with the same excitement, singers dancing as they sang.
A highlight from Jazz Ensemble, the last group to perform, was the group's performance of "Moanin'" by Charles Mingus and arranged by Sy Johnson. Senior Nick Roberts on baritone saxophone began the piece with a deep, full melody that continued throughout the song.
The ensemble ended the night strong with "A Song for Horace" by Michael Philip Mossman, bouncing drum beats and electric guitars adding a unique quality to the upbeat piece.
The air buzzed with excitement as the audience filed out of the auditorium to attend the small reception in the theatre entrance, parents and friends sharing how impressed they were with the night. The energy and excitement of the night made it one of the best concerts this year yet.