Semester I Special: Pokémon hat represents Joanna Le's love of anime
by Peter Diamond
Every day, a student wears a hat designed to look like Pikachu, a character from the anime media franchise Pokémon, which she describes as a symbol of her love of anime, a form of Japanese animation.
Freshman Joanna Le, a participant in the Japanese film and anime club at this school, has been interested in anime for years, she said.
"I love that there's a lot of variety in the genres in anime," she said. "The plot is sometimes amazing and breathtaking, and debating about scenes with my friends is fun."
This school's programs have fostered her passion, according to Le.
"I love the anime club at North, and I love the people in it," she said. "They're awesome and fun and just all around wonderful. The times I have in that club are definitely moments I'll treasure for the rest of my life. The upperclassmen have helped me a lot in my experience at North."
The officers of the club are juniors Eric Halin and Ned Martenis, who try to cultivate a love of the art form at this school, according to Martenis.
Both officers enjoy sharing anime with younger students like Le, according to Halin.
"I always love seeing someone new to the school find an interest that they enjoy so we can all bond over the animes," he said.
Martenis has been particularly impressed with Le's participation in the club, he said.
"Joanna is one of the most vocal and enthusiastic members of our club, and she's always one of the first to chime in on recommending shows to watch," he said.
Anime is a form of animation that arose in Japan in 1917, when director Junichi Kou'uchi created a two-minute cartoon video of two samurai soldiers in battle, according to a publication by Wayback Machine Internet Archive.
Kou'uchi designed the piece with a level of exaggeration that had never been seen before in animation.
Anime is a popular art form in the United States, largely due to the work of director Hayao Miyazaki, the creator of popular anime films "Kiki's Delivery Service," "Spirited Away" and "Ponyo," as well as the Pokémon franchise.
Le's interest in the art form existed before she arrived at this school, she said. She was initially captivated by the stories told in anime.
Outside of her participation in anime club, Le expresses her passion by attending anime conventions, participating in marathons of anime-watching and by simply discussing the form of entertainment as much as possible, she said.
At conventions, she said, "there are countless people playing anime and manga characters, and there are various events and lots of stands that sell original art or fan art.
"There are also people that are well known in the anime and manga world."
"My favorite anime is definitely 'Tsubasa: Reservoir Chronicles,'" she said.
"I would recommend that to anyone. It's an amazing romance adventure project by Clamp, one of my favorite mangaka groups."
"Tsubasa: Reservoir Chronicles" is a series of illustrated books that tell the story of a young archaeologist's journey through Japan, according to a publication by Imagine Games Network.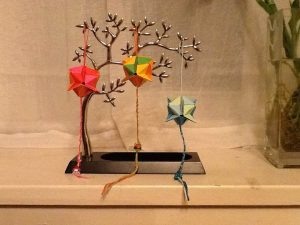 The terminology used by Le, mangaka, describes the exaggerated style of drawing that is characteristic of this form of animation.
An avid drawer, Le's style of art, which she describes as "scribbly and simple," is inspired by manga styles.
Le's love of Japanese arts extends beyond just anime. She has folded paper in the form of origami for years, she said.
"I recently folded and created little trinkets for my teachers to hang on their Christmas trees. Also, last year I folded a lot to raise money for a trip to Quebec.
"My origami is pretty typical for a learner, flowers and animals.
"However, I also do this one form where I fold a bunch of individual triangles and put them together to make something, like a swan or a panda."