Semester I Special: Black belt Henry Rolfe teaches younger students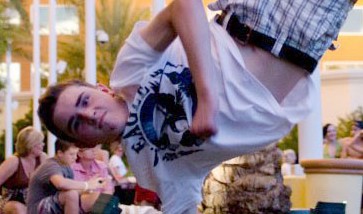 by Leah Budson
Not every karate student has met Chuck Norris and is a three time world champion, as freshman Henry Rolfe is.
Rolfe has been interested in karate ever since a character began practicing the sport on his favorite television show, "The Proud Family."
Today, eight years later, he is a second degree black belt who also teaches karate classes at the Giroux Brothers Martial Arts studio in Newtonville.
Rolfe primarily practices Chun Kuk Do, a karate style founded by actor Chuck Norris, who Rolfe has met each of the last three years at the annual Chun Kuk Do International Training Conference in Las Vegas, Nev.
"It was a privilege and an honor to meet Chuck Norris, particularly because he is the founder of my karate style," said Rolfe.
"This style of karate is based around four values: discipline, integrity, loyalty and respect," he said. "I have learned each of these values from practicing karate, and they really teach you what it means to be a decent person."
In addition to Chun Kuk Do, Rolfe practices Extreme Martial Arts (XMA), a style that combines elements of acrobatics and gymnastics with an emphasis on showmanship.
"Karate has so many different angles," Rolfe said. "There are ancient, traditional ways of practicing, and then there is XMA, which is much more fast paced."
The versatility of the sport is one of the things that separates karate from other sports, explained Rolfe. "With other sports, there is usually only one way to play them and one set of rules you have to follow."
A second element that sets karate apart is its use of weapons, said Rolfe. He trains with nunchaku, bo staffs, kamas and swords.
His main weapon for competitions are kamas, which are long sticks with curved blades at the end.
Rolfe earned first place in his weapons event at the Chun Kuk Do International Training Conference last year and placed third for his age group at the Ocean State Grand Nationals in Warwick, R.I. this year, according to Rolfe.
Rolfe said he competes in about seven tournaments per year. "My favorite part about competing is performing your routine really well and then being able to watch it back on video."
Rolfe is able to share his experiences gained from competitions with students he teaches alongside a second instructor in the Dragon, Eagle and Black Belt Club classes every Wednesday. In addition, he occasionally teaches the Dragon Class on Tuesday by himself.
"I want to teach karate because it has changed my life so drastically, really shaping the person I am today for the better," he explained.
In his teaching, Rolfe said he hopes to help students not only with the physical elements of karate, but also with the values of respect and discipline.
"I want to help students go far with karate and watch it change their lives as it did mine," said Rolfe. "I want them to have fun and make karate a massive chunk of their lives and something that they have to look forward to because that is what karate has become to me.
"The best part about teaching karate is seeing that students are having fun and wanting to continue practicing it. Seeing that lets me know that I have done a good job teaching," he said.
Sophomore Jonah Samuels and South sophomore Danny Horta-Sohmer, both third degree black belts, often teach classes with Rolfe.
"When it comes to teaching, Henry is very patient and knows how to explain a technique or drill very well," said Horta-Sohmer. "In addition to that, he has a great sense of humor, which helps kids actually want to stay in the class.
"I mean, who wants a boring karate teacher?"
Horta-Sohmer said he enjoys teaching with Rolfe. "I like knowing that we're helping students, whether it be teaching them to protect themselves or to improve their discipline."
During the four years that he has known Rolfe, "Rolfe has become more and more dedicated to karate with each competition and test," said Horta-Sohmer.
According to Samuels, this dedication is essential to Rolfe's karate practice. "In addition to self-defense, the most important aspect of karate is self discipline," Samuels said.
Rolfe's dedication is also reflected in his teaching, according to Samuels. "He is a very good motivaitonal and patient teacher. He really connects with all the kids by asking them how their day was or how they were feeling before each class."
In the end, Rolfe said he enjoys competing and practicing karate and hopes that through his teaching he can help others to appreciate it as he does. "Karate is a massive chunk of my life right now and not many people know about how cool it can be and what a great hobby it is," he said.