Semester I Special: Brittany Tedford-Riley competes in horse contests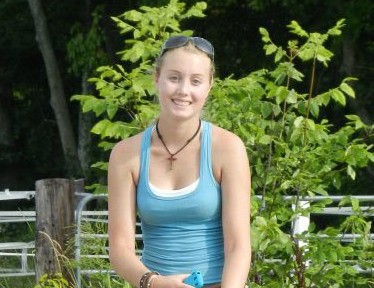 by Connor Vasu
Ever since she was young, senior Brittany Tedford-Riley knew she wanted to ride horses. A family friend who rides horses introduced Tedford-Riley to horses through horse lessons, and she could not stop going back for more.
According to Tedford-Riley, "I started riding when I was six, but I have always loved horses ever since I was little. Any chance I got to ride, I would take it."
Horse riding came naturally to her, according to Tedford-Riley. "From a young age, I knew that was the sport for me. Honestly, I feel like that is the only sport that I'm truly good at. Other sports don't really interest me," said Tedford-Riley.
Until her freshman year, Tedford-Riley rode English style, a type of horse riding in which the contestant jumps over obstacles while wearing traditional European garb, which includes boots, breeches and a jacket. English style is the equestrian event most commonly seen in the Olympics and New England, according to Tedford-Riley.
Although she excelled in English style, making Nationals twice in that discipline, Tedford-Riley had always wanted to ride western pleasure, a type of contest in which the rider dresses up in traditional western cowboy clothing and is judged on how well he or she guides the horse.
However, western pleasure is much rarer in New England compared to English style, and instead is predominantly popular in the South and in the Southwest. This made it tougher to find a barn that taught western pleasure, according to Tedford-Riley. Eventually, she found a barn, Hillside Meadows, that taught western pleasure.
Being one of the best riders in New England comes with a benefit: Nationals. Tedford-Riley has been to Nationals in sixth grade, as a freshman and as a junior. "As a junior, I went to the western pleasure Nationals, but as a freshman and in sixth grade, I went to Nationals riding English style," said Tedford-Riley.
To earn a spot at Nationals, she needed to place in the top two in the New England Zones, a competition with people all over New England who have qualified. In sixth grade she placed second and she won the event as a freshman and junior.
In qualifying for Nationals, Tedford-Riley became one of the top 20 riders in her grade in English style, and later western pleasure horse riding. She did not place, but still competed on the highest level of Western and English style riding.
"Winning zones and qualifying for Nationals three times were some of my best experiences with horse riding," Tedford-Riley said.
"In addition to riding western pleasure, I horse show year round, at least once every two months," said Tedford-Riley. "In a horse show, you are judged on how well you perform certain patterns."
Tedford-Riley also competes in a competition called reining, which is different from regular horse riding. "Reining is different than other competitions because people are given a horse they are unfamiliar with to ride," said Tedford-Riley. "This adds to the level of difficulty."
Tedford-Riley plans to take her equestrian skills with her to college, where many schools have equestrian teams or clubs.
"I am planning on riding horses and being on the equestrian team in college, but also studying criminal justice," said Tedford-Riley, although she is unsure about what school she will attend.