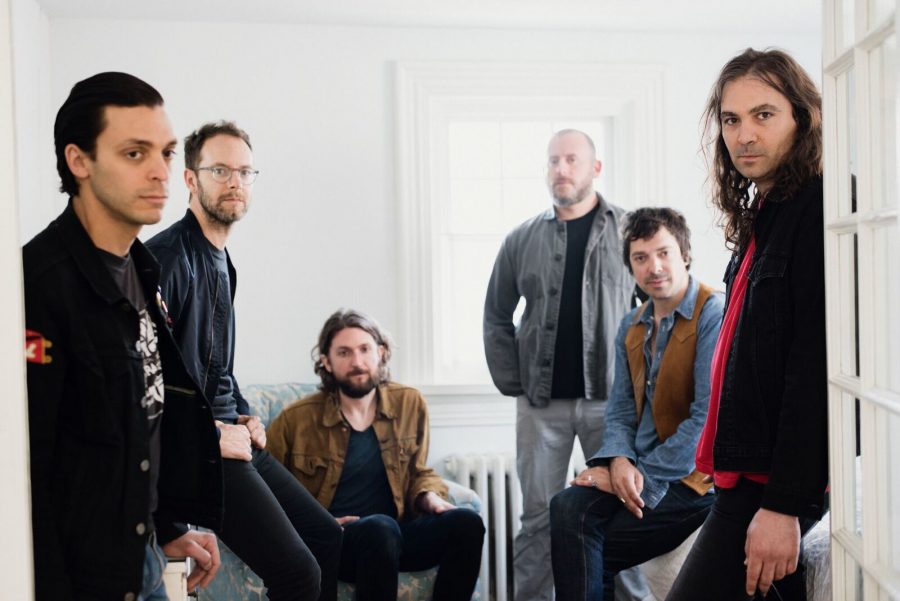 (All photos courtesy of Bryan Murray)
Instead of going up to the stage to receive a golden record player, Jon Natchez '95 received a text at 9 a.m. while on tour in New Zealand. Because of the time difference, it was the morning when he heard about his Grammy win with his band The War on Drugs. "We didn't think the award ceremony was going on, so when all our phones started blowing up simultaneously it was totally shocking," he said.
North alumnus Natchez has found success in his career as both a band member and a soloist. The multi-instrumentalist currently plays with The War on Drugs, which won a Grammy for Best Rock Album in 2018 for their fourth studio album, "A Deeper Understanding." The band not only won their first major award, but also beat out influential, best-selling rock bands like Metallica and Mastodon. Natchez has also played with such bands as Beirut and Yellow Ostrich, as well as touring with award-winning artists David Byrne and St. Vincent.


"Getting a Grammy recognition was genuinely surprising, and the idea that we would win seemed so impossible that we had this tour scheduled during the Grammy ceremony," Natchez said. "I'm not trying to be falsely humble, but it felt so opaque, and it was voted on by this strange random voting body. It felt like winning a lottery ticket."
Natchez's interest in music first emerged during his time in elementary school. He began saxophone lessons through a district-wide program offering free music lessons to fourth graders, he explained. "I often think about how important that was in my life. I don't know if without the program I would've found out how much I liked music," Natchez said. After attending junior high at Roxbury Latin, Natchez transferred back to Newton North for high school, where he continued to play the saxophone.
At that time, he said, "music was a definitely a huge cathartic outlet." After facing a rejection, for example, "I just played saxophone for a week after," he explained. "It was really good to just be in my room and just scream music out of my saxophone."
During his sophomore year, Natchez joined North's jazz band as a saxophonist, where he met Evan O'Reilly '94. O'Reilly recommended Natchez as a horn player to a local band, Skavoovie and the Epitones, which played ska, a music genre similar to reggae and blues.
The band played shows around Boston during the summer, Natchez said, and had even toured the eastern half of the country by Natchez's junior year. He completed his first full-country tour the summer of his senior year. "We were driving all around the country, even California, playing shows," said Natchez. "That experience really showed me what I really enjoyed doing—performing, writing." Despite his transition from ska music to indie rock, he stays in touch with his old band members.
While in college at Harvard University, however, Natchez was skeptical about pursuing a job in music. "Part of me, like most of the world then, was unsure if a musical career was possible because of financial problems. I finished college thinking I'd do journalism," he said. "I moved to New York City with that in mind, but I never really stopped playing music." Even today, Natchez does not receive a regular salary and must hunt to find paying performances. Nonetheless, he said, "I don't mind doing that because I love the work so much."
Natchez graduated from Harvard University '99 with a major in Cultural Studies, Music, & Performance, a self-designed major. After college, he moved to New York, where he played for a number of indie bands, including Beirut and Yellow Ostrich. At that time, The War on Drugs was on tour with indie singer-songwriter Sharon Van Etten. After The War on Drugs booked a performance on the David Letterman show in 2014, Natchez explained, they "wanted to do something special and eventually decided that the something special was to have a horn section." Etton recommended Natchez as a horn player to Adam Granduciel, the lead singer of The War On Drugs, and Natchez joined their David Letterman performance.
Granduciel subsequently invited Natchez to record a song, "Lost in a Dream," with him in 2012. While working with Granduciel, Natchez said, "We hit it off. We have a similar vibe and approach to music. We like the same genres and music so it all worked out really well. I ended up recording with them a lot."
After a year of collaboration with Natchez, the band invited him to tour with them in 2014 for the release of their third studio album, "Lost in a Dream." During the tour, Natchez said, the band members finally clicked and "really began to feel like the band and not just a random group of people who came together to make music."
The band spent hours together, living on a tour bus for a year. "One thing that's great about War on Drugs is that everyone is really a professional," Natchez said. "Everyone's been doing it for a while, so we know how to not be super dramatic." This isn't always the case in other bands Natchez has been in, as sometimes there are serious conflicts. The War on Drugs cooperation ultimately became one of the biggest keys to their eventual success.
The announcement about their Grammy win came while the band was still on their most recent tour for "A Deeper Understanding." "It was a total surprise. It really was," Natchez said. "I know everyone says that, but we were on tour at the time, and it was a huge surprise even being a nominee. That album came out on a major label and had a reasonably good reception, but we didn't think we'd get this kind of national recognition."
Natchez noted the changes in his career that came with the award. "I went from being 'composer Jon Natchez' to being 'Grammy award-winning composer Jon Natchez.' It's only a few words in front, but it's life-changing," he explained. Still, "it's not like I'm suddenly just more valuable. It's just superficial and random."
"It's how the world works, though," he added. "It makes people take you more seriously as a musician. It's cool to take advantage of that."
Ultimately, Natchez has one central piece of advice for young aspiring musicians: "Find what you love. Find what you can do and are good at. Find that frequency you vibrate at as a musician, as an artist in general, and focus on developing that."