The Price Is Right: Principal Perspectives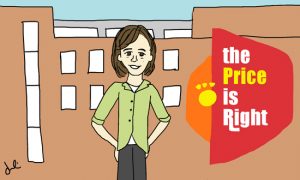 Dear North Community:
I hope you are enjoying the beginning of a restful vacation, though I am sure for some having your teenager/teenagers at home all week is less than restful.  I write to update you on the incredible journey I was able to take with our exchange students to both Paris, France and Florence, Italy.   For those of you that are new to North, I can promise you these trips are not a regular occurrence, though from my communications this year, you might think differently.
As you may know, we have 5 sister schools around the world, and my hope this year was to visit a few of them to help solidify our long-standing relationships.  In this particular case, I was fortunate to be able to travel with North students going on an exchange, so I got to see first hand the power of our exchange program.
As you can imagine, the trip to these two cities was amazing, and I feel that I could write forever about the journey.   But, for this communication, I thought I would highlight the top five things I learned, as in line with North's motto, learning does sustain the human spirit.
The experience of living in and exploring another country for a month is truly life changing.  It was great to see our students immerse themselves in their Italian and French families.   It was impressive to watch our students navigate with ease the Florentine bus system or the Parisian metro.   It was humbling to watch students see the Eiffel Tower for the first time, stand on the beaches of Normandy, walk into the Duomo, or pause for a long while in front of "The Birth of Venus."  It was exciting to see that even when they were alone as a group, they often spoke French or Italian to each other.
The teachers who choose to take students on are exchanges are incredible.   Not only is the planning for a trip all-consuming for months before their departure, but leaving one's own family and serving as a parent for 16-18 students in another country for a month is a difficult task.   I watched our teachers help students find lost items, navigate a trip the hospital (all is fine), serve as a shoulder to cry on, and quietly support students through the anxieties associated with leaving your comfort zone for a month.  We are so fortunate that we have teachers who are willing to take on this responsibility.
 As many of our students expressed, this trip has helped them realize how fortunate we are at Newton North.  In comparison to both of our sister schools, we have so many more resources to support our students.   In addition, it felt to me and to many of our students that the relationships between the teachers and the students were very different in both Paris and Florence.   It made me appreciate once again the commitment our teachers have to connecting with students, differentiating instruction and using multiple pedagogical methods to teach a concept.
Yet, American schools need to dramatically change our approach to teaching all of our students a second (and maybe even third) language.   In both of the schools I visited, I learned that their students begin the rigorous study of a second language when they are in their first year of elementary school.  As a result, many of the students that I watched in class or talked to were truly bi-lingual.   In our ever-shrinking world, it feels to me that learning a second language is a necessity, not purely a luxury.
Finally, I emerge from this journey with a renewed commitment to support the Global Education Leadership Fund (GELF).   8 of the 34 students on these two exchanges were supported by GELF this year.  It was great to know that through the generosity of others, 8 students were able to participate in this life changing experience.   I spoke about GELF to the principals at our French and Italian sister schools, and both were amazed that we could raise the funds to support so many students.  Both principals lamented that the students they send on the exchange are only the students whose families can afford the exchange.  As a little plug, the GELF fundraising dinner is April 6th this year, and you can sign up to attend at http://gelf2013.eventbrite.com/ .  It is a fun night with great food, a fantastic band, a fun silent auction and a horrible wait staff (the principals) that hopefully will raise enough money to support GELF for another year.
If you would like to read what the students on the exchanges had to say about their experiences, you can read my Newtonite column, "The Price is Right" found at https://thenewtonite.com/ .
I end with one story.   As part of the French exchange, we journeyed to Normandy to visit the museum at Caen and the beaches of the World War II D-day invasion.   As we toured the American Cemetery that overlooks Omaha Beach, we all were overwhelmed by the over 16,000 soldiers who were buried there (remarkably, only 40% of those lost in Normandy).  It was the end of a long and emotional day and we were about to head back to our bus.   One of the American soldiers that works at the cemetery approached our group and asked if we would like to participate in the end of the day flag lowering ceremony.   This honor is typically reserved for a veteran, but on a cold day in February, we were the only Americans wandering the grounds.   As taps was played, I had the privilege of watching 8 of our students take and fold the American flag as the rest of us stood their with our hands over our hearts.  As you can imagine, there were only a few dry eyes.
Again, I wish you a restful vacation week, and thank you, as always, for being our partners in the process of developing the next generation of global citizens.
Best,
jen