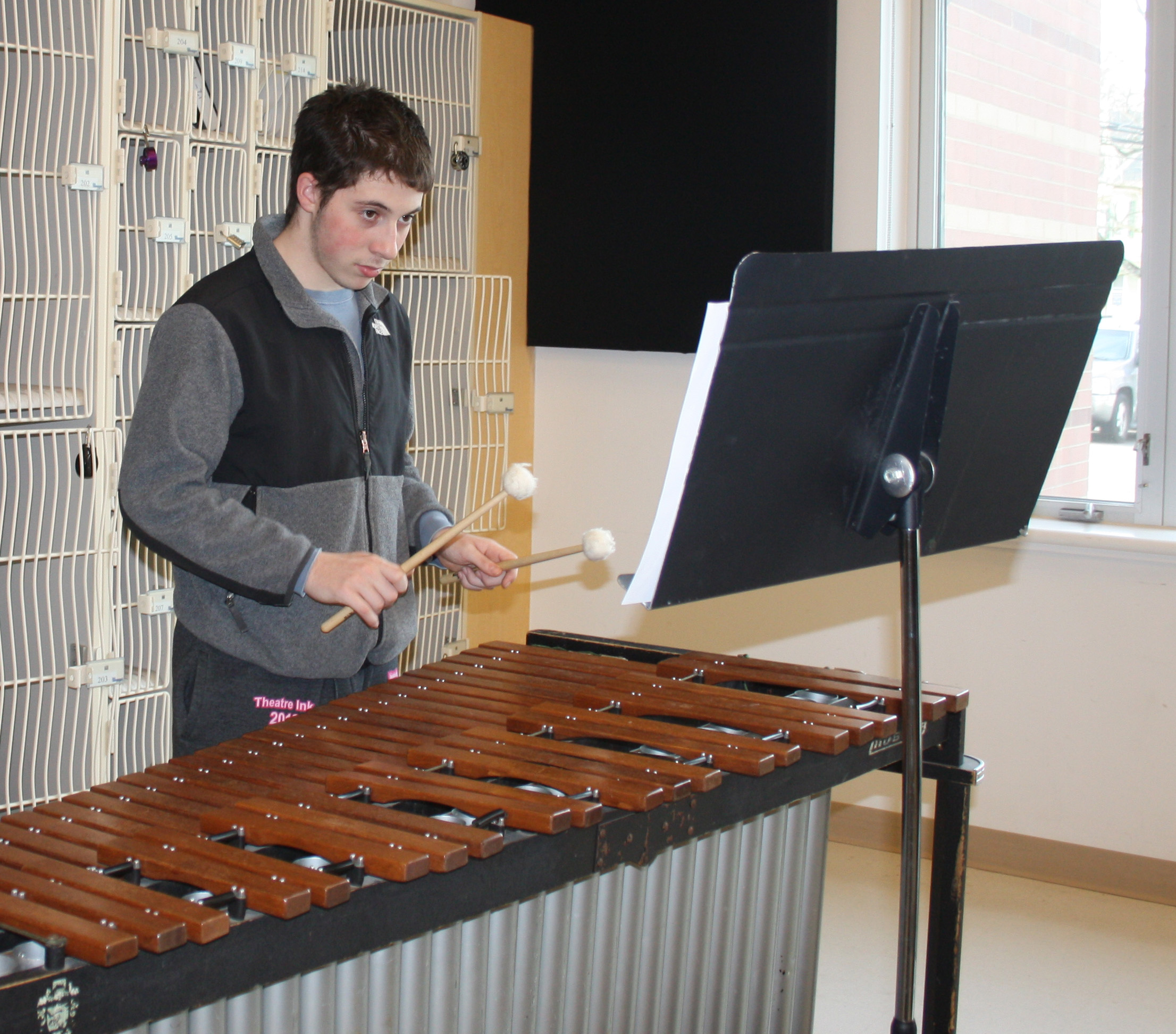 by Andrew Mannix

Almost every concert at this school has something unique about it. Winterfest, distinctive for its small Chamber Ensembles and the Ray Smith Memorial Concert, is no exception.

Winterfest I is Wednesday, Jan. 30 and Winterfest II is Thursday, Jan. 31. Both performances will be in the auditorium at 7 p.m.
Winterfest I
Winterfest I will feature Wind Ensemble, Symphonic Band and Chamber Ensembles, directed by music teacher Richard Labedz.
Separate Chamber Ensembles made up of Wind Ensemble students will begin the night. Chamber Ensembles are smaller groups of students who play the same instrument or the same family of instruments. Brass, flute, saxophone, percussion and double reeds Chamber Ensembles will perform, each playing for about 10 minutes.
The Brass Chamber Ensemble will perform "Fanfare" by Paul Dukas, arranged by Wayne Barrington, a fast march-like piece, according to Labedz.
Once all the chamber groups finish, the Wind Ensemble will take the stage to perform its pieces, including "Over the Hills," a marching piece.
Usually this piece would not be an option because of the instruments it requires, explained Labedz. "The piece relies on having specific instrumentation. The composer wrote it for an ensemble with two bassoons, an English horn, four oboes and French horn," he said. Luckily, this year the Wind Ensemble has the proper musicians to perform the piece, said Labedz.
This piece also challenges students because it follows a 6:8 rhythm as opposed to a more familiar 4:4 rhythm, according to Labedz.
After the Chamber Ensembles and Wind Ensemble play, Symphonic Band will step up. The musicians will play three pieces, including "The Old Castle" by Modest Mussorgsky, a slow song, according to Labedz.
"The Lords of Greenwich" by Robert Sheldon will nicely contrast with "The Old Castle" with its upbeat sections, he said.
Winterfest II
Winterfest II will include Concert Choir, Family Singers and the Orchestra. This concert will also include ensembles from South. There will be a huge number of students performing, according to fine and performing arts department head Todd Young. All three ensembles and students from South will perform a Joseph Haydn mass piece that will last about 50 minutes.
Every Winterfest, there is an Ray Smith Memorial concert in which Concert Choir and Family Singers perform together. The teachers dedicated this concert to Ray Smith, a former teacher who started Family Singers.
The Joseph Haydn piece will include a variety of tempos.
Music teacher Adam Grossman, director of Family Singers and the Orchestra, explained why South will be included in the concert. "Most of the music teachers from North and South were thinking about the same piece at the same time, so we decided just to do it together," he said.
"It will be difficult because there are so many performers, but we are prepared well," said Grossman.
Young shared a similar concern. "It is a great piece. However, it is a ton of work. The kids are taking on the challenge very well," he said. "It is a great opportunity for many of the students because they do not get the chance to perform something this big very often."
Some students feel the same way about the piece, according to freshman Alex Hoffman, who is part of Concert Choir. She is having fun with the piece, but finds it challenging as well, she said.
"I have never sung a piece this long before. It's nice to sing with Family Singers because they sing more advanced music than us and usually a different style of music, but it is a lot of hard work," Hoffman said.
Sophomore Adam Zupancic, who plays in the Orchestra, said he feels the same way as Alex.
"Playing with the chorus is a bit more difficult because you have to pay attention to both the singers and the conductor," he said. "I have played for this length of time before, and it can get very tiring."